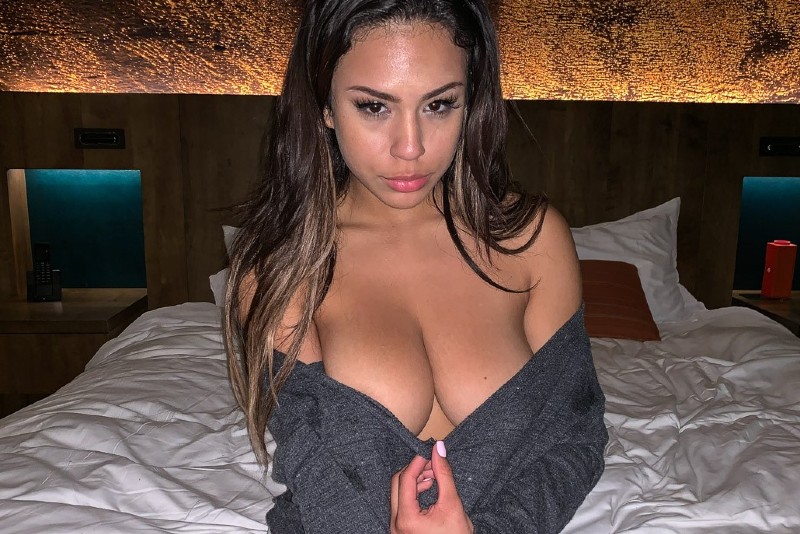 Models: Autumn Falls & Tyler Steel
---
Ian only had himself to blame. Everything that had happened since he stepped foot in the bar had been entirely self-inflicted and deep down he knew that. He had always been a slave to his ego and this certainly wasn't the first time his arrogance had backfired, yet no matter how many lessons life tried to teach him Ian never seemed to learn.
Above Ian, Jason was very vocal. 'Oh fuck, yes, that feels so good. Take my cock deep, bitch. Suck hard, that's right. Mmmh, yes, you're such a good whore.'
When Ian replied the voice that came out was that of his Elixir alter ego, Isla. 'You like that baby? Mmmh, you taste so good. Feed more your load, stud, I want to taste your cum so bad.'
With his fingers tangled in her hair Jason was driving his cock as far down her throat as he could. Simultaneously thrusting and pulling her in, he buried himself so deep her neck bulged down to her collarbone. When he pulled back Ian would gasp for air, though he never quite removed his cock entirely so Ian's breath came in sordid wet slurping noises as he sucked in air around the man's shaft.
By now, Ian had resigned himself to the consequences of his actions. At first he had tried to resist the effects of the Elixir, but once Jason had dropped his trousers Ian had quickly realised he wasn't going anywhere. His transformed body was immediately dripping wet at the sight and the slutty urge to have his tight holes stretched to their limit had overwhelmed him.
Every moment in Isla's body was a twisted reminder of what Ian had done to himself: he had started the day as an athletic gym bro, yet now he looked every inch the insatiable nympho. Pleasure washed through Isla's nubile body, setting her fat tits aching and her wet pussy throbbing. Spread out on her front her delicate feet were raised and bobbed softly as her lover's thrusts rippled through her figure. Her dark hair tumbled down over tanned shoulders, the once flawless locks increasingly messy as the man continued to manhandle Isla by the hair.
Everything about his situation was so sleazy. So degrading. So utterly humiliating. But worst of all, with Isla in control, that's exactly why he was loving it so much.
'I need more,' Isla purred when Jason finally pulled out. Ribbons of saliva dribbled down her chin and her makeup was smeared where her eyes had watered during the invasion of her throat. Even so, desire pulsed in her eyes. 'Your cock is so perfect. I need it in my pussy. I need you to pound me so hard the whole hotel hears us.'
Jason had intended to jerk off all over her face. Unsurprisingly, her sordid words and sultry tone made him think better of it. Scooping up the saliva and precum from her chin he sank his fingers between her lips and smirked as she eagerly sucked them clean. 'Now that's an offer I can't refuse. But there's only one way you deserve to be fucked; get on all fours, bitch.'
Her entire body tingling with anticipation, Isla obeyed without question. Pivoting around so her ass and feet jutted over the edge of the bed, she presented herself ready for him to take her doggystyle. As he moved into position, she supported herself with one hand and used the other to spread her rump wider. Her twinkling pussy and tight ass nestled between fat, gropable cheeks.
Isla groaned with ecstasy as the man slid inside her. Slick with arousal her tight pussy lips parted to admit his pulsing cock and he slipped in easily, burying himself deep into her hole. After her prolonged blowjob he was so hard his cock might as well have been made of marble, yet the skin of his shaft was soft as velvet.
Looking at him over her shoulder, her face was twisted into a mask of pleasure. 'Oh my god, you feel incredible,' she breathed. 'I'm so glad you're my first. I want you to fuck me until I can't breathe. I want Ian to dream about being me. That's it, stud,' she purred as he began to thrust, 'fuck your slut.'
Inside Isla's mind, Ian was only a passenger.
He hadn't planned for things to turn out this way. All he'd wanted was to spend a night out with his frat bros. But turning down a challenge had never been his strong suit, so when Jason had laid down the gauntlet for a game of pool, he had instantly agreed despite the fact he was already several pints past tipsy. Jason was a member of a rival fraternity and Ian's ego had told him there was no way he could possibly lose. And he hadn't – at least not at first.
Challenged to best of six, Ian had won the first three with ease. As each win made him more confident he continued to drink, practically chugging the congratulatory beers rained on him by his fraternity.
What he hadn't noticed was the quiet smiles of his opponent and the notable lack of jeering from the other frat. He only realised he'd been hustled when Jason came back and effortlessly won the next three games. By the time Ian racked up for the tiebreaker the trap he had stumbled into was painfully obvious, but he had no way to escape – all he could do was watch as his rival potted all his balls in quick succession. Ian never even got a chance to shoot before it was all over.
Before Ian even knew what was happening, Jason had pressed a shot into his hand. It hadn't even occurred to him that the drink might contain more than just alcohol, but the moment he swallowed it the Elixir inside quickly set to work and moulded him into Isla.
The transformation was unlike anything he had ever experienced. Orgasmic moans burst from his lips as his muscular physique bubbled and shifted and pinched and bulged. Voluptuous curves replaced his broad, athletic frame as his once short hair tumbled down around a rapidly shifting face. In seconds his heavy brow had softened and sultry eyes peered out at his friends from shallow sockets. His lips plumped up, his nails painted themselves with pale pink polish and his voice became breathy and girlish, the moans as sensual as those of a professional pornstar.
His tits came in with a burst of orgasmia so intense his heart almost stopped. Bulging against his shirt they stretched it to its limit, the buttons threatening to ping off at any moment, while further down another explosion of pleasure rocked through his lower half. Once it ebbed there was a strange absence between his legs accompanied by constantly throbbing arousal that intensified with every tiny movement so that he was soon squirming with lust.
No matter how erotic that transformation was, however, it was far outmatched by the humiliation. When the pleasure finally subsided, Ian had found everyone in the bar staring at him. The Elixir had burned out all alcohol, sobering him up so that the degrading reality of the mess he'd gotten himself into crashed in hard: not only had been transformed into a walking, talking wet dream, but he had moaned like a slut through the entire thing with all his friends watching.
Mortified, he had blushed furiously. But Jason had been far too horny to savour Ian's embarrassment. Swiping a grey cardigan from the bar's lost and found, he wrapped it around Ian's shoulders and led him to the nearest hotel, by which time Isla's psyche had suppressed Ian so completely that they were making out passionately before they even got to their room.
And now she was impaled on his cock like a common whore. Eyes rolling, body humming with lust, she groaned as the Elixir wreathed through her mind.
'You did this to yourself, you know?' Jason laughed gruffly. Seizing Isla's tits he pulled her up so her back was against his chest and her head lolled on his shoulder. 'It's all self-inflicted. All you had to do was turn me down when I challenged you. You just had to swallow your ego and walk away and you'd be back at your frat right now. But you couldn't do it, could you? You had to try and beat me. Anything for Arrogant Ian to say he's the best.'
He sneered, squeezing Isla's breasts so hard they throbbed. 'You're such a fucking idiot. Or at least you were. Because something tells me you're going to much happier as a filthy slut. By the time you change back, I'll have fucked you so hard Ian won't be able to resist taking another hit of Elixir. I've been looking for a needy skank to be my girl and you'll do nicely. You might as well leave your frat now, bitch, because by tomorrow morning you're going to be so addicted to my cock you'll never want to turn back again.'
Her mind a fog of lust, Isla groaned at his words. She was so horny she would do anything just to make sure he kept fucking her; her entire body ached with arousal so intense she thought she might burst.
'In fact,' Jason went on, 'how about you do that right now? Let's show your buddies what a cockdumb nympho you've become.'
Looping one arm across her front Jason held her in place while he reached down for Ian's phone. As he continued to pound her, he quickly started a videocall with Ian's fraternity brothers before setting it down on the bedside table with the camera angled towards them. Then, holding her by the upper arms, he increased pace so her ass rippled, her tits bounced and her breath came in groaning gasps.
Humiliation washed through her as she waited for the inevitable. But the more Jason fucked her the less that seemed to matter, and once her old friends began to pick up she was too engulfed in the pleasure to care. In fact, she kind of liked them watching. After all, Ian would never be able to face them again after they'd seen him like this, leaving Jason's bed as the only place left for him to go.
Isla was Ian's future. A future of horny, hedonistic humiliation at the hands of the man who had corrupted him in the first place. And he only had himself to blame…
---
Thanks for reading!
The first thing I want to say about this one is that it is an entry into a competition run by Evie Hyde on her Discord server. Every month the server runs a competition challenging people to come up with the hottest story based on a particular concept and this month the theme was self-inflicted changes. I don't usually enter since I've often scheduled all my monthly releases before the brief is given, but I figured I'd give this one a go since February's deadline was extended through March. Honestly, I'm not entirely sure I hit the brief, but I'm still really happy with the result and it allowed me to caption a gallery I've been wanting to use for ages, so that's enough for me.
Having said that, when writing this I was faced with a decision: use an airbrushed gallery or the original. Usually I source my galleries from PornPics and they're a fantastic site in my opinion. However, the first gallery I found for this scene was from AdultEmpire and when I compared it to the PornPics version I found that the latter had been doctored.
The changes weren't drastic: removal of spots and skin blemishes, that sort of stuff. The typical things that get airbrushed in basically all photoshoots, pornographic or otherwise. And obviously, airbrushing is a common practice in porn – I'm sure near enough every gallery I've ever used has had some kind of changes made to the images. So I'm not criticising that.
However, my long-time readers will know I'm a big advocate for body positivity and inclusivity. So if I have a choice between a doctored gallery and a natural one, I'm going to choose the natural one every time. It just feels more true to my ethics and the message I want to send with this blog. Spots, scars, bruises and other 'imperfections' don't make the models in my stories any less beautiful or talented – they're a natural part of life and I want to show the models as true to life as I can. That doesn't mean I'm going to go looking for unedited galleries for every story as that's not really feasible, but if I know one gallery is and one isn't, I'm definitely going to use the unedited one.
That's all I really have to say on this one. Hopefully you enjoyed it and I'll catch you all next Friday.
---
Imgbox: https://imgbox.com/g/QkP610pBvf
Image gallery: https://www.adultdvdempire.com/8633/gallery.html