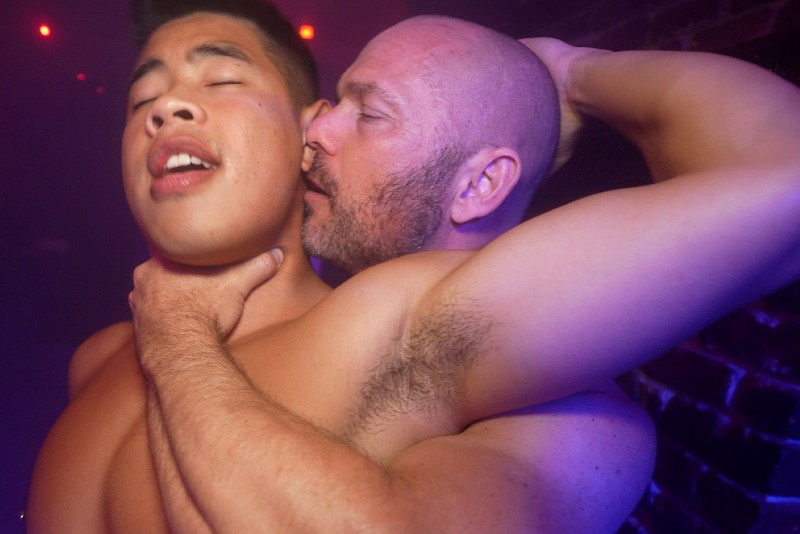 'Do you want some more cock? Do you want some more fucking cock you filthy faggot?' The man's lip curled like a growling tiger as he slapped his dick on Li's outstretched tongue.
He did not even give the kneeling twink time to respond before he was ramming his dick down Li's throat. 'Fucking choke on it you greedy cunt. That's it, boy, slobber all over that dick.'
As the first man drove into Li's mouth hard and fast another hung stud jerked off beside him, his glistening head barely an inch from Li's face. Patiently waiting his turn to use the Asian twink, he seized Li's hair and mercilessly forced him further onto the first man's dick.
Most gay men would have struggled to cope with such a brutal facefucking, but Li took every inch of the man's hard meat with ease. His eyes rolled back and he smiled giddily around the shaft as he was used roughly.
Considering he had only sucked his first cock an hour earlier it was an impressive performance.
If Li had known how spectacularly his April Fools prank would backfire, he would have taken a lot more precautions – or at the very least he would have transformed all his friends into horny nymphos rather than gay hunks. That way, when they decided to fuck him he wouldn't have wound up as a cum-hungry twink.
But thinking ahead wasn't Li's talent. His gift was practical jokes, and as a notorious prankster he had been so focused on how hilarious it would be to gayify his entire friend group that he hadn't considered how outnumbered he would be when they decided to put their newfound gay lusts into practice.
The prank itself had been simple. All he'd had to do was buy a round of drinks at the bar, spike all but one with a potent dose of G-lixir on route back to the table, then propose a toast when they'd been handed out. Raising the untainted glass high he had forced himself not to laugh as all the guys took a deep gulp of their beer and that had been that.
They had started to transform almost immediately, their loud groans drawing the attention of the entire bar. Bulging muscles sprang into life as his friends grew bigger and broader, athletic physiques lost beneath massive pecs and tree-trunk calves. Jeans had bulged as the contents suddenly elongated by several inches, bones had cracked and shifted, and chairs had creaked under the strain as their occupants rapidly doubled in weight, all of which was pure muscle.
'April Fools!' Li had shouted before promptly being grabbed by the collar and tossed onto the street by security.
His transformed friends had been too dazed to resist as they too were kicked out of the bar, but when they came to their senses they found Li laughing hysterically and ridiculing their new bodies.
'You guys all look like Johnny fucking Bravo,' he'd laughed.
But Li wasn't laughing now.
'Oh fuck, you taste so good, sir,' he gasped as he was dragged away from a cock. Li vaguely realised the man standing over him was not the same man he remembered going down on, but he wasn't surprised: so many cocks had been rammed down his throat tonight already he had lost track of who each belonged to.
Besides, it didn't matter who was using him. His job was to serve – as long as there were cocks buried in his holes the identity of his masters was irrelevant.
Two men he didn't recognise towered over him jerking their thick cocks, but as a powerful arm looped around his throat the voice that hissed in Li's ears was familiar.
'Have your brains been fucked out yet, dickhead?' Rich said coldly.
'Not yet,' laughed one of the strangers.
'Well then let's change that,' Rich growled.
The next second he was inside Li's ass, his massive cock stretching the twink's tight hole and rearranging his innards with powerful thrusts. Unwilling to let Rich have all the fun, the two strangers roughly forced their dicks into Li's waiting lips, groaning as he allowed them to use his face.
The magnitude of Li's screw up had become apparent immediately after they had been kicked out of the bar. All at once he had found himself surrounded by over a dozen massive, gay, horny bulls twice his size looking for an outlet for their arousal.
Li had only had a brief moment to wonder if maybe he had crossed a line this time before they were dragging him down a back alley and into the darkened rooms of a thronging gay sex club.
The club stank of cum and sex and aftershave, and Li had paled as he was hauled through rooms packed with huge bulls fucking like wild animals. Their debauchery was illuminated by red and blue flashing lights which, combined with the bare brick walls, slings dangling on chains from the ceiling and the assortment of intimidating sex toys, leather harnesses and gimp masks hanging from every wall, made Li feel as if he was in some kind of hellish dungeon.
Unsurprisingly given its clientele, the club had plenty of G-lixir drinks on the menu. And for the more insatiable customers, they also offered the drug straight.
When the huge fishbowl of pure G-lixir Twink had been set in front of him, Li had fought to escape the powerful hands holding him in place.
'Listen guys, it was just a joke, I–' The rest of his sentence was cut off as someone forced his face into the fishbowl.
Exposed to litres of pure G-lixir pouring down his throat and soaking into his pores, Li's transformation had been immediate and intense. The hair on his torso, around his ass and smothering his balls had withered away, the skin beneath suddenly smooth and perfect. His ass had swelled into an enticing bubble but, his hefty cock had regressed into a tiny nub, his muscles had melted away to leave him toned rather than hunky, and his overall frame had diminished rapidly, making him even more helpless against the raw power of the bulls he had created.
By the time his former friends allowed him to come up for air, Li's body had been twinkified beyond all recognition. Meanwhile his mind had been devastated by the drug's effects, reducing him to a dumb, horny, insatiably greedy cum-addicted slave.
From there his clothes had been torn away, he had been forced into a tight jockstrap, then he had quickly become the night's main attraction.
Dragged from one room to another and shared amongst his former friends and strangers alike, submissive lust had overwhelmed him completely. He had lost count of how many cumshots he'd swallowed, how many loads had filled his ass. His ass cheeks were bright red after hours on end of being mercilessly fucked. His throat was a bruised mosaic of love bites and strangulation marks. His throat ached, his ass throbbed and everything from his forehead down was sticky with dried or drying cum.
He wasn't in hell anymore. Li was in heaven.
He was so high on lust and pleasure that it took several minutes before the dumb twink realised he had been lifted into a sling. Gradually coming to his senses he found there was a particularly large cock stretching his hole and when he looked up he found a familiar face grinning down at him. Well, familiar in the sense that Li knew who the man had been before he had fallen prey to Li's G-lixir prank.
'This serves you fucking right,' Wayne said, his eyes burning with rage as he pounded Li's ass. 'You thought you could just gayify us and get away with it? You fucking moron. This is payback, and you only have yourself to thank for it – you did this to yourself.'
Another bull approached, but with his eyes rolling with pleasure Li struggled to focus on his face. It didn't really matter – it was becoming more difficult to recognise his former friends from the club's other patrons anyway. When you had served as many bulls as Li they all began to blur together.
'Hey, you seen that bro?' said the man, pointing to a sign over the bar.
'In-house boys wanted,' Wayne read aloud. Turning back to Li his grin was even more wicked than before. 'Oh that's fucking perfect. The guy who turned all his friends gay becoming a needy sex club twink. If that isn't payback, I don't know what is. Say, dude, how much more cum do you think this bitch will need to take to seal him this way permanently?'
The other man smirked. 'With how much pure G-lixir he swallowed earlier I don't think it really matters.'
'Maybe, but it can't hurt to make sure, can it?' Wayne laughed. Clamping his hands around Li's throat he doubled his pace, the slap of their colliding thighs so loud it could be heard throughout the whole club. 'If you ask me, this is poetic justice. The G-lixir you gave me and the guys will have worn off by the morning and we'll be back to our normal selves. But while we get to go home you'll still be here playing the slave to an endless stream of insatiable bulls. This is your life now, cunt. You're never turning back. April fucking Fools, bitch.'
A few hours earlier, Li would have begged for mercy. Now he simply slumped back into the sling with a giddy smile on his lips. He groaned as Wayne's cock began to twitch in his ass – his master was close.
With the promise of a lifetime of servitude fresh in his mind, Li rolled his hips against Wayne's crotch, eager to feel another hot load filling his insides…
---
Thanks for reading!
Gaypril is back, baby!
To be honest, as much as I do write Christmas and Halloween stories, themed pieces aren't usually my thing: I often find them to be a bit restrictive and generally galleries that are themed to match a specific holiday (St. Patrick's Day, Thanksgiving, etc.) don't do much for me and I have no interest in captioning them. That said, since April Fools' Day fell on fell on a Friday this year, I figured I might as well give it a shot given I'd be writing a story for today anyway. I'm really happy with the result and I have to say I am very jealous of Li, that's for sure.
Just as a bit of a PSA, throughout April I'll be releasing a new story every Monday and Friday. I did consider sticking to only releasing one story per week as usual, but I felt that wouldn't allow me to put out as many stories as I would like to for this year's Gaypril. I mean I don't write gay or trans stuff as often as I do straight stuff (well, traditional TG might be a better term, since I don't think any story in this niche can really be considered straight) so it felt like just doing two gay and two trans stories would be a bit of a cop out.
As a result, you have another eight stories coming your way before the end of the month. I've worked really hard on these and I am absolutely thrilled with the results. I hope you enjoy them all as much as me! Don't forget to come back on Monday to read the next one!
I would love to hear your thoughts on my work, so please leave me a comment!
Keep up to date with new releases by following me elsewhere:
Twitter: @Fetish_Fantasy_
---
Imgbox: https://imgbox.com/g/g4rhDCRKno
Image gallery: https://www.boyspornpics.com/gallery/img1239724-luke-takes-on-three-of-th.html