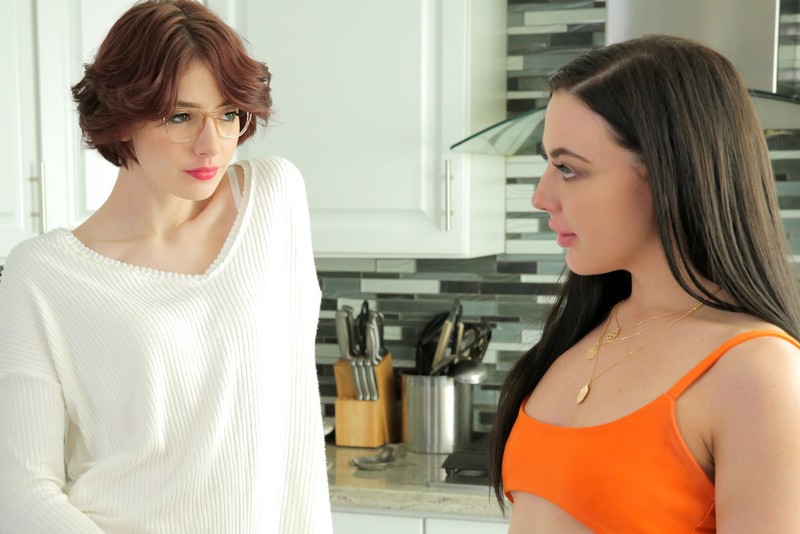 Models: Lena Anderson & Whitney Wright
---
Imogen couldn't believe this was happening. Ava was actually in her kitchen! Ava: the girl who attracted every eye in their local gym. Ava: the gorgeous fashionista every woman who saw her aspired to be. Ava: the infamously promiscuous sex fiend who was nonetheless so kind and bubbly nobody would even think of calling her a slut. Ava: the woman Imogen had been crushing on hard for over a year.
Doing her best to seem casual in her jeans and a loose-fitting jumper, Imogen tried to keep her cool. Still, it was all she could do to hold a conversation as she stumbled over her words. Blushing furiously each time she did, she would look down and leaf through the baking book laid out on the worktop to distract herself.
As usual, Ava looked stunning. Her long dark hair stood out against lightly tanned skin and her makeup was customarily perfect. Several gold chains of varying lengths decorated her upper chest, while her tight black jeans were paired with an orange crop top sporting a cut out above the stomach. Despite her skimpy dress she looked sophisticated rather than sleazy.
'So, is it just you in today?' Ava asked as she flicked through another book.
Imogen flushed. 'Uh, yeah, I think my flatmate is… at work. Yeah, at work, that's it,' she said even as she tried not to blurt out the truth: yes, she agreed to give us some space in case things got heated. Oh and by the way, she's also the one who made you come here in the first place.
Imogen knew that in Ava's mind, the choice to visit had been all her own. But she and her flatmate Cara knew the truth: Ava wasn't in her right mind at all.
Cara was the only person Imogen had ever trusted with the secret about her crush on Ava, though she had only admitted to it recently. Once Cara knew, however, she had immediately offered to help.
'There's this friend I have from uni who is a demon of a chemist. I bet he could put something together to help turn Ava on to you. If you stay at home I could get chatting with her at the gym, give her a quick spray then let the chemical magic do the rest.'
Imogen hadn't been sure about it at first. 'Isn't that a bit messed up? Like brainwashing or something?'
'Nah, nothing like that,' Cara said, waving her hand dismissively. 'It'll just be like she's realised she has a crush on you. And if things progress once she comes to visit, I promise she'll enjoy herself just as much as you will.'
Reassured, Imogen had tentatively agreed. She and Ava had met several times in passing and they lived in the same high rise, which Cara said would be enough for the spray to guide her into Imogen's arms. Then once Ava was in her presence, Cara promised she would find Imogen so irresistible she wouldn't be able to keep her hands to herself.
'Sucks for her. But at least that gives us some time alone,' Ava said. Her voice was unashamedly sultry and when Imogen looked up she saw a fiendish gleam in her eyes.
Whatever Cara had done to her had clearly worked. Imogen's pulse quickened as Ava slunk around the kitchen island towards her. 'I… uh… why… what did you have in mind?'
Ava's lips curved into a smirk. 'This,' she said.
Before Imogen knew what was happening Ava's lips were pressed against hers. The scent of her perfume filled her nostrils – rose petals and citrus – and a heartbeat later Ava's hands found Imogen's waist as she leaned in closer.
Imogen's mind reeled. Shock and elation swirled through her thoughts in a strange blend, but as the warmth of Ava's embrace began to spread through her body she slowly allowed herself to give in. Lifting a hand to cup Ava's neck she savoured the taste of her lips, the softness of her skin, the gentle erotic moans she gave as they kissed. And though she let Ava guide their passion at first she gradually began to take action too, stirring into life until she had looped her arms around Ava's back and they were kissing as passionately as two horny newlyweds on their honeymoon.
When they finally parted lips they were both breathing heavily. Having stood on tiptoe to reach Imogen's lips, Ava dropped back down smiling impishly. Imogen's stomach flipped as she caught her eye and realised their kiss had done nothing to quell Ava's lust – in fact, it had only fanned the flames.
'I… I like the way you think,' Imogen said, her cheeks flushed with arousal.
'Good. Because there's more where that came from. But I think we should make ourselves a little more comfortable first. How about we take this into your room?' Without waiting for an answer, Ava took Imogen by the hand and dragged her off through the apartment, disrobing her as they went.
From Imogen's perspective, everything from there was mostly a blur. She was so disoriented by the shock that all this was actually happening that she struggled to focus on anything but the pleasure. Guided by instinct she allowed desire to take over and before long she found herself stripped naked, spread out on her bed, tangled up in Ava's arms.
As erotic heat swept through her body a kind of delirium overcame her. All the naughty daydreams her mind had conjured up whenever she lay eyes on Ava were coming true as if somebody had delved into her mind and read her thoughts. They made out passionately, their hands never still as they each explored their lover's nubile body; they whispered filthy promises to play on one another's arousal; they suckled each other's tits and sank their heads between thighs until their moans danced through the air. They facesat and fingered and sixty-nined.
Yet by the time they collapsed amongst the cushions and began mutual masturbation, they both knew their passion had only just begun. Their bodies buzzed with erotic energy and their chests heaved as the pussy play continued to build anticipation for the one line they hadn't crossed yet.
'Oh fuck,' Imogen gasped, shuddering as Ava's fingers performed and expert dance over her wet sex. 'You're so fucking hot. I never thought it would be this hot… I mean I hoped… and I dreamed… but this, it's… oh fuck… I never want it to stop…'
Her face twisted with pleasure and her eyes closed, Imogen didn't see Ava's sly smile. Nor did she see the impish expression cross her face as she silently asked herself the same question that had been playing on her mind since she entered the apartment: should I tell her?
Because while Imogen thought she was the one exploiting Ava, in reality Cara was playing them both.
Cara had never told Imogen she was a bodyhopper – she found when people knew they usually started asking for favours. But when she had seen how infatuated Imogen was with Ava, Cara had decided it couldn't hurt to put her skills to use. All she'd had to do was follow Ava into the gym changing rooms and it had been the work of a second to jump inside her. Every word of her ruse about the lust-inducing spray had been a front to ensure Imogen didn't start asking questions when Ava showed up on her doorstep horny and ready to fuck.
What was more, it wasn't a coincidence that Cara was fulfilling all Imogen's hopes and dreams: she had hopped briefly into Imogen herself a few nights before, when she had spent a couple of hours sifting through her flatmate's desires. That way she could ensure their first erotic encounter was everything Imogen had hoped it would be.
Originally Cara had planned to do the deed, blur Ava's memories enough that she just assumed she'd had a very drunken night out yesterday, then tell Imogen the truth when the time was right.
Now though, while they played with one another's slick wet pussies and their breathy groans filled the room, those plans had changed. For one thing, Imogen was clearly even more deeply enamoured with Ava than Cara had first realised. And for another, Cara could feel that Ava herself was loving every second of this. Though her psyche was suppressed by Cara's powers she was basking in the pleasure and it wasn't hard to tell that Cara's host was just as aroused by the sensual encounter as Imogen.
Cara suspected that a couple more meetings like this and a few carefully planted erotic fantasies that lingered once she hopped out would be enough for Ava to fall for Imogen. From there they could do the rest on their own.
A playful gleam danced in her eyes: I suppose that makes me Cupid, she thought with a smile.
If she was going to do this though, Cara knew she'd have to make them adore each other so completely that neither of them thought to question her role in the whole thing. And to do that, she would need to whip them both into a frenzy of lust.
Fortunately, she had a few ideas for that. After all, so far there was one line they hadn't crossed and now was the time to take that next step. Besides, she was allowed to have some fun too and being in Ava's form was making her so horny she was desperate to feel an orgasm in her host's tight, slutty body. So, groping Ava's tits as she did so, Cara wasted no time in straddling Imogen's crotch and beginning to rock until all three of their souls were singing with depraved desire…
---
Thanks for reading!
Bodyhopper stories are kind of a weird grey area for me. I absolutely love reading them, but I'm not a huge fan of writing them. That's not because I don't enjoy the ones I have written, it's more because when I'm devising ideas for a gallery I like, any bodyhopper concepts I come up with always seem inferior to the other ideas I get. Overall, I just feel like there are other writers out there who are WAY better at writing smoking hot bodyhopper stories than I am, but I do still like dipping my toe into that niche every now and then when I hit on an idea I like, like this one. Hopefully you liked it too!
---
Imgbox: https://imgbox.com/g/9LnunfY4xV
Image gallery: https://www.pornpics.com/galleries/beautiful-lesbians-lena-anderson-whitney-wright-lick-pink-pussies-on-a-bed-48966902/