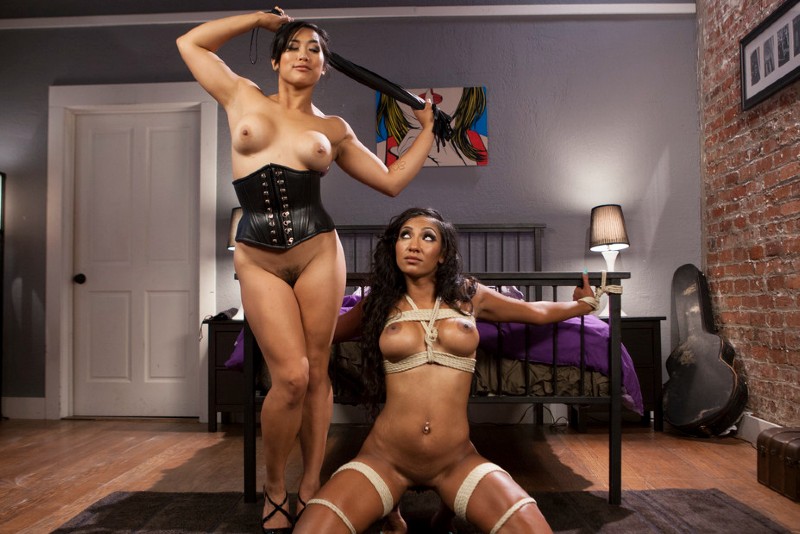 Models: Mia Little & Sadie Santana
---
Sean had spent enough time amongst criminals and gangsters to know there was one cardinal rule on which the entire underworld ran: never show weakness. No matter what situation you found yourself in, no matter how terrified you were on the inside, maintaining the perception of confidence could mean the difference between life and death.
And all of Sean's acting skills were in use today.
For one thing, he defied anybody not to shudder with intimidation when faced with Mia's fearsome glare. The tall, raven-haired woman eyed him as though she could see into his soul and was judging every transgression he had ever made. As far as Sean was concerned he would rather have stared down the barrel of a gun than hold her stare, although he forced himself not to look away.
Despite the fact he was wearing cargo pants, boots and a heavy black jacket while Mia was clad in only a tight bra top and frilled panties, he felt unnaturally vulnerable. Perhaps it was simply the effect of being at the heart of her empire, or maybe her blatant cockiness was getting in his head, but Sean could not shake the feeling that he was a mouse trespassing in the lair of a lioness.
But it was more than just Mia that was setting his nerves on edge.
Sean had been to the Yakuza compound before, albeit uninvited. He had been the leader of the thugs Yuri had tasked with raiding their drugs labs. Ironically, it was the same incredible drug they had stolen during that raid which had led him back to the Yakuza again, and the transformation was astonishing: what had once been a dull, cluttered complex of bare-brick corridors and stacked crates was now clean, bright and fully furnished.
During his last visit, the Yakuza's base of operations had been little more than a repurposed warehouse nestled at the heart of a dangerous neighbourhood, yet now it was more like a brand-new distribution centre.
What was more, it was obvious that the building wasn't the only part of the Yakuza that had been overhauled. As he had been escorted to meet Mia he had not seen a single man in the entire complex.
It did not take a genius to work out that the drug they had stolen had been used to transform the scores of surly Asian thugs into sultry Asian beauties, although whether the gangsters had acquired their stunning new bodies by choice or coercion was something Sean was less sure about. Certainly he could not imagine all of them making the change willingly, although he also doubted anybody would dare refuse Mia if she gave an order.
'You know boss, I've got to say I love what you've done with the place. When my employers asked me to pay you a visit, I sure wasn't expecting to spend my night anywhere nearly as swanky as this.'
Mia narrowed her eyes, her hands on her hips. 'I doubt very much that Diamond and Megan sent you here to engage in small talk, grunt. I will only warn you once that I am not a patient woman, so I suggest you get to the point.'
Sean was far from surprised that Mia knew he was no longer loyal to Yuri. Sean had spent enough time around Diamond and Megan to know he could not hope to match their frightening intellect, so if Mia had been transformed by the same drug then he knew she was as ferociously intelligent as she was mesmerising to look at. She probably had eyes everywhere, maybe even within the Bratva itself.
'Straight to business then. Fair enough. Well, to put things bluntly, I am here on behalf of my employers to deliver a message: they propose an alliance.'
'They stole from me,' Mia said coldly. Her glare was withering.
All at once, Sean went weak at the knees as he realised exactly who he was facing. Of course, Diamond and Megan had their theories about who exactly the new boss of the Yakuza was, but they had not been able to prove anything. What they did know for sure was that the role had only changed hands after Yuri's hit on the drugs labs, at which time the gang had answered to a man called Masato. And since the Bratva had not stolen anything from the Yakuza in the time since, that could only mean the fearsome man had subjected himself to his own drug. Mia was Masato, and the realisation chilled Sean's blood.
'No. Yuri stole from you,' Sean said, shaking his head. To his credit, there was not a shred of fear in his tone. 'That's a crucial detail. Yuri didn't have a clue what he'd laid his hands on when he robbed those crates from your warehouse, and he still doesn't. As far as he is concerned, the drug simply transforms the recipient into a horny, slutty nympho who craves nothing but sex and pleasure. He has no idea how intelligent or devious it makes them.
'Diamond and Megan are different. They've been scheming under his nose for months and he's totally clueless – barely any of his men are loyal to him anymore, not now the ladies are secretly running the show. Both of them hate him. But they respect you.'
Mia seemed to digest his words for a moment. 'Why did they not propose this in person?' she asked at last.
Sean shrugged in what he hoped was a casual manner. 'I'm afraid that's above my pay grade. If you ask me, I'd say they're almost ready to overthrow Yuri and they're making sure not to arouse his suspicions. Once all the pieces of their plan are in position they'll strike. But they don't want to rule their new empire alone, they want allies. And that's why I'm here. As their most loyal follower, they chose me to deliver their message.'
Surprisingly, the ghost of a smirk plucked at the corners of her mouth and her glare shifted from sceptical to unnervingly amused.
'Have they fucked you yet?'
Sean could not suppress the wicked grin that twisted his lips. 'Yes. Repeatedly. Ever since they transformed their libido has gone through the fucking roof. The second Yuri turns his back they're worshipping me and the boys like we're their gods. I've laid some nymphos in my time, but those sluts fuck like demons. Listen, Masato–'
'Masato is dead,' Mia snapped, fury in her eyes. 'He might have chosen to become me, but that does not mean I am the same person he was. Just as Diamond and Megan are not the same as they used to be either. Women like us understand that loyalty is not bought, it is taken: riches can be outbid, lust cannot.'
She leant against the foot of the bed, her rage mellowing as she spread her hands over the sheets. 'Our techniques differ of course. They fuck followers like you until you're addicted to their bodies, whereas I subjected my thugs to the same transformation as myself. Either way, the results are the same. I'm sure we will make excellent allies for one another and we will build a sordid empire on the foundations of our alliance.' Then her expression warped into a malevolent smirk. 'Unfortunately, you won't be here to witness it.'
Before Sean could react, Mia slipped a pistol from beneath the bedsheets, levelled it at his chest, and fired a single deafening shot.
The slug sent Sean crashing back into Mia's vanity. Shattering the mirror and scattering makeup across the floor, he clutched his chest, heedless of the mess he'd made.
When he pulled his hands away, however, there was no blood. All he found on his fingers was a familiarly shimmery liquid. Pooling and beading like mercury on his skin, the silver of the drug was shot through with swirls of pink.
Sean only had a few seconds to note that the pale pink marbling was a new addition compared to the drug he had helped steal, then the liquid was seeping into his pores and he crumpled to the floor, giggling like a drunken airhead.
Within a few seconds, Sean's entire body was buzzing with giddy, nervous energy. Everything seemed so funny, so when he looked up at Mia and realised she seemed much bigger than before he was struck by another fit of giggles. He wondered if this was what Alice had felt like when she drank the shrinking potion: it felt like he was being drained, all the size leeched out of him.
Almost instinctively he began to caress his body, stroking his bare arms as the muscle melted away.
He sniggered at Mia's stern expression. 'What's wrong with you, grumpy face? Turn that from upside down.' Then there was a burst of pleasure across his groin and he let out a breathless groan. 'Oh fuck, what was that? It felt so good. It…'
His voice trailed off as he slipped one hand into his newly baggy trousers. There was much less contained within than he'd expected and he realised with a start that his cock was gone; in its place was a shaved, wet pussy.
Sean had always prided himself on the size of his dick, and deep down a part of him knew he should be horrified by its absence. But rather than scream he squealed with delight and fondled his new sex.
'I… I have pussy. Oh God, it feels so good. Mmmh, I'm so wet… so horny.' Sean paused, realisation dawning visibly over his face. 'But if I have a pussy then that means…'
His hands flew to his chest and he gave another ecstatic shriek as his hands closed over a pair of plump tits hidden beneath the shirt that now buried him. Groaning as he groped his new rack, it took him several seconds before he noticed the fact that his once rugged white skin was now supple, hairless, and distinctly black.
Briefly frozen with shock, when his trance broke he snatched up a shard of broken mirror and his jaw fell open as an unfamiliar face stared back at him. The beautiful black woman in the reflection had full lips and large eyes; long raven hair surged from his head in glossy waves and his once chiselled features were now soft and feminine.
Throughout his transformation, the arousal roaring through Sean's system had gradually increased, building and building to a dramatic crescendo. Now a sweat broke of his brow and his shock was swamped by searing erotic energy. His mind felt like a piece of clay being moulded by unseen hands.
He gasped. He groaned. Then, his body overwhelmed, he slumped limply to the floor.
The last thing Sean saw before passing out was Mia's sinister smile.
---
The first thing Sadie saw after regaining consciousness was Mia's sinister smile.
The Yakuza boss was crouched in front of her wearing an impish grin and not much else. Aside from a pair of glossy heels and a black leather corset which embraced her stomach while leaving her fat tits and bare pussy exposed, Mia was otherwise unclothed. The sight sent arousal blossoming through Sadie's insides and she instinctively lunged forward with the intention of kissing Mia's enticing lips.
She didn't get far. The air was suddenly driven from her lungs as something tightened around her chest and a sharp pain lanced down her arms. She collapsed back gasping for breath.
Looking down, she gave a soft whimper. Her naked torso was criss-crossed with rope which bound her to the foot of Mia's bed, the tight restraints framing her tits. More expert ties lashed her wrists to the bedposts and her legs were also bound – her clothes were nowhere to be seen. As if that wasn't enough, Mia had clipped a cluster of clothes pegs to each of her breasts and as the numbing fog of unconsciousness wore off arcs of pain went flaring through her chest.
Despite the pain, she struggled to ignore the arousal swirling through her new body.
'What… what have you done to me?'
Mia grinned. 'Isn't it obvious? I gave you a taste of transformation. Personally I'd say this is a massive improvement over your old body.' Taking one of the pegs between her teeth Sadie shook it from side to side, laughing as Sadie squirmed and whined. 'That's it, squeal for me you little cunt.'
'But… but I'm still me,' Sadie gasped once Mia stopped. 'I mean I'm not, but I am. I'm mostly Sadie, but Sean's still in my head. You said the old you was dead, but it feels like the old me has been stuffed into a new body. I… oh fuck… I'm so horny and I don't even know why. I can't control myself. What's wrong with me?'
Snaking around to crouch beside her, Mia slipped one hand down to Sadie's exposed pussy and began to tease it. Her delicate fingers found Sadie's clit in a heartbeat and within seconds she had her captive moaning with ecstasy and writhing against her restraints.
'There's nothing wrong with you, little one. This is how the drug is supposed to work. Where you're getting things wrong is thinking that I shot you with the same drug that made me into a Machiavellian mistress. I wouldn't waste a dose of that wonderful elixir on a thief like you.'
Mia's fingers never stopped moving as she spoke and Sadie struggled to focus on her words; despite her predicament her body didn't want Mia to stop, yet she wasn't sure how much her fractured mind could take.
'I'm afraid you're not going to become the perfect slut. Well, I guess you are, but you're also going to become the perfect slave.' Mia shifted closer. 'We stumbled on the formula by accident when were synthesising the original drug. Masato dismissed it as useless, but once I took charge I had it developed to completion. As it turns out the mind will quite happily succumb to overwhelming nymphomania, but it puts up a little more resistance when forced into mindless submission. That's why there's still a little bit of Sean left in you. But we'll soon see to that – it only takes one orgasm to snuff out the old persona for good, and then you'll be my perfect servile slut.'
Sadie's body was so sensitive it almost hurt. Mia's circling fingers were like an electric wand against her tender pussy and each fresh wave of pleasure stole her breath away.
Gasping and groaning, every muscle in her body tensed – her stomach going rigid, her thighs bunching, her shoulders clenching. The rope creaked under the strain, but it was unyielding: she was more likely to shatter the bedposts than snap her restraints.
As her torment continued, Mia made every effort to push her further into the depths of arousal. Tweaking and squeezing the clothes pegs with her free hand, she giggled at Sadie's breathless shrieks, all while she peppered her captive's skin with almost vampiric kisses – not strong enough to leave a lovebite, but still so intense that Sadie's eyes rolled back into her skull. The Asian Domme slowly worked her way along the curve of Sadie's shoulder and up her neck until she was kissing the sensitive flesh just behind her ear. Her breath was hot, but her dirty words were hotter.
And although Sadie wanted to cum badly, Mia was careful not to push her over the edge. Instead the transformed thug's arousal simply grew, mounting inexorably as Mia held her right on the brink of climax.
When Mia finally stopped playing with her clit, Sadie was left panting. Her strength eviscerated, she sagged in her bonds like a prisoner dangling from a crucifix. She was so weak that when Mia untied the ropes around her wrists she simply collapsed to the floor, chest heaving, and she made no resistance at all when the ties around her legs were also removed, leaving dimpled marks all over her thighs and calves.
Sprawled on the rug, Sadie struggled to catch her breath and process the storm of arousal swirling through her insides.
But Mia had no intention of letting her off that easily.
Sadie whimpered as the Domme's dainty yet powerful grip drove her up against the foot of the bed. A heartbeat later her leg was hooked over Mia's shoulder.
She only noticed the monstrous strap-on jutting from Mia's crotch a second before it was sheathed inside her pussy.
'Oh fuck,' she moaned, her pretty face contorting with ecstasy. 'It's so big. I… I don't know if I can take it. I… oh my god, it feels so good… shit, I'm so horny I think I'm going to burst… I… ooooh…' Her voice trailed off and her jaw fell open as Mia began pumping hard into her wet sex.
With every thrust, their bodies rolled and rocked in a deliciously sordid rhythm. Her corset removed, Mia was free to pound Sadie's hole hard and fast. Flesh rippled under each blow and their tits bounced enticingly – Mia's jiggling freely while Sadie's bobbed and trembled, the rope restricting their movement and emphasising the red marks of the pegs which Mia flicked off one by one.
'Can you feel it, bitch?' Mia hissed. 'Can you feel yourself succumbing to submission? The hornier you get the more you want to serve me. Your inner slut is consuming you, corrupting your thoughts with lust. Once I finally let you cum you'll be desperate to worship me as your mistress.'
To her horror, Sadie found herself nodding. 'Yes. I feel it. I want it. I know I shouldn't but I do. I want to be yours.'
The remnants of Sean begged Sadie to resist, to scramble away and run. But her desire to serve was too strong. She could feel the drug dismantling her old psyche, and as Sean the thug faded, Sadie the slave emerged.
'Please, mistress, let me cum,' Sadie pleaded, knowing the act would seal her enslavement for good.
'I'm afraid not,' Mia smirked. 'I've not finished with you yet.'
By now Sadie's mind was little more than a lust-infused mush. So when Mia threw her to the floor and ground her face into the rug she barely understood what was happening.
Then the Yakuza boss was straddling her hips. A second later the slick rubber cock was pushing inside Sadie's ass, her anal muscles parting to accommodate the lengthy toy, and she shook with arousal while howling into the carpet.
Mia's rhythm was merciless. Driving down forcefully into her sub's hole, she spanked Sadie hard between thrusts, savouring the enticing jiggle of her fleshy ass. She laughed as Sadie clawed desperately at the rug, her moans muffled by the material.
Just like Diamond and Megan, Mia's body was made for sex and she craved pleasure like an addict. But her transformation had also imbued her with an extremely dominant streak and these days she loved nothing more than degrading a helpless slave in the privacy of her 'office'. True, it wasn't the kind of place most people would do business, but sex and domination were her business, so as far as she was concerned her bed was her desk and her strap-on was her executive toy.
Dropping down sharply to lie on Sadie's back, Mia wrenched her slave's head up by the hair and growled into her ear while continuing to sodomise her roughly.
'Do you want to know what the most humiliating thing about all this is, bitch? More humiliating even than me transforming you into a needy, subby slut: this was all a set up. Me, Diamond and Megan have been communicating for weeks. You didn't really think they'd trust a dumb goon like you to negotiate such an important deal, did you? We had already agreed on the terms of our alliance before they ever breathed a word about it to you. And as part of those terms they agreed to turn you over to me so I could make you my pathetic, adoring slave.
'You see if there's one thing Masato passed on to me, it was an impressive skill for holding grudges. And even though Yuri's grunts stole from him, I feel like they stole from me too – after all, if you'd managed to clear out all of his stash, I would never have existed in the first place. Sadly Diamond and Megan weren't willing to let me use my enslavement serum on Yuri himself – they have plans of their own for him – but they were perfectly willing to hand over the bastards who actually did the hit.
'Because you're just the first, you worthless cunt. Tomorrow night the rest of your thieving crew will be sent to my compound and I will take great pleasure in making slaves of them too. But I wanted you first – you led that raid after all.'
Mia had been desperate to reveal the truth to Sean since the moment he had stepped through the door. But she was glad she had waited – she couldn't imagine a more satisfying time to share Diamond and Megan's betrayal than with her cock buried in Sadie's ass.
And now she was ready to drive the blade of humiliation home.
'Think of yourself as Diamond and Megan's signature on the contract of our alliance; their gift to me to sweeten the deal. You weren't sent here to bargain, you were sent here to become my slave. And you're going to love every second of it.'
Mia had fucked Sadie to the brink. Now it was time to corrupt her completely.
Pulling out, she rolled Sadie onto her back with one hand and produced a midnight black wand vibrator with the other. Unwilling to allow her slave a second of respite, she pressed the vibrator hard against Sadie's clit, dialled the device up to its maximum setting, and plunged two fingers of her free hand into the former thug's glistening pussy.
The effect was almost instantaneous. Sadie tensed hard, her spine arching upwards and her muscles bunching as if she had just been impaled on the end of a cattle prod. She couldn't even scream, her face simply seizing in an expression of agonised bliss while a wheezing groan frothed on her trembling lips.
'Cum for me!' Mia cried, her fingers pumping so fast her hand was a blur. 'Cum for me and become my slave, you pathetic slut! You stole from me, now I am stealing you! I said – cum for me!'
Sadie squirted so hard she left Mia dripping. Orgasmic juices sprayed across her thighs and stomach, leaving her skin smeared in love and glistening as though smothered in lube. She trembled uncontrollably as her orgasm ripped through her, flooding her body with raw elemental pleasure. Likewise, the ecstasy rushed through her mind like a wildfire burning every last shred of Sean from her psyche.
By the time she crumpled to the floor, the man she had once been was dead. The memories of her former life survived, but Sean was a stranger to her – the previous owner of the body that now belonged to her.
She could hear Mia moving, but her orgasm had exhausted her. She knew without question that she would never experience a more powerful climax in her life again – although with Mia as her mistress she would certainly come very close – and she basked in the erotic afterglow as echoes of pleasure rippled through her.
Limp and breathless, she could feel consciousness slipping away from her. But as she passed out for the second time that night she heard her own voice begging, 'Please, mistress, let me help you transform Sean's friends when they arrive…'
---
When Sadie came to her senses, she found herself once again tied to the foot of Mia's bed. The ties were back around her legs, her wrists were lashed securely to the bedposts, and just as before there was no hope of escape.
This time, however, escape was the last thing on her mind.
Mia was stood over her. She had donned her corset once more, the black leather clutching her midriff while her plump tits and trimmed pussy set Sadie's mouth watering. This time there was a black flogger in her hands.
'Hello mistress,' she purred, smiling a smile that would have been perfectly innocent if she hadn't been naked and tied up.
'Hello slave,' Mia replied.
Sadie eyed the flogger, already anticipating the sting of its touch. 'I must have done something right.'
'You certainly have, little one. You promised me you'd help show your old friends how to serve their new goddess. Dedication like that deserves a reward. So I hope you're ready for a very long night. Because what we did earlier, that was just the foreplay.'
Sadie beamed. 'Make me yours, mistress.'
Rearing back ready to bring the flogger down, Mia's lips twisted with a deviant smirk. 'Your wish is my command.'
And as she waited for the first blow to land, a contented smile spread over Sadie's pretty face. The smile of a hedonist who considered punishment a gift. The smile of a slave whose only purpose in life was to worship her devilish mistress. The smile of a servile slut…
---
Thanks for reading!
If I'm honest, until Naughty Alexis mentioned it as being one of her favourite works of mine when I asked for sequel requests, I had kind of forgotten about Machiavellian Mistress. Not because I didn't like it, but because I've done so much since I wrote the previous instalment that it kind of escaped me. Lake Fantasy and Fantasy Resort especially were such big projects that everything before them is all a bit blurry.
So I am really glad Naughty Alexis reminded me about it, because boy did I enjoy returning to that world. I can't say how often I'll write new instalments moving forward because big stories like this are a lot of work and my spare time is currently quite limited, but I already have another one written up and few other ideas for further stories in mind as well. So you can rest assured that I am invested in adding more to the Machiavellian Mistress world, it's more a question of when than if.
Since it is October tomorrow, next week will start off my Halloween content for the year. If I'm honest, given that I'm writing this in late August, I have no idea what my schedule will look like for this October. My hope is that I'll be putting out two stories per week, but whether that is possible or not given I currently only have half of my planned stories written up, I'm not sure. At the very least there will be one story per week as usual, but if I do manage to prep enough for two per week then they'll be releasing on Mondays and Fridays. Either way, whenever my first October story comes out I'll have more information for you.
---
Imgbox: https://imgbox.com/g/EPTXH8n6cu
Image gallery: https://www.pornpics.com/galleries/whipped-ass-mia-little-sadie-santana-77138333/