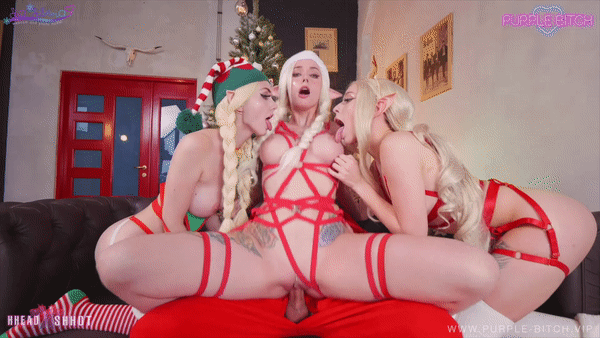 'Oh, Mister C, you feel so good! Please, Mister C, I've been a good girl this year – empty your sack in me, sir. I want to be so full I'm leaking your juices until next Christmas Night!'
Straddling his lap and bouncing feverishly on his throbbing meat, the needy little elf mewled and whimpered like a whining puppy. Her tight pussy lips jerked him urgently, desperate for his seed and every time she threw back her head (which was often, for she was burning with arousal) the bouncing pom-pom on her cute, sparkly hat tickled his nose.
Despite her strident cries, her companions were perhaps even more raucous. Giggling at her breathless moans, they filled her ears with words of depraved encouragement while their hands roved over her nubile body: groping, squeezing, teasing.
God, I love my job, he thought with a chuckle that set his short white beard quivering on his chest. Reaching up, his hands slipped beneath her thighs and clutched the hot flesh there. I really, really do.
Not so long ago – only a few decades back – his role as Father Christmas had been an altogether less fulfilling affair. Living out the whole year in the icy wastes of the North Pole with only his elves and his wife for company (none of whom were particularly talkative after centuries living together), all so he could spend one night zipping across the globe delivering gifts that would be discarded and forgotten within the week – it had hardly made for a satisfying career.
At least until people started slipping Elixir into his Christmas treats. He might have been an ageless supernatural being, but Santa had to look after himself as much as anyone else, and as such he had long since given up all the sweet treats left out for him on kitchen counters and fireplace lintels. Instead he stashed them away in his sleigh for the elves to satisfy their sweet tooth with.
The first time had come as quite the shock. Clearly hoping to catch a little Yuletide action come Christmas Morning, when they hoped they would find a cock-hungry transformed Santa under the tree, some sordid schemer had baked a potent dose of Elixir into their batch of mince pies. The unfortunate group of elves who had snaffled them up had begun to twist and transform before his very eyes, their bones crunching and grinding as the Elixir took hold, moulding his innocent helpers into hyper-sexualised, needy little whores.
That Christmas had been the first year in centuries he had appreciated the isolation of his workshop, since it ensured he and the elves could make as much noise as they pleased without any fear of being heard. And things had only become louder once his wife eagerly snapped up one of the pies.
Since then, things had changed at the North Pole. Every year more and more of the treats he bought back were laced with Elixir, from candy canes glossed in an unassuming glaze to Christmas pudding so thoroughly soaked in the filthy formula the effects didn't wear off for several months. Some of the more deviant elves had feasted on so much tainted candy their transformations had been rendered permanent and by now Santa was returning with enough treats to last them all the way through to the next year.
Unsurprisingly, the months between each Christmas season were now neither long nor lonely, going by in a blur of sex, lust and erotic transformations. Even Mister Clause allowed himself the occasional taste of the Elixir, though given most of his male elves were now permanently sealed in the bodies of young, horny sluts, he spent most of the time appeasing their insatiable desires. Still, on quiet nights, when the corridors of his grotto were lined by naked elves passed out with exhaustion and there was nobody to disturb them, he and his wife could be found thrashing about beneath the bedcovers, scissoring and pegging and gnawing on one another's breasts like the filthiest, horniest lesbian couple anybody had ever laid eyes on.
Before long, one of the other elves – a petite blonde cutie wearing little faux antlers and the same naughty red harness all the elves wore under their uniform these days (the few that even still wore uniforms, that is) – became too eager to allow her companion any longer on Santa's cock. Dragging her aside, the antlered blonde dropped down onto all fours and swayed her ass temptingly.
Santa chuckled. He could remember the elf she had once been – a skinny, miserable little thing with an ugly mole right on the tip of his nose. The sight of him transformed into such a greedy, slutty creature set his cock twitching.
Always happy to teach his whorish helpers where they belonged, he slid his slick cock into her ass and began to thrust.
Unwilling to merely sit back and watch, the elf she had tugged away flopped down in front of her and let out a giddy shriek as Santa's current lover began gorging on her exposed sex. Above, meanwhile, the third elf lifted a brightly-socked leg onto the arm of the sofa and sank two fingers into her own pussy while groping both her friends with her spare hand.
Almost immediately, however, a stern voice cut through the room. 'Come on, girls, out of the way. You've had your fun – now it's my turn.'
Though their pouting expressions betrayed their dismay, the three elves scampered away and out of the room without hesitation: they knew better than to disobey Mrs. Clause.
Turning to his wife, Santa stroked his rigid cock as he fixed her with a sarcastic look. 'You know, I was rather enjoying that. Do you always have to ruin my fun?'
'I'm sure you won't consider it ruined in a minute,' she said, perusing the contents of a deep wooden bowl set on the windowsill. It was identical to countless others dotted in every room of the grotto, each one piled high with Elixir treats. Picking out a mince pie, she peeled off the foil and wolfed it down, ensuring she didn't waste so much as a crumb.
The transformation was almost instantaneous – unsurprising given how often she had undergone it. Her wrinkles faded, her white hair rejuvenated into locks of blonde and black, and her sagging figure tightened into the sumptuous curves of an Amazonian goddess.
'Mmmh, now that's better,' she purred, undoing her fur-trimmed red cloak to reveal her stunning naked figure. Taking up a candy cane from the bowel, she sucked it suggestively, emphasising her plump dick-sucking lips.
Santa's lips twisted into a fiendish grin: someday soon she'd never have to return to that ancient body. He knew she hated it, but she had more restraint than the candy-addicted elves and made sure to pick her transformations carefully. Still, the speed of her transformation made it obvious a permanent change was imminent; he wouldn't have been surprised if she had Elixir in her blood by now. Maybe today, maybe tomorrow, maybe a month from now, but whenever it was he sensed they wouldn't leave the bedroom for weeks once it happened. It was lucky the elves were always eager to do his bidding, otherwise Christmas might be cancelled if his wife underwent a permanent change before the big night.
Striding over she sank to her knees and continued to run the candy cane between her lips. 'I don't know why you bother with those little prudes. They're all just screaming brats. 'Oh Mister C, you're so big,'' she trilled, imitating the whining nasal tones of the elves, ''Oh Mister C, I can't take it.' That's all I've heard all morning. You don't want them, not like you want me.'
'Is that so?' he said, rising to his feet and stripping off his jacket.
'It is. I know you, Mister C. I know you want it rough and sloppy and dirty. I know if you fucked them even half as hard as you fuck me they'd snap in two. You need a real bitch to satisfy you. You're a dirty fucking bastard and I'm the only one in this whole damn grotto worth your time.'
He approached her with one eyebrow raised until his cock bobbed just before her lips. He could see the hunger in her eyes. She was trying to defy him – she knew he'd use her harder if she did. 'You have quite the ego, my dear. I don't allow any of the elves to speak to me like that.'
A wicked grin split her features. 'What are you going to do about it, prick?'
They both knew the answer, so it went unspoken. Instead Santa tangled his fingers in her hair, clamped her skull in a vice grip and drove his cock between her lips before proceeding to pound her face until she was certain he was fucking her lungs, laughing at her dirty moans and sloppy gags as he did so…
---
Thanks for reading!
So this piece is one I really enjoyed writing. I found the initial gif of the elves last year I think and just never got around to writing it, but once I started on it this year I knew I'd hit on a really fun idea with Elixir candy. As always, all credit for the Elixir concept goes to the wonderful Evie Hyde, whose work you can enjoy here: http://eviehyde.blogspot.com/
As for the models in this piece, some I am familiar with, some I am not. The elves in the first image are apparently Purple Bitch, Sia Siberia and Alice Bong, none of whom I have any familiarity with. As far as I can tell they're OnlyFans models rather than modelling for a particularly studio and seem to do a lot of cosplay content. So if you're into that be sure to check out their PornHub channels, or if you're so inclined support them on OnlyFans. Unfortunately I cannot say who the male model is as I don't know.
The models in the second image are much more familiar to me. According to the video description the male model is Tommy Pistol. I can't say I'm familiar with his work, however I have heard enough of him to know he's worked with some fantastic models. And of course the female model is the inimitable Phoenix Marie. If you've followed my work for any length of time you'll know I'm a huge fan of Marie's work and I urge anyone who reads this to go and enjoy her content.
Obviously this piece kicks off my Christmas offerings for the year, so if you're thirsty for some festive fantasies, make sure you come back on Thursday for another nugget of naughtiness.
As an aside, the more eagle-eyed of my readers might have noticed the teaser images for my stories are no longer showing as gifs even when the images in the story are. This is intentional. To cut a long story short, I have no choice but to store those images on my website, whereas the images in the stories themselves are linked via imgbox. Using stills rather than gifs saves a lot of space, so moving forward I will be using stills as the featured images and will probably go back and implement stills onto old stories too. Sorry if you preferred the gif teaser, but it is just far more viable in the long run for me to use stills than gifs for those.
I would love to hear your thoughts on my work, so please leave me a comment!
Keep up to date with new releases by following me elsewhere:
Twitter: @Fetish_Fantasy_
---
Imgbox: https://imgbox.com/g/7W1zFZzgQo
Images: https://www.pornhub.com/gif/26861361