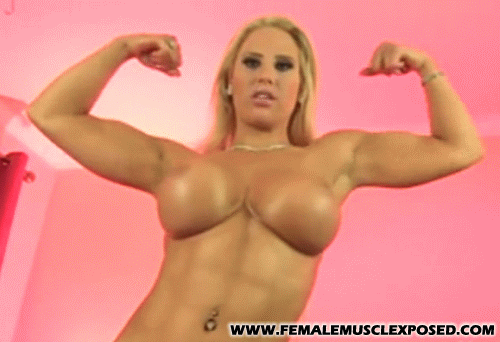 Sam couldn't tear his eyes away from her. Not only was she wildly beautiful and had a body to die for, her muscles were phenomenal. Huge and rounded, sliding beneath her soft, smooth skin, they were nothing short of mesmerising. If he was honest, he never wanted to look away. But then he supposed such an attachment was only natural given that mere moments before his own arms had looked just the same; those exact muscles had rippled beneath his skin.
Jess smirked coldly, crossing her massive arms over her broad chest. 'Bet this has taught you a fucking lesson. I did warn you, didn't I? I always get what I want, Sam. And I was right: I wanted you, and now I have you. Well, the only part of you worth anything at least.'
Flexing her stolen muscles, she laughed at the regret in Sam's eyes. Jess was the most notorious member of the gym Sam went to. Sly, ruthless, manipulative, a real heartless bitch. More than one man had fallen foul of her but Sam never expected he would be one of them. The strange sensation of having shrunk, having lost something key to himself had all but ebbed away. Now the despair had begun to set in. Catching a glance of his reflection in the mirror beside them, he stifled a sob.
Weedy, scrawny, frail. That was how he would describe the figure looking back at him. He struggled to believe it was him at all; if he was honest, his natural disposition pushed him to bully the miserable runt in the mirror. Only minutes before the same mirror had reflected a very different man: a powerful jock with a towering stature, a barrel-chest and the overall build of a small tank. He'd had muscles on muscles, yet all it had taken was a snap of Jess' fingers and he had fallen into his own worst nightmare.
Strange strands of light had burst into life and zipped across his body, followed by a bizarre sensation he could only describe as deflating. His muscles had vanished, leeched away by the wriggling light before it had swarmed over to Jess and gifted her with all it had stolen from him. She had surged in height, ascending the same foot he had fallen, and her figure had bulged with stolen strength. Now she looked nothing short of Amazonian. He did not quite know how to process what was happening.
'You really thought you could just turn me down? I get whatever I want. Call it a little gift of mine. You don't get to turn me down. I don't care if you've got a girlfriend, when I ask you out, that's not a request. It isn't an offer. It is a requirement. Let me guess, it was that whiny prude Pippa. She told you to stay away from me, didn't she? I suppose I shouldn't be surprised – I stole her tits in the gym changing rooms.' She laughed as he gawped at her heaving chest. 'And I always loved how good Cindy's ass looked in a swimsuit, so I stole that from her in the swimming pool. God you should have seen the look on her face when she got out with the ass of her suit sagging down to her knees.'
Pouncing on him with a sudden burst of speed, she lifted him off his feet by his collar and pulled him in close. Her stare could have crumbled concrete. 'I get what I want, because I can take what I want, understand? I want your muscles,' she snapped her fingers and Sam flinched as though slapped, 'they're mine. I want your girlfriend,' another snap and this time he whimpered, 'she's mine. Are we clear?'
Nodding pathetically while he tried to hold back his tears, Sam's blood ran cold as a cruel, bitchy smirk weaved across her lips. 'Come to think of it, that last one doesn't seem like a bad idea. It's not like she's going to care for you like this anyway. Don't worry though; I'll take good care of her. I mean, I already have everything she cares about from your body. Well, almost everything. Rumour has it you're rather well-endowed – I wouldn't have wasted my time with you unless there was something in it for me. But I must say I've always wondered what it would feel like to have a big dick between my thighs and I like the thought of fucking your girlfriend with your stolen cock. I think it's time I found out what that feels like.'
Snap…
---
Thanks for reading!
I have to confess, both of the releases for this week are ones I'm not entirely happy with. I wrote these in a period of minimal motivation and I am aware they are far from my best work. However, I always like to release pieces even if I'm not completely happy with them because I am aware that my own tastes differ to the tastes of others and I piece I may not like much may become a favourite of one of my readers.
However, at the time and now again as I am editing and releasing these weaker pieces, I have learned a lot about what I do and do not enjoy writing/releasing. For me, as I am looking at some of the stories I don't like I find it is often due to the supporting media. For whatever reason they do not invigorate me in the same way as my favourite pieces, and as a consequence the resulting story is – in my opinion at least – far weaker. I guess it has allowed me to relearn the lesson that the quality of your writing is only as good as the energy you put into it. If you aren't enthusiastic about the story, it will inevitably show through.
As a writer I am continually growing, and so I hope to keep this lesson in the forefront of my mind moving forward. I intend to be more selective in what images I use to support my work and not push myself to create stories based on ideas I am not truly invested in.
Having said all that, the premise behind this piece is one I found interesting to explore. I love that body transformation is such a multi-faceted niche and physical feature theft is not one I had explored before. The supporting image itself cycled through three or four different options before I settled on this one, which is not in fact the image I used when writing this piece. I like exploring new niches when I have the motivation to do so, so maybe I will write more (hopefully better) feature theft pieces in the future.
I would love to hear your thoughts on my work, so please leave me a comment!
Keep up to date with new releases by following me elsewhere:
Twitter: @Fetish_Fantasy_
Tumblr: fetishesandfantasiesworld
---
Image: https://www.imagefap.com/photo/1127702827/?pgid=&gid=5953448&page=0&idx=4