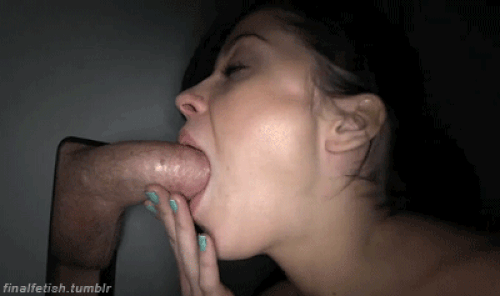 Honestly, she thought, guiding the waiting dick into her mouth, how did I ever manage before I found this place?
Sweeping her tongue along the underside of the shaft Abby savoured the taste of the anonymous man's meat and felt a little of the tension between her shoulders ease away. Her shoulders always seemed to be the first to relax, and she certainly was not about to complain; it made it that bit easier to jerk the dick before her.
She had asked herself the same question many, many times over the years, and she never was able to settle on a solid answer. Her life before she had begun visiting the gloryhole seemed oddly hazy, as though she was subconsciously trying to block it out. She certainly couldn't remember what it had been like to go more than a few days without the taste of a delicious cock, and now she had found her perfect place she had no intention of remembering anytime soon.
The dicks were always plentiful, the cum was always tasty, and the opportunity for a little more was always on the cards. More importantly she didn't have to bother hunting down a guy or flirting or batting her eyelashes. It was just abundant dick with no questions asked. For a proud slut such as herself there was nowhere better for her to spend her time in the whole city and she often found herself wondering how the women she passed on the street managed to survive without a regular meal of cum.
The anonymous man moaned loudly. She smiled. That's it. Enjoy it, you tasty bastard. This is what it feels like to be serviced by a real slut, not those hissy wannabe rich girls.
Abby had accepted her place as horny slut years ago. Most other girls would have considered it an insult, but as far as she was concerned the name was nothing of the sort. Why? Why would any woman decline such a title? The very definition meant a woman who has many sexual partners and what exactly was wrong with that? Sex was incredible. There was nothing better. And for her there was no greater thrill than having a cock filling her holes and hearing the growl of a man as he used her like a ragdoll.
Continuing to suck hungrily on the man's cock she felt all the tension and stress melt away. The relaxation spread from her shoulders down her arms all the way to her fingertips. The taut muscles down her back softened, her thighs losing their tightness. It was as though a great burden was slowly being lifted from around her shoulders and with each bob of her head it was removed a little more.
The gloryhole wall shuddered briefly and she could see him in her mind's eye staggering and using it for support. She was more than aware that she could put most amateur cocksuckers to shame and she prided herself on her ability to extract every last drop of cum from the swollen balls of her lovers. With her lips sealed tightly around his shaft she sucked so hard it hurt, but was rewarded with a gasping groan and a gentle half-thrust through the hole.
Only one more week now, she thought and, as it always did when she thought about her upcoming career change, her mind raced with excitement. About fucking time, too. Years I've been stuck as the secretary for that sexless bastard and he hasn't even had the decency to hit on me. Does he not watch any porn at all?
It had taken her longer than she would have liked to break into the industry but at last the producers had called her up last week to give her the good news: her first scene was approaching. According to the producers it would be a casting couch video with the main content being a long sexy blowjob. Exactly what she was best at.
With thoughts of gagging on a meaty dick in front of the cameras and having countless viewers masturbating as they watched tumbling through her mind, her excitement came out in the form of increasing savagery. Her reserved bobbing became rough bucking and she gagged on his dick with horny laughter as she took him all the way to the base. His thick meat stretched her lips but she was left wanting a little more – he was not quite long enough for her liking.
Regardless, her sudden vigour pushed him over the edge and he erupted into her mouth. His salty cum coated her tongue and teeth and as she always did she closed her eyes and savoured the taste. Sucking hard and swirling her tongue she drew every drop from his balls before pulling away and licking her lips happily ensuring nothing escaped. With a satisfied sigh she swallowed it all and took a moment to appreciate the pleasant heat winding down to her stomach.
Spent and shaking the man pulled back and she heard him stumble away. Shrugging, she simply moved down to the next hole and took the waiting dick in her mouth. For a slut like her, one load was nowhere enough and she was looking forward to the next few hours earning her meal for the night. Beginning to work her magic she let her mind drift again to thoughts of her new career in porn.
I'll actually get paid to fuck. How could anyone want any other job than that? Still, that's not to stay I'll stop coming here. After all, a slut needs her practice…
---
Thanks for reading!
I think sometimes the hottest stories aren't the ones with magic and transformations, but the simple ones that are grounded in reality that explore the psyche and natural desires. That's what I particularly love about this piece – there could be a woman just like Abby somewhere right now yearning to break into the porn industry and proudly branding herself as a slut while gagging at a gloryhole. In fact I'm almost certain there is. Every now and then I like to remind myself that real life can be just as deliciously hot as fiction.
I would love to hear your thoughts on my work, so please leave me a comment!
Keep up to date with new releases by following me elsewhere:
Twitter: @Fetish_Fantasy_
Tumblr: fetishesandfantasiesworld
---
Image:
https://www.sex.com/pin/57407663-having-a-quick-snack-at-the-gloryhole/