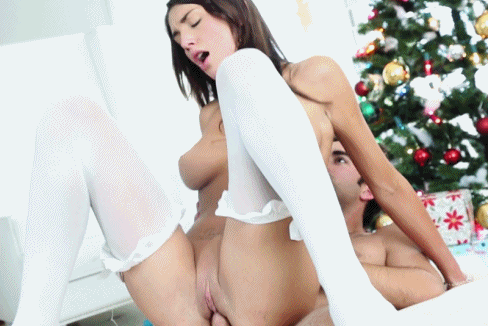 Even as she rode Chance's incredible cock, part of Verity felt unbearably guilty. He would never have wanted this. How could she have betrayed him so completely? She was supposed to be his best friend. If anything had gone wrong with her plan he would never have been able to look at her again.
But her plan had not gone wrong. And only part of her was guilty everything had gone her way. The other part was the one moaning as his thick dick plunged into her slick pussy over and over again. When her ass brushed against him she could feel his muscles rippling beneath the skin. As his strong hands clutched her sides, lifting her up and down rhythmically, he sent tingles through her body.
The one fact Verity took comfort in was that Chance would never remember this. In this state he was a slave to her desires, but once she returned his mind to him it would fill his head with false memories of the time since she had put him under.
If she was really honest, it had been almost frighteningly easy to take control of her long-time friend. No sooner had he opened the Christmas gift she had handed him than he had been entranced by the flashing lights and swirling colours on the screen of the small tablet inside. Opening the present had triggered the light show, and after a minute or two of complete encapsulation, Chance had dropped the box, the tablet now blank.
With almost robotic movements he had sat back on his chair, back perfectly straight and wearing an expression as blank as the tablet at his feet.
Verity's heart had soared and fell in equal measure. How could she have done this? But now was her chance! This was the highest betrayal she could have engaged in. She could have what she had always wanted!
Eventually her guilt had been overridden by her desire, and in truth she had hardly been surprised; her guilt was new, but her lust for Chance's body had been building for years. They had first met at university and formed a strong bond, ultimately resulting in them moving in together after graduating. By now they were both well off enough that they could easily have moved into their own places if they had wanted to – Chance was the supervisor of a marketing team, and Verity was an accomplished interior designer – but neither had much drive to do so.
For Chance, living with his best friend was preferable to being alone, though for Verity she could not imagine being without her handsome friend. Ever since university she had been crushing on him hard, unable to quell the lust of having him hold her and use her. Perhaps under ordinary circumstances she might have divulged her feelings to him at some point, however there had always been one rather important issue getting in her way.
Chance was gay.
Well, he had been. Now he was under her control, hypnotised into servitude, he was hers to do with what she pleased. He had no sexual orientation in this state, no boundaries. In truth, Chance as she knew him was gone until she decided to bring him back, and both his body and mind belonged to her.
'I'm sorry,' she said, gasping as his head struck her G-spot sharply, 'I had to do it. I couldn't resist any longer. I had to have you, Chance. I had to.'
As she felt her orgasm rapidly approaching, Verity already knew that there was no going back. She could never give him up, not now she knew the pleasure of his thick cock stretching her tight, wet pussy.
Once the tablet had emptied his mind she had been too eager to put much thought into her commands and there had been no foreplay to their intimacy: she had just wanted to fuck. Fortunately, the tablet had also come with a comprehensive guide on how to reprogram a hypnotised mind, detailing everything from altering personalities to integrating false memories. With the guide at her disposal and all the festive period off work, she had no need to rush.
Already she knew exactly what she wanted her new Chance to be. By the time the New Year arrived, to the rest of the world they would look like no more than two friends who had finally fallen in love to become an adorable young couple. Behind closed doors, however, Verity and Chance would be a hedonistic pair, exploring every sexual niche they could possibly conceive of…
---
Thanks for reading!
I would love to hear your thoughts on my work, so please leave me a comment!
Keep up to date with new releases by following me elsewhere:
Twitter: @Fetish_Fantasy_
Tumblr: fetishesandfantasiesworld
---