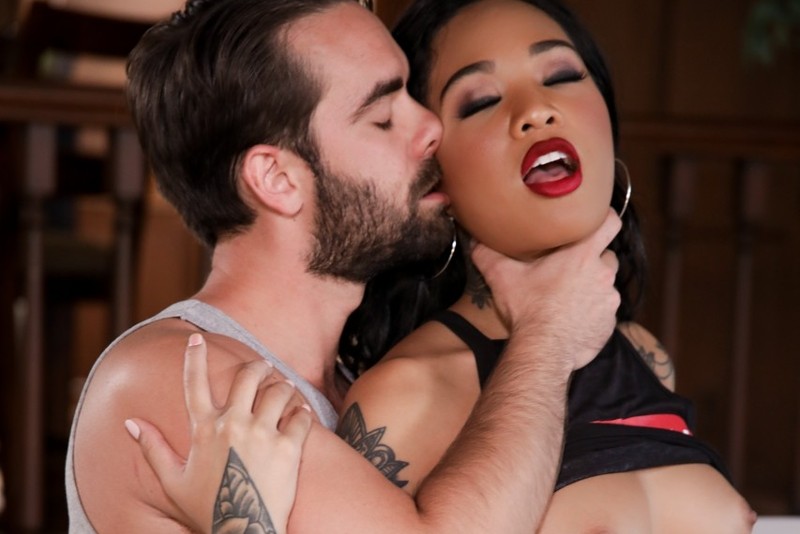 Models: Honey Gold & Logan Pierce
---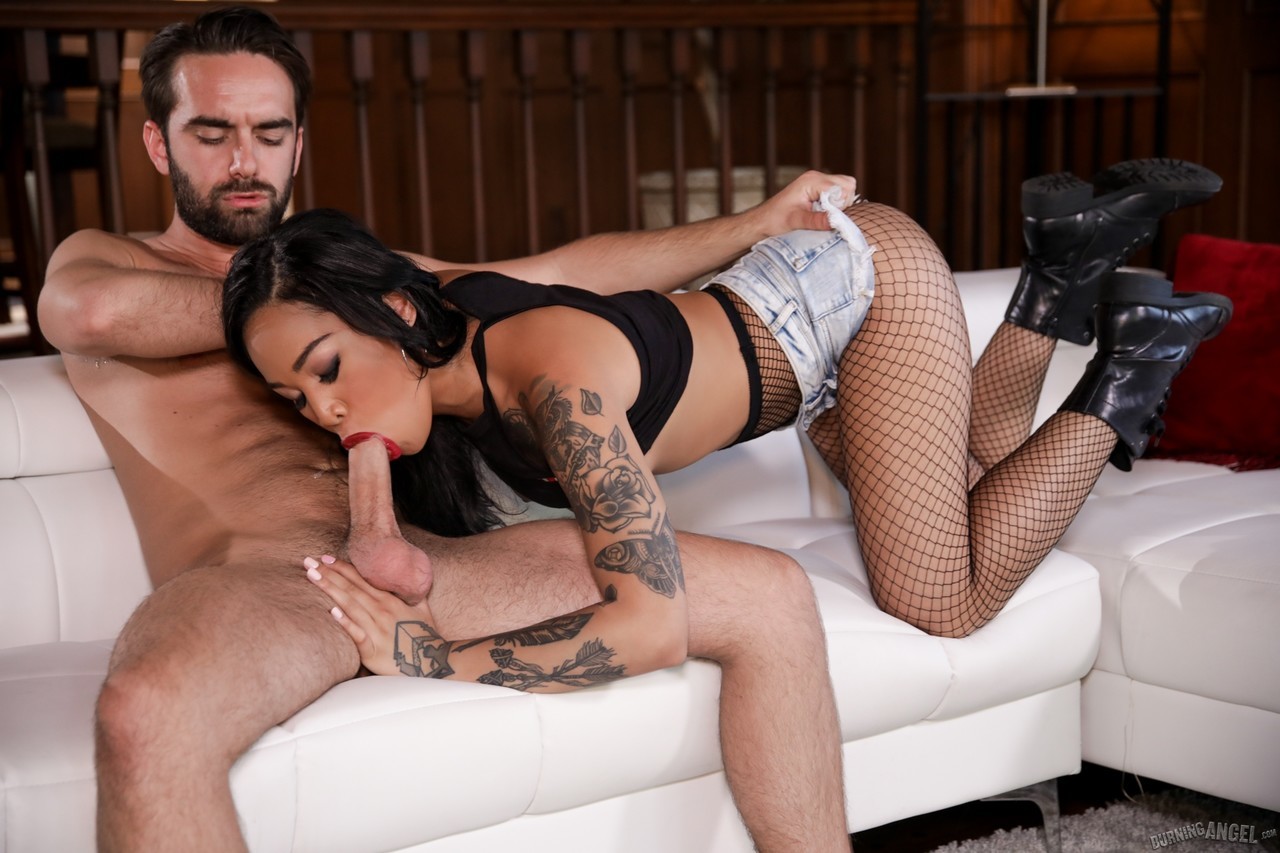 Hanna groaned around Carl's cock as he groped her plump ass. The black fishnet stockings hugging her legs ripped in several places as he squeezed and she shuddered as the crotch of her denim shorts rubbed against her tender sex.
'That's right, worship my dick, you dirty fucking whore. This is what you live for now. Your mind and body are mine.' To emphasise his point Carl spanked her hard then used his other hand to force her down further, his cock burrowing deeper into her throat.
Worship my dick. Carl's words echoed in Hanna's mind. Although they weren't an explicit command, they were enough to compel her to increase her pace. Bobbing her head hungrily and swirling her tongue around the shaft she massaged his balls with one hand, the air thick with wet slurping as her crimson lips worked her lover's cock.
Quite literally, Hanna could not help herself. She couldn't get enough of the stud using her like a cheap whore. Because Carl was right: her mind belonged to him. He had told her she craved him, so now she did.
'How do you like your new boots?' Carl laughed, spanking her again. 'You like them, don't you? Well I think you should throat me to show just how grateful you are. Go on, take my dick like a real bitch.'
A slave to Carl's words, Hanna obliged immediately. The act came with ease: a real bitch didn't gag or cry when throating her stud, so neither did Hanna.
Hank had been Carl's slave long before he ever donned the boots. When Carl had first barged into his store and proclaimed he wanted a mansion, Hank had been under the impression the arrogant stud was a greedy millionaire who would be easy to make a tidy profit off.
In truth, Carl didn't have a penny to his name. What he did have was the power to control minds.
It was a power he used to take anything he pleased: the supercars he drove, the VIP holidays he enjoyed, even the food he ate. And just over a year ago, he had used it to take Hank as well.
Every day since, Hank had been a slave to Carl's will. Commanded to undertake the whole project for his new master completely free, the expense alone had ruined his business. Then again that didn't really matter anymore because thanks to Carl nobody could even remember Hank had ever existed at all. Not his employees, not his friends, not his family. Not even his wife. A few words from Carl had wiped Hank from their memories ensuring nobody would ever come looking for the unfortunate foreman.
As construction had neared completion, Hank had started to hope he would be allowed to walk away. He believed he'd fulfilled his purpose. What more could Carl possibly want from him?
But Carl had not set him free. Instead, he had thrown the magic boots at his feet claiming they were a gift for his devoted service over the past year – although the cruel smirk on his face when he commanded Hank to try them on had made it clear they weren't quite the kind gesture he was making out.
The moment Hank slipped his feet inside the boots, the laces had tied themselves and an agonisingly erotic change had overcome his body.
His rugged skin had softened and taken on a darker complexion. His bald head sprouted long black hair as shiny as a raven's plumage, while his unattractive figure toned and tightened into stunning curves. His manly tattoos reformed into designs of roses and butterflies, his clothes shifted from filthy overalls to fishnets, shorts and a tight crop top, all while expertly applied makeup washed over his feminised face, perfecting his gorgeous appearance.
Within a matter of seconds Hank was gone and Hanna had taken his place. And in her new body, her sole desire was Carl's juicy cock invading all her holes.
During her transformation, Carl had cheerfully explained that he had purchased the boots from somewhere called The Little Shop of Hedonism and that they were designed by an artisan shoemaker called Grigori. According to Carl, Grigori generally preferred to work on magic heels rather than enchanted workman's boots, but the owner of the shop, Trixie, had agreed to place a custom order for Carl once he had explained how he intended to use them on his snivelling mind-controlled foreman.
Without warning, Carl forced Hanna away. Dragged unceremoniously from her thoughts she whimpered as his dick left her mouth with a wet pop.
Before she had even hit the cushions, however, she was scrambling back to swallow him again: after all, he had not ordered her to stop, so her sole goal was to follow the last order she had received and throat him again.
Pushing her back before she could do so, he laughed coldly as she again hurried back to him. After several more denials in which he shoved her away with increasing force, the novelty seemed to wear off; when she next approached, Carl grabbed her by the hair and dragged her up to kneel on the sofa.
'You dirty, needy cunt,' he growled as he tore her shorts off and whipped down her fishnets, exposing her fat ass and twinkling pussy. 'You really are as horny as Trixie said you'd be. If I'd actually paid with my own money I'd say those boots are worth their weight in gold. But the only reason you're wearing them is because I told her how hard I'd fuck you once you were my whore, so I think it's time I fulfilled that promise.'
Without waiting for a reply, Carl drove into Hanna's pussy hard, plunging his long cock deep into her insides. Her mouth fell open in an orgasmic groan and she gasped as he began thrusting furiously, one hand gripping a wrist behind her back while her tits bounced free from her black top.
Trapped inside her mind, Hank struggled to cope with the endless onslaught of blissful pleasure. Hanna's pussy throbbed with arousal and, when combined with the power of the boots pulsing through her body, the orgasmia of being fucked in this new form was overwhelming, enough to swamp and drown his hatred for the man who had ruined his life.
Several positions later and with no sign of Carl's stamina tiring any time soon, Hanna found herself on her back with her booted feet in the air. Carl's powerful hand was clamped around her throat and his hard cock continued to pummel her glistening pussy.
'Let's make this official then, shall we?' Carl said as Hanna's feet bobbed near his face. 'It's time Hank died. I don't have any use for a pathetic nobody like him anymore. And quite frankly I can't be arsed to spend every day making sure you can't find any loopholes in my orders. So this is where our fun ends. I won't be your client anymore – I'll be your addiction. And you're going to spend every waking moment satisfying me however I like.' He smiled coldly. 'I'm glad the last words you'll ever hear are these: forget you were ever a man, Hank. Forget your old life forever. Become Hanna. Become my horny, hedonistic bitch.'
Hank didn't even get a moment to panic. The words had barely even left Carl's mouth before the former foreman was snuffed out and only Hanna remained. A depraved grin spread over her crimson lips and she laughed naughtily as the slap of his thighs against her ass rang through the mansion she couldn't remember building.
'Oh yes, daddy, fuck me harder,' she giggled. 'I'm your horny, hedonistic bitch and I want your cum so fucking bad.'
'Whatever the lady wants,' Carl laughed before pulling out roughly and forcing Hanna to a crouch on the floor as he lifted one leg onto the sofa. Jerking his huge cock hard, it did not take him long to satisfy his slut's desire…
---
Thanks for reading!
---
Imgbox: https://imgbox.com/g/vBnk3aSrr3
Image gallery: https://www.pornpics.com/galleries/tattooed-asian-girl-honey-gold-drips-jizz-from-her-tongue-after-sex-in-docs-96201969/