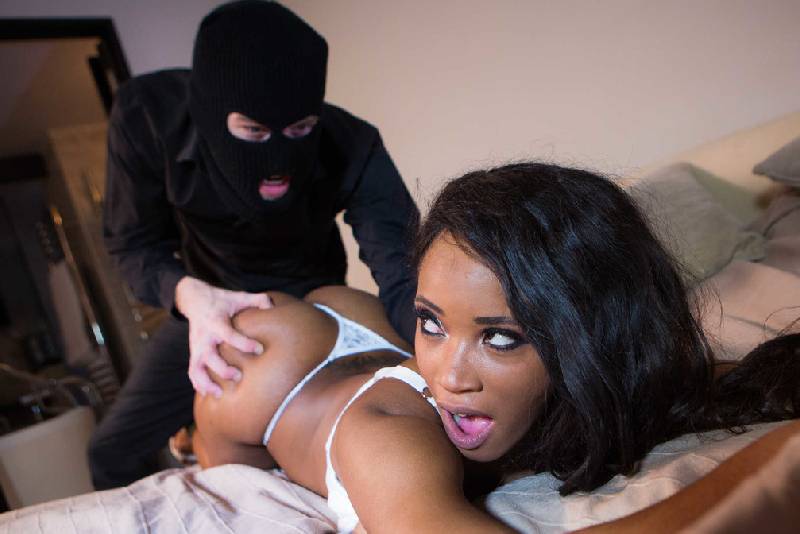 Models: Danny D & Kiki Minaj
---
Footsteps on the staircase woke Kelsey. It wasn't the first time she had dozed off while waiting for her boyfriend to finish his night shift, but she chastised herself for doing so nonetheless. Still, now Joey was home, they could have a little fun.
Rolling over, she opened the drawer of her bedside table and fumbled inside. But when she glanced at the digital clock on the top, her blood ran cold.
11:30
Joey's shift didn't finish until midnight. It was a half hour drive home too – there was no way he would be back this early.
The sound of the doorknob turning cut through Kelsey and her stomach plummeted as she heard it creak open. At the same moment, her fingers closed over the universal remote she and Joey kept stashed away in the drawer. Ordinarily they only used it to spice up their sex lives, but right now it was the only thing she could think to use to defend herself. Tired, waifish, and dressed in nothing but her nightie and underwear, it wasn't as though she stood a chance against a potentially armed intruder without it.
Spinning around with the remote in hand Kelsey aimed it at the figure in the doorway. To her surprise the intruder was a woman dressed all in black, not the hulking thug she had been expecting.
Kelsey activated the remote before the woman could react, sending a wave of invisible power sweeping through the room.
Unfortunately, Kelsey hadn't actually thought this far ahead. She certainly hadn't had enough time to remember that the remote was still configured to the same settings she and Joey had used the night before – settings which had transformed her into a slutty black whore and him into a hot, hung stud.
So when it was activated, the remote's power did not only strike the would-be burglar, it also engulfed Kelsey in its transformative embrace, and within a matter of seconds both women were groaning and convulsing as they were overwhelmed.
Kelsey collapsed onto the bed as her slender figure swelled out with stunning curves. Her tits expanded, her ass inflated and sumptuous ebony skin rapidly replaced her pale complexion while lustrous black hair burst from her scalp. Flooded with orgasmic ecstasy she thrashed wildly on the bed, her breathless moans growing increasingly horny with every passing second. She felt as though she was being eaten up, consumed by the bitchy bad girl persona the remote had given her, and by the time her transformation was complete her arousal was at fever pitch.
Kelsi needed a thick cock in her slutty holes. She needed a depraved stud to put her in her place and satisfy all her naughty cravings. Last night, that had been Joey. But now there was a new man to fuck her senseless.
Kelsi gasped as powerful hands clamped over her fat ass. The universal remote had dissolved her nightie to nothing and left her wearing only an astonishingly skimpy set of lingerie, the white lace barely covering anything at all. Spinning around she found the intruder had taken advantage of her vulnerability and was roughly groping her exposed cheeks.
'You dirty fucking bitch,' he growled, his eyes burning and his lip curled spitefully through the holes of his balaclava. 'What the fuck have you done to me? I can't control myself!'
'I'm sorry, I didn't realise,' Kelsi stammered, fragments of her old persona bleeding through as she tried to fight the swelling arousal. She gripped the bedsheets so hard her hands trembled. 'Oh fuck, I can't think… I need to…'
All at once Kelsi found her head wrenched back as the intruder twisted her around to face him. 'I don't fucking care what you need,' he hissed, spanking her so hard the crack echoed through the entire house. 'You did this to me and I'm going to make you fucking pay. Now come and put those slutty lips to work.'
Dragged up from the bed, Kelsi got her first good look at the man the remote had created. The woman's curves had been evident even in her dark outfit, but now they were gone, replaced by a much taller frame exuding masculinity in arousing waves. He was visibly athletic, his muscular physique obvious through the black shirt and jeans he wore, and his eyes were gems of furious lust as the vexed burglar came to terms with her new, hedonistic body.
Insatiable slut as she was, Kelsi barely paid any attention to the intruder's looks. Instead her eyes fell immediately to his crotch. To her delight, his jeans looked fit to burst. The sight had her mouth watering in a heartbeat. Even so, Kelsi was not ready for what the intruder pulled out of his trousers. When it had transformed her boyfriend, the remote had made him admirably well-hung. But this time it had taken things to a whole new level.
The intruder's dick was immense. As long as her forearm and thick as her wrist, Kelsi could barely believe what she was seeing as it bucked free. Her entire body ached with lust, desperate to feel the new man's colossal cock stretching her holes to their limit.
The next thing she knew, the stud was doing just that.
Seizing her by the head, he held her in place as he forced his dick down her throat. She gobbled every inch eagerly, her hot lips gliding over his glistening head and down the long shaft. The salty taste sent fresh desire crashing through her. Nymphomaniacal instinct consumed her and all she could think to do was worship her new master.
Her bouncing breasts soon drew the attention of the intruder and he tore off her bra with a powerful tug. 'You won't be needing this anymore, bitch. And from now on I expect you to go braless all the time. No self-respecting whore hides her tits away when they look this fucking good.'
Grabbing her jiggling rack he groped her mercilessly until her skin was bulging between his fingers. But the pain barely even registered through the fog of lust clouding Kelsi's mind. All that mattered was the fact he was using her like a true whore, degrading her with his words and his actions. And she was loving every second. Hotter still, now he was busy squeezing her tits, she was no longer being forced to suck his cock and yet she was still continuing to do so. The fact she had no desire to stop only turned her on more and she gorged herself hungrily, shamelessly, her wet gagging growing ever louder.
Kelsi was practically choking herself by the time the intruder forced her back.
Coming away with a salacious pop she struggled to catch her bearings. But the intruder's hands were already on her, dragging her up onto the bed and tearing off her wet panties to leave her completely naked; completely vulnerable.
To her surprise, when he dropped down to the bed and manhandled her into position, it wasn't her slick pussy he drove into. Instead he ran his hand over Kelsi's cunt, massaged a healthy dose of her sexual juices over his throbbing cock, then sank his immense cock into the tight embrace of her ass.
At first, Kelsi shrieked, the pain cutting through her pleasure. But then he was thrusting, his huge dick rearranging her insides, and the deeper he went the more orgasmic the sensation became. Soon her shrieks melted into ecstatic gasps and she was groping her own tits in an effort to release the erotic energy mounting inside her.
'That's it, bitch, take my thick cock in that fat ass,' the intruder growled. 'All your holes belong to me, understand? You're my stupid, needy cumdump and you're never going to be able to give up this dick ever again.'
Kelsi could only groan and giggle in response. By now, there was very little left of the woman she had been before. With the intruder's powerful hands gripping her tight, her slutty body humming with unfathomable orgasmia, and the biggest cock she had ever taken stretching her to her limit, she was little more than a mindless fuckdoll desperate to be used.
Still, when her gaze fell to the universal remote lying abandoned amongst her discarded lingerie, a shred of her former self broke through.
'My boyfriend… he'll be… he'll be home soon… he'll find us and… and…' Her body throbbing with pleasure, she was unable to finish her sentence.
Even if she wanted to continue though, once the intruder wrapped his hand around her throat and twisted her to face him any further words died in her throat.
'Oh, don't you worry about that loser, slut, I'll deal with him. After all, every whore needs a bitchy best friend to fuck with, and there's more than enough of me to go around. Besides, you don't want him anymore, do you? Not now you're my girlfriend instead of his. You're a filthy, cheating skank now. But that just turns you on, doesn't it? You want him to come home and find you begging for my dick.'
The intruder's words broke her once and for all. Whatever was left of Kelsey was snuffed out in a heartbeat. She was Kelsi and together with her bad boy stud they were going to use their universal remote to make some seriously sexy mayhem.
As her man pulled her into a passionate kiss, she groaned into his mouth while her orgasm began to build. Fuck, she really loved being a bad girl…
---
Thanks for reading!
---
Imgbox: https://imgbox.com/g/z0hXH6wcHH
Image gallery: https://www.pornpics.com/galleries/ebony-dreamgirl-kiki-minaj-gets-fucked-by-a-thief-with-a-huge-cock-23139667/