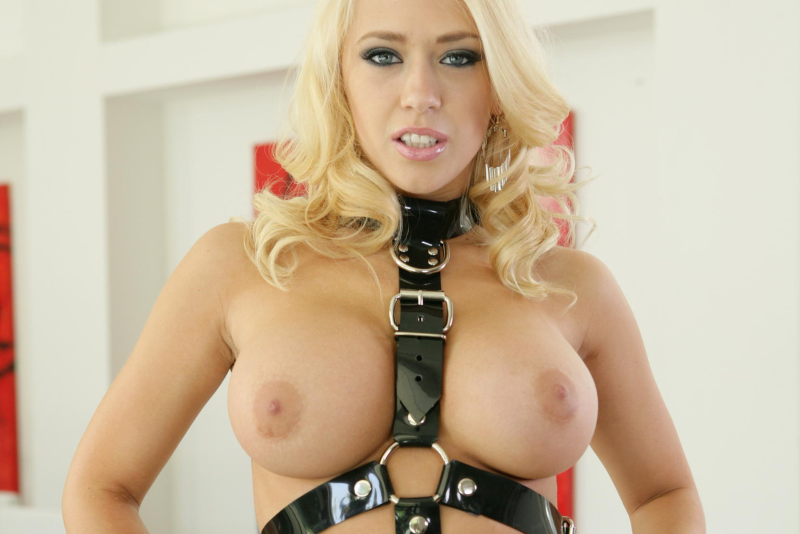 'Hey Andy,' Stella said, strutting into the room wearing nothing but a glossy latex harness as though it was a perfectly normal thing to do, 'how's the report coming?'
Glancing up from his laptop screen, the sight of his practically naked stepmother made Andy jump so hard he almost catapulted the device across the room and through the broad glass patio doors opposite. 'Holy shit, Stella! What the fuck are you doing wearing that? Hang on, where did you find that thing?'
Sinking down onto the adjacent sofa, the beautiful woman shrugged, her bare tits jiggling attractively with the motion. 'While you were working on your report I thought I'd take the chance to clean out your room. This was at the back of one your wardrobes. I don't know what it's made of but I just couldn't help putting it on. It was like it was calling to me, like it was desperate for me to wear it.'
Andy groaned and pinched the bridge of his nose. 'That's because it's enchanted. Any woman who touches it just wants to put it on. How many times have I told you not to go through my stuff? This is exactly why. I keep it hidden for when my girlfriend comes over, Stella, I got it for our anniversary as a naughty present. You have to take it off right now, before anybody else sees you wearing it.'
'Who's going to see me?' Under the effects of the harness she was utterly indifferent to the fact her stepson was able to see her glistening pussy and heavy tits, so to her it didn't matter if anybody else could see her.
'Oh, I don't know, maybe Dad!' Andy cried, 'Or the neighbours. I mean what if somebody comes to the door?'
'Don't be such a bore. Your dad is going to be at work for the rest of the afternoon, and the neighbours never pay us any attention. You know what I think? I think you're just realising now how hot and naughty I am.' She giggled as he tried to formulate a response but only succeeded in stammering a series of half-hearted excuses. 'You don't need to deny it, babe, I've seen the way you look at me when you think I'm not looking You think I'm far too good for your daddy and that I need a young, thick cock to really fill me up.'
'Listen, Stella, you're very pretty, but I think you really should take the harness off. It's going to your head and you're going to end up doing something you regret.'
But then there was a fire in her eyes. She moved like a sharp gust of wind, swooping down to straddle his lap and press her firm fake tits against his chest. Though he tried to pull away she pinned him to the back of the sofa and gently ground over his crotch. Despite his best efforts he couldn't hold off the erection which began to grow beneath her.
Leaning in to whisper in his ear, Stella's hot breath caressed his skin. 'The only thing I would regret is taking this lovely thing off. I haven't felt this horny in years, sweetie, I'm not about to give that up. And you know what, I do need a young cock. Your daddy's a nice man, but I can't say he's especially gifted in the bedroom. But you, you're much more than him. I've heard the rumours about you, Andy, and the moans your girlfriend just can't hold in when you think me and your dad have gone to sleep. But I'm not asleep, I'm awake late into the night masturbating to the thought of being in her place.
'But it's not just that. I can feel how good you are. This harness has gone to my head, you're right, and it's letting me feel all the things you've done to your naughty little girlfriend when she was wearing it. Fucking her face, taking her from behind…' She moaned sensually and ground a little harder. 'Mmmh, even filling up her ass. You're the lover I really deserve, Andy, not that limp dick dad of yours. So I say we have some fun.'
He was in the process of delivering a frail protest when she was on the move again. Slithering down his body temptingly until she had him breathless with lust, she slowly undid his zipper and hefted out the thick meat she knew was contained within. Looking up at him, she smirked. 'I'm afraid I won't take no for an answer.'
Then she was tasting him and all his reservations melted away. She was right – he did crave her, he had done since his dad first introduced them. She was hot and busty and far too good for his dad. As she went down on him the only coherent thought he could form was questioning himself why he had never thought to give Stella the harness before. Not that it mattered anymore; she would be wearing it a lot from now on, and once he started to fill her she knew she would never fuck his pathetic dad ever again…
---
Thanks for reading!
The models in this scene are Kagney Linn Karter and Manuel Ferrara. Neither of them need any introduction. Ferrara recently showed up in Fantasy Resort where I discussed him in more depth, so all I'll say here is that he's a true male heavyweight in the industry and has produced some truly phenomenal scenes with some of the hottest women on the planet. Karter, meanwhile, is not a staple of my personal porn diet, but she is nonetheless an absolutely incredible creator and well-known in the industry. Most if not all of you will have heard of her before and no doubt seen her work, but if you haven't you should make exploring her portfolio your top priority, starting now.
I would also like to say that I sourced the images for this piece from Viper Girls. To be totally transparent, I very, VERY rarely use this website since I am not as confident in its security as I am in that of other websites I use, however it was the only place I could find good quality stills for this scene when the gifs I intended to use were taken down. I have provided the source to the Viper Girls gallery down below since I feel that's only fair, however I would advise any of my readers who wish to check out said gallery to ensure they have good antivirus protection in place before doing so – I'm not saying Viper Girls is an untoward site, only that there are plenty of pop-ups that show up when navigating the site and I'm personally always cautious when that is the case.
I would love to hear your thoughts on my work, so please leave me a comment!
Keep up to date with new releases by following me elsewhere:
Twitter: @Fetish_Fantasy_
---
Imgbox: https://imgbox.com/g/4PBKrN7gYA
Image gallery: https://vipergirls.to/threads/2952070-Kagney-Linn-Karter-Riley-Steele-Strict-Machine-Scene-2-(x102)?styleid=61