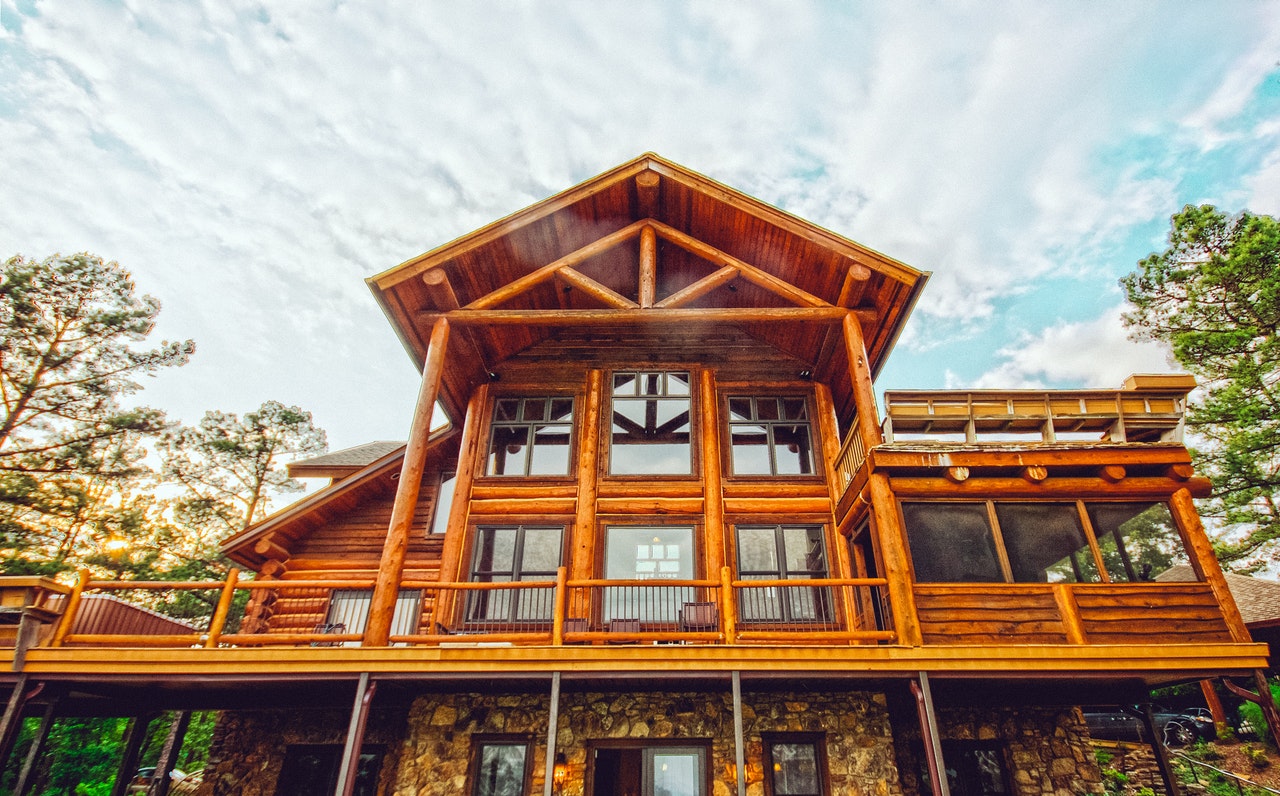 Pulling up among the crowd of cars the Kleins heaved themselves out onto legs seized up by the long journey. Stretching life back into them, they found they were the last family to arrive. Most of the other holidaying families were bustling about, exchanging hugs, shaking hands and chattering excitedly about the week ahead. Mr. Silva, predictably, was off to one side shouting down the phone. Cade, the moody Rivera son, was sullenly helping his dad unload the car while casting irritated glances at his mother, who was noisily boasting about her expensive manicure to the other mothers in the group.
'Holy shit,' Richard said, 'now that's what I call a cabin!'
The huge wooden building was so big they had to strain their necks to see the top. Richard could already see himself and Jessica reclining on the balcony clutching crystal champagne flutes.
His wife slapped him on the shoulder, a wordless warning to curb his language. 'Well, it looks like we're all here now.'
'Jesus,' Paige gasped, noticing the building for the first time after putting her phone down, 'that place is bigger than our whole house!'
Daniel laughed. 'Who would've guessed we'd have bigger bedrooms on holiday than at home?'
'I wonder if our cabin is that big,' Annabelle wondered aloud, staring at the vast structure with child-like wonder.
'Oh it is,' Melissa's strident voice rang out. She and her expensive nails had broken free of the group. Hurrying over she subjected Jessica to a crushing hug. Richard stifled a chuckle at his wife's exasperated expression. 'After all, this is a special occasion. It seems only right we go out on a high note.' Jessica looked crestfallen, but Melissa didn't seem to notice.
The six families had been holidaying together ever since they were in school. Initiated by the women their numbers had grown first with their husbands, then with their children, and now with a few boyfriends and girlfriends thrown into the mix the Weavers, Fosters, Riveras, Lynches, Kleins and Silvas had swollen to a united clan of twenty-eight. Naturally, holidays for that kind of number weren't the easiest to find, so most years they went camping together, but this year was different. The last of the kids would soon be heading off to university, so this would likely be their last summer getaway altogether.
Spotting his wife's expression, Richard promptly changed the subject. 'Where did you find this place? I can't say I've ever seen it advertised.'
'It just popped up on Airbnb. There was this really nice manor we thought about too, but this place seemed a better fit. I mean six cabins like this and six families to fill them – how could we say no?'
Before he could reply, Mr. and Mrs. Weaver started to bicker. Andrew had popped the boot of his four-by-four and rummaged furiously through their luggage, complaining loudly that his laptop hadn't been packed.
'How am I supposed to watch the game now, Felicity?'
'We're not here to watch the game, we're here to spend time with friends. If it's that important to you you'll have to watch it on your phone.'
'On that tiny little screen. You can't be serious?' But Felicity was already stomping back to the rest of the group.
Richard nudged Melissa. 'Well, it looks like you hit the jackpot with this place, but I get the sense not everybody will appreciate it.'
'You might be right,' Melissa sighed. She looked briefly downtrodden, as though someone had just broken a beloved family heirloom. Then she was bright and bouncy again and bustling over to the Klein children. 'Oh, look at you three, all so grown up. I swear you grow another foot every time I see you. Come on, you just have to meet Brad's new girlfriend!'
As she dragged the teenagers with her back to the group Richard groaned. 'Oh joy. Another airhead we're going to have to put up with for the week. You would've though he'd worked his way through every dumb slut his city has to offer by now, wouldn't you?'
Jessica did not reply. She just stared sadly at the excited group like it was the last happy sight she would ever see. He sighed inwardly: he'd been afraid of this. Every year their summer trip revitalised her, but with this almost surely being the last one for some time he'd wondered if she might struggle with it. It appeared he'd been right.
Still, they had a week at this place. A lot could happen in that time.
Leaning in to kiss her cheek, he offered a reassuring hand. 'Come on, sweetie, let's go say hi.'
Drawn from her trance, Jessica smiled, took his hand, and followed him over to greet her friends.
---
After driving across to their cabin and dumping their luggage, the Kleins took the opportunity to enjoy a walk back to the Rivera cabin. It was tradition on the first night of their retreat to reconnect over a barbecue and as they drew closer the tang of smoke hung in the air.
Though they'd been at their cabin for only a few minutes, they'd already placed dibs on their rooms. Melissa had really outdone herself this time. She always booked their getaway but this place was something special. A little smaller than the Rivera cabin, the lodge the Kleins would be spending the next week in was a stunning place, as homely as it was spacious.
The cabins circled a beautiful lake enclosed on all sides by emerald forests and rugged mountains. It was a little isolated paradise, stocked with enough provisions and sporting equipment to last them a month let alone a week.
Along the way the Kleins met with the Lynches. While Jessica and Richard took the time to catch up with Brenda and Darren, Elliott, their son, fell into step with the Klein children and was quickly engulfed in their discussion of comic books and movies.
Once they arrived at the barbecue they quickly fragmented. While the adults converged on the broad patio where they helped themselves to beer and wine, the kids swarmed around Trevor manning the barbecue and pestered him for food. In their own little pockets the adults discussed work and children and the work their children did, while the children spoke about all the work they wished they didn't have to do and the work they'd managed to weasel out of since they last met.
By the time the stars came out everybody had gathered on the patio to discuss their plans for the next day.
'There's no way I'm coming to a place as beautiful as this and not taking the chance to hike through it,' Darren was saying.
'Me and Spencer would love to go on a hike,' said Ashley, although her boyfriend looked distinctly less enthusiastic.
'I keep telling myself I'll be more active, so now I have the chance I can't really pass it up,' Nancy added.
Vernon scoffed, coming back to the conversation after spending the last twenty minutes texting furiously. 'There's no way you're getting me up those hills. The only mountain I'll be climbing is Mount Budweiser. And to cool off after all that hard work I'll take a dip in the lake.'
Trevor raised his glass. 'I'll toast to that. I'm on holiday, and you know what that means…'
'No work, all play,' Brad said in a mocking imitation of Trevor's husky voice.
'Please, there's plenty of time to do what we like,' Melissa said. 'The brochure said this place has everything we need for a relaxing escape. Whether we're hikers or heavy drinkers it's all here.'
'Well it sounds like Trevor's not going to run out of booze then,' Andrew laughed uproariously.
'Hey mom, can I stay with the Lynches tonight?' Josh cut in.
'Of course, just so long as Brenda has room for you.'
'Oh please, Nancy, we've got enough rooms to sleep a football team in that cabin and there's only three of us!'
Only when dark clouds stained the sky and threatened rain did they conclude to retire for the night.
Just as they were heading off, Lauren asked the Kleins if she could stay with them for a few days. Richard and Jessica had always had a soft spot for the young woman and were happy to accommodate her. They had the sense she hadn't bothered to ask her parents, but they knew full well neither of the Silvas were at all interested in what their daughter got up to so long as she wasn't bothering them. As such, with full bellies and a slightly swaying step, they returned to their cabin with one more than they'd left with.
Flopping down onto their beds they were soon asleep. Part of their fatigue was exhaustion; most was alcohol. One by one the cabins fell dark, leaving only the moonlight to illuminate the carved name on the arch they'd arrived under: Lake Fantasy…
---
Thanks for reading!
Hello! I'm back! As many of you will already know, my schedule this month has been jam-packed due to my domain shift and numerous other things. By far the biggest job for me though has been polishing up Lake Fantasy! I am so, so happy to finally have this coming out and I can't wait for people to have the chance of reading it. This really is a labour of love and has taken up most of the last two or three months.
I'll explain more about the stories themselves as they release, but basically August will be entirely dedicated to Lake Fantasy, with an increased schedule of releases to fit them all in the month. Every Lake Fantasy chapter is pretty hefty and rival my end-of-month serials in length, and you will be getting a new one every Monday, Wednesday and Friday, though the first chapter will go live with this prologue.
This is an idea that has rattled around in my head for a while, and once I had the time to give it a go it latched into my brain and would not leave. In writing these stories I have decided to use some of my all-time favourite models, so each story focuses on a particular scene of theirs. I've kind of done this before – The Formula was basically a showcase of/love letter to Phoenix Marie's work, while my two Machiavellian Mistress stories were dedicated to the work of Diamond Jackson – but never on this scale, and I'm thrilled to be able to share these awesome creators with my readers.
As with Machiavellian Mistress, this whole summer saga was inspired by the work of the fantastic Mara Mischief. Specifically, her 'Mischief Manor' series. If you haven't read it already you absolutely should, and you can find the first chapter and introduction here: http://maramischiefs.blogspot.com/2019/08/mischief-manor-intro-chapter-1.html?zx=24d11487793a5ce0
Though I decided to go in my own direction, Lake Fantasy is set in the same universe as Mischief Manor and uses many of the same ideas. I have tried to pay homage to Mara's work as best I can without copying her, however her plot was so tight and the narrative structure of Mischief Manor so concise I tried to channel that in my work. If you have read her work, you may notice subtle references to it here and there, which I hope you enjoy picking out.
I know there are a lot of characters introduced in this prologue, but I hope that by the end of the month you will be familiar with them all and it won't be confusing for you anymore.
Finally, thank you for your patience over the past month. I know I have been largely absent from the internet, including Twitter, but I am very excited to be back and I really appreciate people understanding that real life can get in the way and that things can take time to produce. Now I am back I also intend to pick up Twitter again and I'll be releasing content fairly often on there too.
I look forward to the rest of the month and beyond, and I hope everybody is safe and well.
I would love to hear your thoughts on my work, so please leave me a comment!
Keep up to date with new releases by following me elsewhere:
Twitter: @Fetish_Fantasy_
---
As with my previous story, The Book: Wishful Thinking, all of my images are hosted through imgbox, and are compiled into a gallery on my imgbox profile. The norm from now on will be that I will provide a link to the imgbox gallery for those interested in accessing all images together, however I will also continue to link each image individually.
In Lake Fantasy, however, since most images are drawn from image galleries of one particular scene, I will provide links to said image galleries at the end of the post rather than each image. If you wish to view each image then you can either find them on the original image galleries or my imgbox gallery for each chapter.
Imgbox gallery: https://imgbox.com/g/XAbbjvOq0G
https://www.pexels.com/photo/brown-2-storey-house-2294125/
https://www.pexels.com/photo/close-photography-of-grilled-meat-on-griddle-1105325/