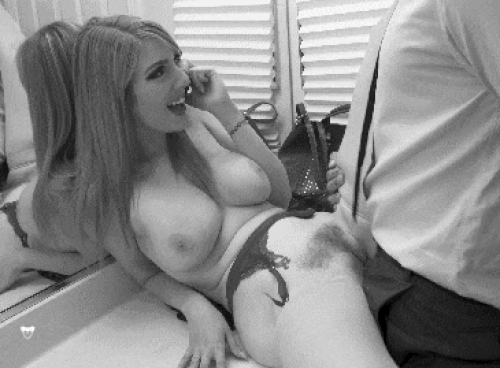 'Hey honey,' she said as her husband picked up the phone, desperately trying to hold back a moan. 'I was just ringing to say I will be home a little late tonight.' Licking her lips seductively, Gemma felt her boss speed up a little as he pumped his dick into her hungry pussy.
She had spent the last half an hour beneath his desk, teasing his dick with soft lips and an eager tongue while he talked business with one of his clients. She had been able to tell that he had been struggling not to groan, and every time he had glanced down at her she had grinned a coy grin that had set his cock twitching in her hands. Never doing quite enough to get him to cum, she had still emerged with a chin covered in pre-cum once they had left. Not even caring to lock the door, he had dragged out from her hiding space and thrown her onto the top, lying her on her back up against the mirror. With rough hands he had torn off her clothing violently, groping her hard as he did so and sending buttons pinging across the room.
Now, on her back and with only the tattered remains of her lace panties around her waist, he was sinking his big dick deep inside her again and again. She craved his seed inside her, but he had more than enough experience to know how to keep her waiting. Intermittently fast, he spent most of the time teasing her, slipping inside her slowly, gently, all the way to the base of his shaft, then pulling out until he was rubbing her clit with his head.
It was a competition to make the other finish first: her sensual lip-licking had been countered with light teasing of her nipples, which she had combatted with occasional, unexpected clenches around his dick. Playing dirty, he had swung one of her legs up and over his shoulder, pulling her closer and slamming against her G-spot repeatedly.
When she had pulled her phone from her handbag, she had seen the defeat in his eyes. She knew she had him; nothing made him cum harder than hearing her lie to her husband while he fucked her.
'How late?' she was saying. She winked at him. 'Oh, two hours I would say, maybe three. Sorry, babe. Yeah, I'm just with my boss, we've got to file a tonne of paper work for tomorrow. I'm working on a pile at least six inches tall right now, and I am not even close to finished with it.' Her flirty grin threatened to push her boss over the edge at any moment, and he fought desperately to hold his load. Knowing he was close, Gemma squeezed her tender breasts together to flaunt her cleavage and drove home her victory. 'I know it was date night tonight babe, I'm really sorry. I don't think I'll be up to doing anything tonight, I'll be too tired.'
Her boss exploded with fantastic force, his fingers tightening around her fleshy thighs and his hot seed filling her fit to burst. A small moan slipped from her lips and her eyebrows swung up in an expression of pure ecstasy. She felt his cum dribble down and tickle her asshole as he slowed, before eventually pulling out.
'Thanks for understanding, sweetie,' she said, 'I have to head off and get this work done now. See you later. Love you.'
Breathless, her boss glared at her. 'That wasn't fair, you know I can't take it when you call him.'
Grinning even wider, Gemma ran two fingers up her pussy before sucking his sticky cum from them seductively. 'I know.' Leaping up, she pushed him back onto his leather chair. 'Now it's my turn,' she giggled. Straddling him, she eased her slick, cum-soaked lips over his throbbing dick then began to grind…
---
Thanks for reading!
Keep up to date with new releases by following me elsewhere:
Twitter: @Fetish_Fantasy_
---
Image: https://www.sex.com/pin/55711985-yes-sweety-im-still-at-work-will-be-back-home-in-an-hour/