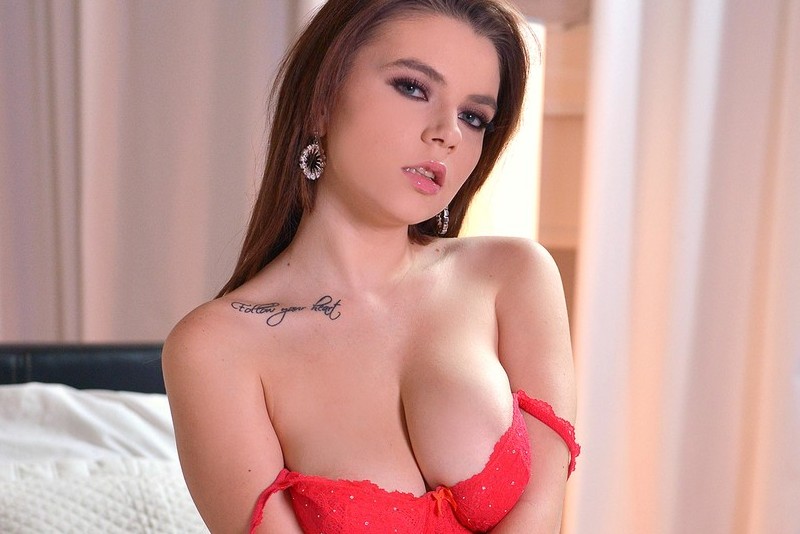 Model: Marina Visconti
---
Leah's heart was thumping as she let her bra slip from her shoulders and dangle from her arms, releasing her hefty, fleshy tits as it fell. The air over her nipples sent shivers up and down her spine and – as always – she felt the deep, persistent need to find someone to grope her rack, but right now there was a more pressing need possessing her.
She needed to open the box.
It was sat on the end of the bed, the bright pink lettering across the lid luring her in: Become A Better You.
Just reading those words tickled Leah's arousal. They weren't just a slogan, they were a promise. The Slut Industries monthly subscription box – or, as it was better known, the Slut-scription Box – was expressly designed to make any woman better. A better lover, a better looker, a better cocksucker. But the whole thing came with a catch: it also made you a better whore.
And that's exactly why the box shouldn't have even been on her bed in the first place: she had cancelled her subscription the previous month once she realised what a corruptive influence it was having on her life. Though she had initially subscribed as a little harmless fun – a naughty surprise for her boyfriend and a potential boost to her own self-esteem – over the past several months she had started to notice the changes each subsequent box was making to her, the new woman they were moulding her into.
Her plump, luscious tits were designed similarly to the bodysuits Slut Industries was well-known for, and her boyfriend had delighted in groping and squeezing and fucking them once they adhered to her flat chest. The special perfume she now wore every day never failed to drive her libido through the roof and fill her mind with sordid fantasies. And her boyfriend had never known her hungrier for his cock thanks to the lip-lumping, sensation-enhancing lip gloss which had arrived only last month.
Except with everything new she took from the box, it was as though she was exchanging it for part of the woman she'd been before – her kindness, her empathy, her soft sensitivity – and she'd begun to struggle to resist a host of new urges.
Her tits weren't just perfect for groping, they needed it, and Leah was now forever aching for a strong man's hands to clamp down over her supple orbs, so much so that she had started dropping in on her old roommate when her boyfriend was out of town and have him fondle her just to stay sane. The lip gloss was almost as addictive as the cum she was now constantly thirsty for, driving her to go down on any stud she could lay her hands on, sucking cock everywhere from behind bus stops to nightclub toilets while she sent her boyfriend off to buy drinks. And the perfume… well, she couldn't quite remember what it was like to wake up without her head teeming with filthy ideas, and even when she was fucking him into a babbling mess she no longer thought of her boyfriend anymore. Instead, all she could think about were all the nights she'd spent in some other man's bed while he thought she was out with the girls, loving every second of cheating on him.
Still, she'd held on to a sliver of her decency, so on an impulse she'd cancelled her subscription, hoping perhaps there was still a way of avoiding her fate of becoming a shameless, cold-hearted bitch.
For the past month she had just about managed to suppress her slutty desires, the knowledge that she'd done the right thing fuelling her determination not to give in to what the Slut-scription Box wanted her to be. And her efforts had paid off – she hadn't cheated on him once all month.
Tonight was their anniversary dinner, too, so she was sure the inevitable sex they'd be having later that night would take the edge off all that restrained erotic energy.
But then, while she was doing her makeup, there had been a knock at the door. When she went to open it swaddled in her fluffy pink dressing gown, her stomach had dropped; there was nobody outside, but that familiar lilac-coloured box had been sat on the doormat, the bright pink slogan as tormenting as seeing an ex with your best friend.
Although the sight of it had made her want to run and hide, she had operated on autopilot. Snatching it up, she'd scampered to her room the same way she'd done with every other box before it, sloughing off her gown as she went.
The shock and guilt had hit her as she set the box down on the end of the bed and she'd pulled back, curling up like a frightened puppy as she eyed it warily. She knew whatever was inside the box couldn't possibly be good. The contents were designed to corrupt her, to ruin her, to take everything she was and twist it into something slutty and evil.
Yet even as she tried to convince herself she wouldn't open it, Leah knew she was in denial.
She had already tossed aside her bra without even thinking. She caught herself giggling as she imagined a man slapping her fat tits hard as he fucked her. And the next second she was wriggling free of her panties to reveal her glistening pink pussy which, thanks to the special razor she'd received in a previous box, was totally bald, hypersensitive, and utterly hypnotic to any man who laid eyes on it.
All those naughty thoughts and urges she'd tried so hard to suppress for the past month overwhelmed her all at once, shattering her resistance. With a hungry gleam in her eye Leah lunged forwards and tore off the lid.
Her eyes swirled with slutty excitement when she saw what was inside.
Nestled amongst the bright pink tissue paper, the silver dildo glittered like a forbidden treasure. It was slim and sleek and about the length of her hand from wrist to fingertips. The shiny shaft was rounded on one end and capped with a black metal base at the other. She didn't need to see the little dial set into the base to know the toy hid a vibrator inside, but once she lifted it gingerly from the box she was delighted to find that the settings went all the way from Innocent to Insatiable.
Beneath the toy was a note set atop what looked like a bundle of netting, but Leah ignored both. Just the sight of the dildo had sparked a sinful greed inside her and the urges she'd ignored took hold of her with renewed purpose.
She wanted to be fucked harder than she'd ever been fucked before; she wanted to ride some hung bull while her boyfriend watched, his heart shattering into dust. She wanted to be the bitch the box had been making her into, and she wanted it now.
A giddy grin on her lips, Leah slumped back into the pillows and spread her legs, knocking the box off the end of the bed in the process. Her enhanced pussy gleamed with her arousal. Without a second's hesitation she slipped the toy deep between her folds. She wasn't in the mood for foreplay tonight: turning the dial up to its limit her grin faded and she gave a lustful gasp as the powerful vibrator blasted pleasure through her wide hips.
In her school days, during a science class her teacher had used black food colouring and a beaker of water to demonstrate the mechanics of dissipation. That's how Leah felt now. Every time she pushed the toy inside she was filled with a little more cruelty, a little more materialism, a little more sluttiness, which spread through her system like the most perfect, intoxicating disease. Thrust by thrust, gasp by gasp, she corrupted herself, devious giggles bubbling on her lips as the sinful darkness swelled out from her crotch to encompass every inch of her person. She could feel her very thoughts changing, the last remnants of the sweet, faithful woman she'd been before willingly surrendering to a new personality.
By the time she felt her orgasm beginning to build, she was only Leah in name. Everything else about her had been warped into something new and twisted and whorish.
Only once her body was burning with desire, her mind succumbed to insatiable nymphomania and her soul emptied of anything good and kind, only then did she allow herself to cum. The ecstasy that tore through her in that moment sealed her transformation, her body singing with slutty desire.
For several minutes she bucked and writhed over the sheets, moaning and gasping as her toy continued to buzz almost unbearable pleasure through her groin while she came. But she could not bring herself to remove it, not even if it threatened to send her mad with lust. She only released it when she crumpled back into the pillows, limp, breathless and completely corrupted.
When she finally regained her senses, she gingerly retrieved the box from the floor and took up the note for the first time:
It looks like you've cancelled your slut-scription. Getting cold feet? At Slut Industries, we're dedicated to ensuring all our customers are 100% happy, so we hope this goodwill gift on us will help you get back on track to bitchiness.
Once you've finished with your new toy, we're sure you'll be eager for something a little more meaty, so we've also included something to make your night a memorable one. Once the guys see you in it, they'll never want any other woman – how could they when the sequins are hypnotic under nightclub lights?
Enjoy your night, and we look forward to receiving another order from you soon.
Yours naughtily,
Slut Industries
Taking up the final item in the box, Leah realised it wasn't netting at all: it was a crop top. The colour of lavender, it was thin and provocative and good for concealing absolutely nothing, and at every intersection of the mesh a little silver sequin glittered. The same sequins adorned the neckline too.
After donning her bra again Leah slipped it on, a slutty smirk plucking at her glossy lips as she imagined how hot it was going to be having all the guys in the club eyeing her barely-covered cleavage.
Hottest of all though, was the knowledge that while she was riding some hung stud – maybe even letting a bunch of bulls use her holes like she was no more than a needy sex doll – her boyfriend would be spending their anniversary night alone.
Well, her former boyfriend that is. There was no way she intended to waste her time on him anymore. The new Leah craved only the hottest, hunkiest, horniest studs she could lay her hands on. Only those that met her lofty expectations would be able to play with her body – and her old boyfriend definitely didn't deserve that luxury.
Then again, perhaps she could send him his own slut-scription box under the guise of an apology. After all, Leah knew from experience how quickly an addiction to the box could blossom, and while she had no use for him as her boyfriend anymore, what kind of bitch would she be without a busty bestie to seduce guys alongside her?
---
Thanks for reading!
I would love to hear your thoughts on my work, so please leave me a comment!
Keep up to date with new releases by following me elsewhere:
Twitter: @Fetish_Fantasy_
---
Imgbox: https://imgbox.com/g/L19OzKBjgP
Image gallery: https://www.pornpics.com/galleries/adorable-teen-marina-visconti-reveals-her-huge-naturals-plays-with-a-sex-toy-48721577/