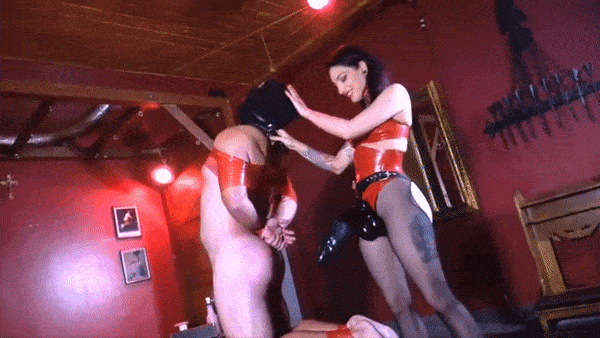 'Listen,' said the woman, wrenching his head back by the strap of his ball-gag. She chuckled before continuing. 'Whore. That's what you are. Just a piece of meat to fuck. Bet you never thought you would be in this position did you? Sure, you might have fantasised about being the dominant one before, hell, you may even have done it a few times. But you never imagined being the one tied up and at the mercy of your lover, did you?'
Aiden was reeling. The bizarre sensation of being thrown into an entirely different body had been almost immediately overshadowed by the shock and confusion of his inability to move. The initial disorientation in the first few seconds of occupying his new body had only be enhanced and compounded by his bondage, resulting in him noticing neither the ball-gag stuffed between his teeth, nor the balaclava over his head for a good thirty seconds.
After a minute or so, he had calmed himself down enough to try and take stock of his situation. Fortunately, two details had made this significantly easier. Firstly, the balaclava was aligned well enough that he had no problems seeing out of the eyeholes, and secondly there were a handful of mirrors spread around the room.
Looking around, he had been able to ascertain that the room appeared to be some form of fetish room. Not quite a dungeon, it appeared to be more of a torture chamber decorated with heavy strokes of gothic masochism. The colour palette of red and black was not far different from that of Layla's bedroom, with dashes of bronze scattered across the room in the form of mirror frames, hooks and brackets.
As he had been looking around, he had caught sight of himself in a number of the mirrors. Before he had, however, he had been able to figure out that he was not bound by rope. The feel of it was too broad and tight, and it did not slide over his skin at all, instead sticking to him, unyielding. His suspicions had been confirmed as he spotted that red tape had been tied around his ankles, wrists and shoulders to keep him restrained. The ball-gag, meanwhile, was buckled around the back of his head and he found that he was kneeling on a leather-padded wooden plinth that he would be unable to get down from without falling hard to the floor.
Even in his dire predicament, he had to admit to being just a little disappointed in his shift. The body he now occupied appeared to be at least a few years older than his own, and his chest muscles were not so well-defined as they had been. His dick also appeared to be a shade smaller than the one he was used to.
Notably, there were no windows, and he felt entirely isolated in the strange place. His loneliness, however, was usurped by a choking sense of fear as he had caught sight of the wall to his left, which was entirely dedicated to rows upon rows of hooks and shelves supporting all manner of painful- and malicious-looking items. From riding crops, to chain floggers, to chastity cages to enormous strap-ons, it looked like the toy chest of a sex-crazed demon.
As it turned out, he had not been far wrong. The clicking of heels on wood flooring had snapped his head around to the open door to his left, and a mixture of fear and arousal had swelled through him as a beautiful woman had strode into view. She was nothing short of stunning, a picture of raw power. The stark red of her towering platform heels was bright against her black, backless stockings. She traced manicured fingers over her pale, exposed ass teasingly, continuing on to her curves with a coy smile. Her mesmerising two-piece outfit clung to her sultry figure, the tight red latex shining under the light, and he struggled to tear his stare away from her perfect breasts. When he did, however, ascending beyond the red latex collar, he found himself looking upon a face as beautiful as it was cruel. Her stare was malicious ice and there was a sadistic glee in her smile. She knew he was helpless and at her mercy, and she revelled in the power she had over him.
Wordlessly, she had stalked over to the wall and to Aiden's dismay had picked out one of the largest strap-ons from the entire array. With a Cheshire cat grin she had slipped her long legs into the straps and buckled it up, approaching him slowly as she did so and allowing him to squirm in his bonds. Then she had been behind him, only visible in the mirrors.
Even now he could see her in them, rubbing the enormous black dildo with spit and lube from a nearby bottle. There was a chilling glee in her tone, a terrifying glitter in her eyes.
Breaking him from his thoughts, she shook him roughly, his jaw aching around the gag as she tugged on it. 'Answer me, bitch!'
Frantically he shook his head and she chuckled coldly, moaning as she rubbed the strap-on. 'Mmmmh, but you've fantasised about it, haven't you? Otherwise the Playground would not have bought you here. When you were alone in the dark, jerking like a fucking loser, you've wondered what it might be like to submit to a real woman.' She paused, and he heard her move. When she spoke again her breath was hot in his ear. 'I'm a real woman, Aiden. Submit to me.'
All at once her hand was between his shoulders and she pushed him down, bending him over so that his head and knees were planted firmly on the wood and his ass was raised up. The sudden breeze surrounding his nether regions made him shiver, and the strip of fear that ripped through him made him whimper, knowing there was nothing he could do to escape.
She moaned again, appearing to draw pleasure from his fear. 'I really do love it when I get the chance to break in a new member of the family. You would be surprised how many men secretly crave this. The submission, the vulnerability. Most of the time I hop from body to body just like everyone else, but whenever fresh meat arrives I always return here ready to show them what real submission feels like.'
Ordinarily, he might have asked how she knew his name, or that he had only just arrived in the Playground, but he had more pressing concerns whirling through his head. To his rational brain his helplessness was terrifying. Part of him felt as though he had been abducted and was about to face some horrible fate.
However, he could not deny the truth in her words. He had fantasised this scenario. Not often, not while he had been with Erika, but he had. It seemed to be only a sliver of him that found the concept erotic, but when that part took hold it made him hornier than he would ever have admitted to anybody. Something about the chance to give up any power he had, hand over everything to a lover and just submit was deeply erotic. The knowledge that he could never experience it, nor could he tell anybody even if he did only intensified the desire.
But that had been in his world. In Layla's Playground no fantasy was off-limits and now here he was, at the mercy of a powerful, stunning woman who was going to use him however she pleased. His apprehension was matched only by his anticipation.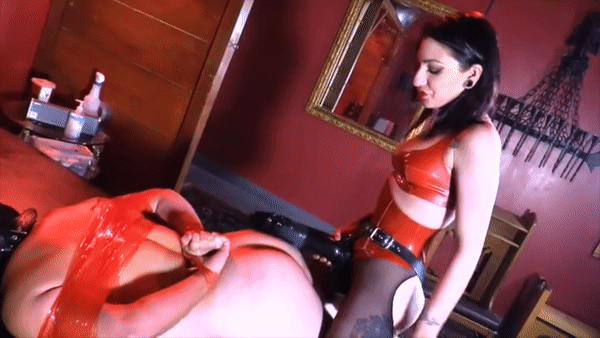 The sudden drops of spit that struck his exposed ass were bracing, and he flinched as they landed. He could hear her rubbing more along the dildo, and the sensation of being in her presence was both deeply erotic and deeply unnerving. He shivered as she ran the head of the dildo along the side of his leg and tapped it against his cheeks.
Despite himself, he could not hold back a little moan.
She chuckled and leaned in close to him, placing the dildo over his ass and pressing her body close to his. He could feel her stockings brushing against his legs, and as the fantasy he had imagined drew inexorably closer the fear he had felt began to dissolve. That fraction of him that had always craved this slowly took control. He found he was desperate to submit to her.
'Just as I thought. You've wanted this for so long. Seeing me all in latex with a big fucking strap-on and being all tied up would be nightmare fuel for some men. But not you, bitch. This is what you've dreamed of. You're my submissive whore, and I know just what to do with you.'
Then, dropping the head of her enormous dick down, she pressed it against his tight virgin ass.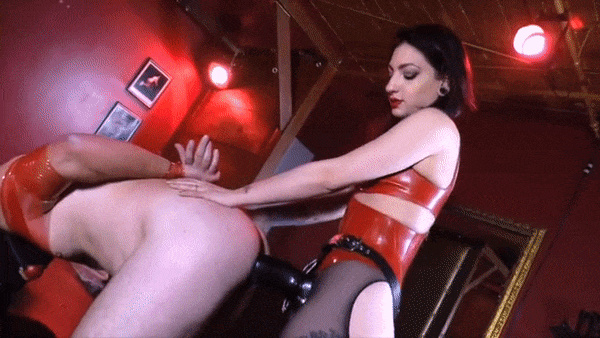 Their moans filled the room and drifted out into the corridor beyond as she entered him, and the more they moaned, the hornier each of them became. Aiden did not know exactly what was driving the woman to such a state of bliss: perhaps the power, perhaps the sight of him tied up, perhaps even the act of stretching him wider than he ever thought possible. Whatever it was she moaned loud and long, as though it really was her dick sinking into his hole.
He, on the other hand, was moaning with untold ecstasy. All the nights jerking off to the idea of this were nothing compared to actually experiencing it. His body was alive with arousal and desire, and with each thrust inside he felt himself fall more in love with the woman controlling him. Waves of pleasure rippled through his body as he was stretched and he did not care that he was moaning like a bitch. If anything, he was glad he was living up to the name she had given him.
To his surprise, the enormous dildo did not hurt as it stretched him. He supposed he had the effects of the Playground to thank for that. In fact, it seemed to convert the pain he might have ordinarily felt into additional pleasure, with sharp forks of it bursting through his torso.
He found that if he angled himself properly he could stare into one of the mirrors, and the sight of her only hardened his raging boner. The way her body rolled and pitched with every thrust, the way the latex shone as she moved – simply the sight of her divine figure – all of it was impossibly erotic. She looked like a goddess put on earth for him to serve, and a giddy delight rose in him as she met his eye in the mirror and blew him a kiss.
Gradually she increased her pace, and in doing so she was able to force herself deeper, spilling new pleasures through Aiden's body. He supposed it should not have come as a surprise that she knew exactly how to stimulate him given the years of practice she must have had, yet the ease with which she was able to drive him wild was impressive. Finding his p-spot without a second of hesitation she used a tight grip on his wrists to anchor herself down and forced her dildo against it again and again.
His moans devolved into primal grunting and gasps of ecstasy, while her delighted chuckles only served to whip the storm of arousal within him into a more violent frenzy.
Her hands on him felt more right than anything he could imagine. As she clutched at his wrists to pull herself in ever deeper he felt like life submitting to her was where he truly belonged. All he wanted to do was please her, worship her, allow her to use him in any way she desired. The part of him he had largely denied until now was fully in control and he was wailing his adoration around his ball-gag.
There was a heavy thunk as she lifted one leg up onto the plinth, and the sudden shift in her weight plunged the strap-on deeper into Aiden's ass. He cried out in delight and tried to press himself against it to take even more, however his bondage prevented him from moving in the way he desired.
His mistress laughed as she watched his desperation, an evil grin splitting her features. Then she took hold of his hips and pulled him down as hard she could.
It was a wonder Aiden's scream didn't break through into other realities within the Playground. Equal parts euphoria and shock, he howled as she held herself inside him, filling him up like nothing he could have ever imagined. It felt as though he were about to split in half, yet somehow she was still feeding more into him, millimetre by millimetre until his body was physically incapable of taking more.
When she pulled back he felt desperately empty, like she had removed a part of him he could not do without. The emptiness, however, only enhanced the pleasure as she plunged back into him again. With a firm grip on his hips she proceeded to pound him deep and hard, her laughter swirling through the air with his moans, dancing a twisted duet through the room.
Aiden had reached a plane of pleasure he did not believe he would ever be able to come down from. His eyes were rolled back in his skull and his guttural pants were the closest he could manage to articulate sound. His body was racked with orgasmic passion and his boner bucked up into his chest with every thrust. So intense was his pleasure, in fact, that when he shot his load over the plinth he did not immediately notice. It hit him a few seconds later, like the shockwave from a dropped bomb, and only her grip on him prevented him from simply collapsing to the wood.
By now he was little more than a puppet for her to use. Even if he had not been tied up he would have been unable to instruct his limbs to move, and he shook hard in her grasp.
Glancing down she spotted his load spread across the padded leather and laughed. Pulling out, she leaned down and spoke softly into his ear. 'I suppose in your fantasy, you cumming is where you imagined it would end?' Breathless, he nodded as best he could. Her response was a chilling cackle. 'Think again, bitch.'
Pushing him down hard, she forced him to lie on the plinth. He flinched as he hit the leather, his own cum smearing across his chest. He could feel and hear her pulling herself up behind him, straddling his legs.
Just like she had said, he had never imagined what might happen after he had finished. It always felt like that would be the end of his submission, yet now she was pressing the head of the dildo back against his ass, and a few seconds later she was inside him again. Leaning over him she curled her strong hands around his upper arms and fucked him deep.
Aiden's mind felt like it was breaking down. Only the woman controlling him mattered anymore, and the pleasure she was flooding him with was more than he could take. Weak and spent after his orgasm, he had no strength to resist her as she ceased to please him and instead used him as a toy. He felt like a ragdoll, pulled and pushed roughly, and all he could do was scream as she fucked him mercilessly, spitting on him as she did so.
Everything was so humiliating, so degrading, and yet there was nowhere he would rather be than at her mercy.
He was glad for the gag, because without it he feared that he might have begged her to stop. Not that he imagined she was likely to have obliged, but he never wanted this to end. The pleasure was too intense, his arousal too incredible. If there was even a small chance that his initial fear might have broken through, and an even smaller chance she would pull out as a result, he was appreciative that the option was not there for him to take.
With Aiden little more than a mannequin for her to position as she pleased, she span him around and pushed him over the edge of the plinth so that his face was pressed into the rug and his legs were still up on the padded leather. Standing over him, she sank her dick into his waiting ass and bounced up and down energetically, impaling him on her enormous black cock.
'I think I already know what you're going to say to Layla. You've craved this for so long you couldn't give up the chance of serving me again if your life depended on it. You're going to say yes. I know you are. All you want is to be a pathetic slave for me for eternity. And let me tell you something, I cannot wait. You're going to worship me as your wrathful goddess, and you're going to love every second.'
With a sudden burst of final speed she pulled out, laughing as he came again over the rug. Standing over him a little breathless, she reached down to unbuckle her strap-on.
'I'm all wet after hearing you moan, bitch. Before the Playground whisks you away from me, you're going to do something about that…'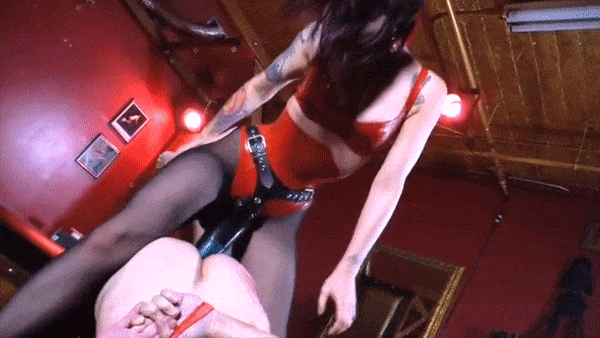 ---
Thanks for reading!
Aiden has had his first experience in the Playground and it was far from what he expected. Meanwhile, Erika is about to face a little discipline of her own…
I hope you enjoyed this addition to the mini-series. The dominatrix seen in these gifs is the incredible Cybill Troy, who is basically the dictionary definition of a goddess. She is a professional dominatrix who you can find in a number of different places across the internet. Her Pornhub account showcases a lot of her awesome work, and you can take a look and support her here: https://www.pornhub.com/users/cybill_troy If you were interested in making use of her services and serving her personally, however, you can find the details of that on her website here: http://www.cybilltroy.com/ I absolutely hope to use Troy in future stories, so if you enjoyed this one keep your eyes peeled for those.
I would love to hear your thoughts on my work, so please leave me a comment!
Keep up to date with new releases by following me elsewhere:
Twitter: @Fetish_Fantasy_
Tumblr: fetishesandfantasiesworld
---
For this piece I used the source video to remake a number of gifs I originally found on Sex.com. I did this to improve the quality of the gifs I was using to maintain a consistent quality throughout. I will link the original gifs I chose to remake below, as well as the source video.
Images:
https://www.sex.com/pin/56579092-cybill-troy-down-bitche/ (remade)
https://www.sex.com/pin/56579194-cybill-troy-fuck-hole-slave/ (remade)
https://www.sex.com/pin/56586575-cybill-troy-slow-fuck/ (remade)
https://www.sex.com/pin/56586256-cybill-troy-beautiful-goddess/ (remade)
https://www.sex.com/pin/56586681-cybill-troy-shes-awsome-i-want-to-be-the-next/ (remade and recut)
Additional images created using ezgif and Online Video Cutter from the following video(s):
https://www.pornhub.com/view_video.php?viewkey=ph570e238600568