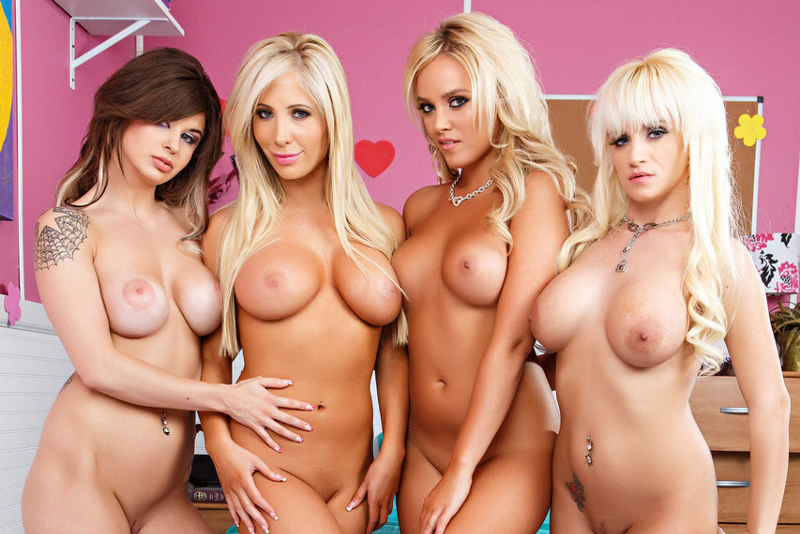 Lucas felt as if Lavender's eyes were boring into his soul. He'd always thought her name was far too pretty for someone so cold-hearted, and as he sat under her withering gaze he wondered for the thousandth time how anybody could fall for her nice girl act when she had eyes so corruptive – just meeting her gaze sparked filthy ideas.
But there was something else in her stare today, something unnervingly calculating. He felt like an antelope in the sights of a lioness. She was sizing him up, gauging what he would do when she pounced.
When he turned away, however, there was no respite. Instead, he only met eyes with her bitchiest acolytes.
Vanessa, Lavender's deputy was perched on the foot of the bed like some kind of beautiful gargoyle, her long brunette locks winding down to frame her cleavage. Beside her Tina eyed him intently, her breasts so large they were barely contained at all. Unlike her friends, Tina's hair was dyed, the combination of her huge tits, bleach blonde hair and toned form giving her the appearance of a surprisingly natural bimbo.
Gulping nervously, Lucas began to wish he'd listened to Mike and declined Lavender's invitation to the sorority house.
'You look a little jittery,' Lavender purred, a cold smile on her lips. 'Is something bothering you? Don't worry, Lucas, you can tell me.' She leaned forward to lay her hand over his wringing fingers, the movement exposing her deep cleavage.
Lucas shivered as sweat broke over his brow. 'I… I just… I wasn't expecting… when you asked me to come over…'
'You weren't expecting me to bring you to my bedroom,' Lavender finished for him.
Not trusting himself to talk, Lucas nodded meekly. If it wasn't enough that Lavender was already a wet dream incarnate, she was dressed in next to nothing at all. Her white crop top had been tied so high over her bosom that her black lace bra was peeking out from underneath, both of which crushed her tits into cleavage so deep he thought he might drown in it, while her plaid miniskirt was barely more than a strip of material with a few ruffles. It didn't even hide her decency well. Every inch of exposed skin was rich with a golden tan and her silky blonde trusses framed that beautiful, chilling face he was so familiar with.
But usually that face was sneering in his direction or spitting humiliating insults his way. Somehow, having Lavender smile at him was infinitely worse.
'I guess I shouldn't be surprised you're nervous. Very few boys get to see this place. But you're special, Lucas. That's why we've chosen you. That's why I've chosen you.'
Lucas frowned, fear and confusion battling for supremacy within him. 'Chosen me for what?'
The wicked smile Lavender gave then could have weakened a demon at the knees. 'To join our sorority, of course.'
Before he could respond, Lavender had snapped her fingers and Lucas let out a sudden orgasmic howl. All at once he felt as though he was riding the climax of the most intense orgasm of his life, only it was stretched out far beyond the few seconds it would have normally lasted. Instead of fading away it continued to build, his entire body wracked with mind-bending erotic energy.
To his horror, when he looked down, he found that every vein was glowing neon pink beneath his skin.
The next second, he felt himself begin to transform.
Lucas wasn't particularly lucid for most of his transformation – the immense pleasure burning through his system was driving him to the brink of delirium, making it difficult to form a coherent thought let alone try and grasp the changes overcoming his body.
He felt them though. The heavy, fleshy tits ballooning from his chest. The swelling of his skinny frame into luscious golden curves. The sudden retraction of his cock and the blast of pleasure that erupted over his crotch as his new pussy formed. The tickle of his hair tumbling down into glossy bleached locks. The way his lips puffed out, his features reformed into lines of seductive femininity, and his flat ass blossomed into plush cheeks designed for groping.
He may not have understood that he was becoming a bitch, but Lucas felt every instant of it.
Lucas had never put much faith in magic, but in that moment he became a believer. After all, what other explanation could there be? Lavender hadn't even touched him and yet somehow his body was reshaping to her will. He was smart enough to know there was no kind of science that could do this to him.
But his concerns over how she'd transformed him were lost when the pleasure finally subsided and he found himself blonde, buxom, and standing in nothing but frilled lace panties before the three bitchiest girls on campus, all three eyeing him hungrily.
Immediately, Lucas did his best to preserve his decency, throwing one arm over his massive new tits and using his spare hand to conceal the unnatural pussy twinkling with arousal beneath his sheer underwear.
'What… what have you… oh God, my voice…' Lucas gasped as his panic came out in a high, girlish tone. As the immediate shock began to wear off, his hysterics only grew worse.
Beside him, Lavender was smirking. She always enjoyed this bit. Watching pathetic nerds come to terms with their salacious new body was more than just satisfying, it was deeply, deliciously erotic. Just like all the other nobodies she had transformed, Lucas was unable to mask the arousal roaring through his system. She knew aftershocks of pleasure were still crashing over him, and while he babbled with shock and confusion he was squirming on the spot. He looked like he was trying very hard not to moan, too.
Lavender let him panic for a little longer before she intervened. Glancing over at her sorority sisters, she found Vanessa eyeing Lucas' plump ass intently, her manicured fingers pressed together – Lavender could practically see the sordid ideas tumbling through her deputy's mind. Tina, meanwhile, had her eye on Lavender. The alpha bitch had seen that look on her faithful bimbo's face before: Tina was waiting for permission. She wanted nothing more than to tackle Lucas to the ground and replace his cries of alarms with shrieks of ecstasy, but she wouldn't dare do so without her queen's authority.
Turning back to Lucas, Lavender pressed a finger to his lips. 'Hush. I dislike babbling.'
Lucas fell still, though his eyes were still wide and she could practically see his heart pounding against his chest.
'There, that's better. Allow me to let you in on a little secret, babe: the first rule of being a bitch is that you should only ever be caught screaming if you're riding a thick cock. So, since you're one of us now, I suggest you compose yourself.'
Forcing down the tempest of emotions whirling through him, Lucas took a deep breath. He could feel the unfamiliar weight of his new tits as he did so. He wasn't quite sure if he was unnerved or aroused by the fact that he desperately wanted someone to grope them.
Lavender's cold, calculating eyes were fixed on him, her arms crossed as she waited for him to speak up. Knowing what he knew about her, Lucas had the sense she wasn't likely to take too well to any of the more stupid questions on his mind. After all, it was fairly obvious what she'd done to him, and the how was rather irrelevant, especially since he doubted he'd understand a word of any explanation she could give anyway.
So that left only one question.
'Why?' he breathed. 'Why did you do this to me?'
The smile she gave him made Lucas shiver and squirm in equal measure. 'We had an opening. As you've already realised we like to use a little magic here and there. Things are much more fun that way. But one of our newer initiates tried selling our spells to another sorority. Let's just say she regretted that decision – she won't be getting laid now, not since we turned her into a scrawny little nerd. So we needed someone to fill her space.'
Lucas shook his head, shivering as his long hair tickled his bare skin. 'No, that's not what I meant. I meant why me?'
Lavender's eyes lit up. 'I was hoping you'd ask that.' She ran a hand down Lucas' cheek with surprising affection, her nails like white talons. 'Because you're perfect, Lucas. You were made for this. I saw it in you the first time I had my boyfriend beat you up. When some losers get bullied they run and hide and try to not to draw attention to themselves. But others are like you. I've seen the way you look at me when I walk by. You're not afraid, you're jealous. You wish you could live the life I live, the life all of us in the sorority live. You see us going to parties and hooking up with hot guys and doing whatever the fuck we want just because we can, and that's the life you want. You want to be like us. It's who you are, deep down.
'And do you want to know how I know that, Lucas? I know it because you're here. You came when I called. I've bullied and belittled you for years, but when I asked you to come over you didn't hesitate. I know you never expected this. Maybe you were expecting an apology, or a truce, or maybe you were just tired of watching from the outside and wanted to see what we bitches get up to inside our sorority. But you came. And I'm willing to bet one of your nerdy friends even begged you not to. You ignored him just so you could try to satisfy me. And that is what I want. A sorority sister who wasn't just born to be a bitch, but who will always be loyal to me and her sisters. To put it in a way a nerd like you might understand better, I want you to come to the slut side, Lucas.'
Lucas felt like Lavender had taken a stroll through his mind and come back with all the darkest secrets he never dared admit even to himself. Part of him was unnerved by the stinging truth in her words, but the rest of him – the majority of him – was relieved. She hadn't just unearthed his secrets, she'd used them to make his deepest desires a reality.
Every word she had said was true. He had always craved the lives of the sorority girls. He had been jealous of Lavender, of the doting admirers and lustful lovers she had at her beck and call. He had always fantasised about what debauchery he would get up to if only he had a luscious, nubile body like theirs. And he had spent so many nights wishing that somehow, someway, he might one day be able to live that fantasy for himself.
As the reality of the opportunity Lavender was offering him sunk in, Lucas couldn't help the smile that began to creep over his lips. 'You… you really want me in your sorority?'
Lavender's expression was pure evil. The bitchy satisfaction she was getting from corrupting her former victim was written brazenly over her features, but Lucas was no longer unnerved by her devilish grin. He was inspired. In that moment he wanted nothing more than for people to look at him in the same way they looked at Lavender, lustful and fearful in equal measure.
'I do. Of course, I have a few conditions. First off, a true bitch never hides her assets. If you want to join us, you're going to have to be willing to show off your body.'
Lucas' smile widened as he let his hands fall to his sides. It felt so right boasting his curvy new figure, and he shuddered with arousal as the other girls eyed his tits hungrily.
'Secondly, you can't have any limitations. Life in this sorority is more wild and erotic than anyone realises. Prudes don't last long here. You have to be willing to fuck and party like a wild animal and leave all your limitations on the doorstep. Can you do that?'
At first, the only thing Lucas could think to do was slip off his panties and kick them aside. Then, his arousal taking hold, he surged forward and pulled Lavender into a passionate kiss. He guided her fingers down to his naked pussy, pulling back with a gasp as she began toying with his swollen clit.
'I'll take that as a yes,' Lavender grinned, her forehead pressed against his and her breath hot over his lips. 'And finally, any transformed initiate has to pass two tests before they can be allowed to join. First, you have to prove you're a real bitch by humiliating your closest friend from before your transformation.'
'Mike?' Lucas breathed.
'Mike,' Lavender nodded.
For a second, Lucas thought about pulling away. Then he relaxed. Lavender had given him everything he'd ever wanted: Mike was nothing to him now. 'I can do that,' he said.
'Good. But that can wait until tomorrow. Today, you have another test to pass. You always hated my boyfriend, didn't you? He's beaten you up more times than I can count. But if you really want to join us, you're going to ride his cock for me.'
This time Lucas did pull away, though Lavender's fingers still played over his sex. Though she had already ordered him to give up his boundaries, fucking his former bully felt like crossing a line.
Before he could say anything though, she placed a finger on his lips again. 'There, there, no need to worry. I thought that might be a big ask. That's why I bought Vanessa and Tina here to join us. They know exactly what you're going through right now: I transformed them too. About half of your new sisters used to be like you in fact. I wanted you to see what you can become if you commit yourself to our house.'
Lucas stared at the two girls in amazement. In all his confusion he had barely considered that Lavender might have transformed others before him, but even if he had he would never have imagined Vanessa and Tina might be amongst them. After all, Vanessa was as ruthless and slutty as Lavender – some said even more so – her role as Lavender's right-hand woman affording her anything she could possibly want. As for Tina, there was no stud she hadn't fucked, and as well as enjoying a reputation as the most promiscuous woman on campus, she was also infamously good in bed – rumour had it she had even slept with the entire teaching body, male and female alike.
A sudden sense of purpose overtook him then. He could be like them. He would be like them. All he had to do to start his journey was to cast aside his final boundary and fuck his old bully.
And as he thought about it, he realised that wasn't such a bad thing in the end. After all, if there was one thing Lavender's boyfriend was known for, it was how hung he was, and Lucas' new pussy was feeling awfully empty.
'Where is he?' Lucas asked.
Lavender's grin almost split her ears. 'He's downstairs. He's waiting for you. We even have a sorority uniform like ours for you to put on so he can unwrap you. Don't worry, we'll be right by your side, babe. Oh, and when we get down there, I think you should introduce yourself as Lucy.'
Eager not to disappoint her new queen bee, Lucy did try to tell her old bully her name. However, the instant he laid eyes on her, her curvy, golden figured squeeze into her plaid skirt and cleavage-enhancing crop top, she realised she was far too horny to bother with introductions. Instead, she dragged him into a passionate kiss, leapt into his arms, and within a matter of minutes found herself riding his thick, juicy cock, her slutty moans filling the air as her new sisters encouraged her to ride him like the bitch she truly was…
---
Thanks for reading!
If I'm honest, I'm not overly happy with the way this story turned out. Although most of my post-Fantasy Resort stories are ones I'm much happier with than those I wrote prior to that series, I feel like this one definitely fell prey to overdescription while also suffering from a lack of supporting images. As much as I'm not super pleased with it, I'm glad it's now available to my readers – hopefully you'll all enjoy it more than I do.
The models in this scene are Tasha Reign (Lucas/Lucy), Alexis Monroe (Lavender), Chloe Chaos (Vanessa), Scarlett Monroe (Tina) and James Deen (Lavender's boyfriend).
Since all four female models are unfamiliar to me, I'm not going to say anything here aside from please go and support them however you can. If any of them appear in future stories on a more individual basis then I will do a bit more of a deep dive into their content then, but for now I'll leave things at just sourcing their work for you to enjoy at your leisure.
Deen, meanwhile, has shown up on my blog once before in a Lake Fantasy story, however since I wasn't linking to work of male models at that time I never really even mentioned him. When it comes to male models, Deen is one of the most well-known names in the industry and with good reason too. He has starred in hundreds of scenes with some absolutely incredible co-stars and he invariably puts on a good show, whether that's fucking hard and rough or slow and passionate. He really is worth your time, and I'm sure he'll pop up in future stories as well, hopefully in a more prominent role since both his appearances thus far have effectively been faceless.
I would love to hear your thoughts on my work, so please leave me a comment!
Keep up to date with new releases by following me elsewhere:
Twitter: @Fetish_Fantasy_
---
Imgbox: https://imgbox.com/g/SW5CRn3won
Image galleries: https://www.pornpics.com/galleries/hot-dyke-tasha-reign-gets-stripped-and-pleasured-by-her-busty-school-friends-18116597/
https://www.pornpics.com/galleries/blonde-babe-tasha-reign-and-her-hot-school-friends-share-the-principals-cock-35941742/