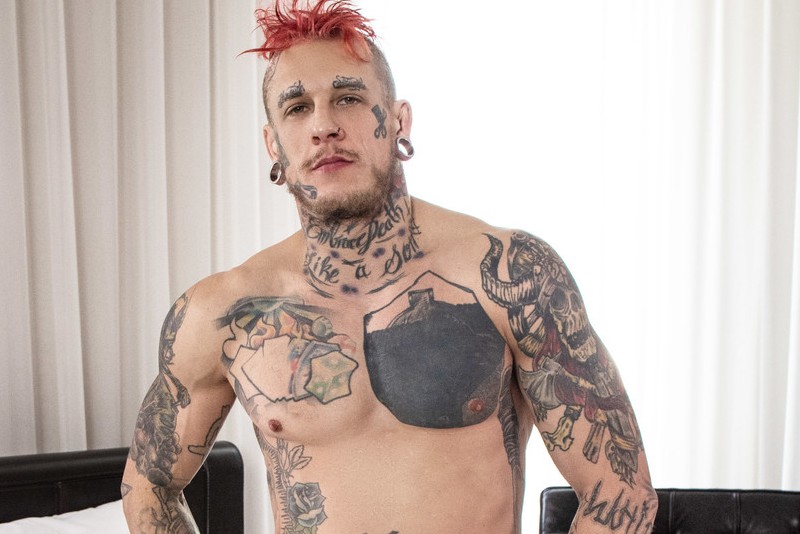 Models: Bo Sinn, Alex Mecum & Ace Quinn
---
'Hello, Bradley. It's a pleasure to finally meet you.'
The man kneeling on Bradley's bed was a total stranger. Wearing only a pair of tight black jeans, he was smothered in tattoos with ink detailing everything from his eyebrows to his knuckles. A messy red mohawk was the only hair on his person aside from a short crop of a beard and a trimmed moustache, and the smile plucking at his lips was enough to tell Bradley that the stranger was very happy to look like the shaved victim of a coked up tattooist.
There was something unsettling about the man. Just looking at him seemed somehow wrong, like he was wrapped in a powerful aura. And with each passing second near him, the urge to kneel swelled up in Bradley's mind.
'Who the fuck are you?' Bradley scowled.
There was a click behind him. Bradley turned to find Jamie had followed him into the bedroom and, to his surprise, locked the door after them. Fear began to churn in Bradley's stomach as his boyfriend gave him a mischievous smile before hurrying over to the bedside.
'Jamie, what are you doing?'
'Oh, he's just making sure nobody disturbs us. After all, we wouldn't want anybody walking in while I fuck your brains out. It would really spoil the mood.' The man began massaging his crotch, which Bradley noticed was already bulging.
'The fuck are you talking about? Who the hell are you?'
Bradley paused, his mind catching up with the facts. A stranger in his bedroom. Jamie's obvious foreknowledge of the man's presence. And Jamie had been working a lot of overtime lately…
'Oh god. Are you cheating on me?'
Jamie's smile widened. 'I wouldn't really call it cheating. Master likes to say he has expanded my mind. I like to say he's set me free. Either way, can you really call it cheating if you're going to fuck him too?'
'I am not going to fuck–'
But before he could finish the sentence the stranger had lifted a finger to beckon Bradley over. And to Bradley's horror he found his legs carrying him across the room without him telling them to do so.
As soon as he was in arm's reach, the stranger grabbed Bradley's shirt and dragged him roughly onto the bed. The motion was so violent in fact that it tore his shirt clean off. Discarding it on the floor, the stranger quickly dropped his own trousers to reveal his huge, throbbing cock.
Before Bradley knew what was happening, the stranger had grabbed his head, driven his crotch up to meet his victim's lips and was force feeding Bradley his thick, rigid dick.
Although Bradley tried to resist, his body wouldn't listen. Every muscle, every fibre of his being was tensed so firmly his whole frame was shaking, but no matter how hard he tried he could not lift even a finger. Something else was in control of his body now. His blood ran cold as he realised he was locked in his own mind, powerless to resist the man brutally fucking his face.
'That's it, cunt, choke on my fat fucking cock. You need my dick more than you need air and you'll do fucking anything to get it, do you hear me? You're my bitch. My pathetic, needy, cock-sucking bitch.'
Horrifyingly, Bradley could feel the man's words changing him. Spreading through his mind like a virus they corrupted his thoughts with awful efficiency. Within seconds, everything the stranger had said rang true. He did need the man's cock more than air. He would do anything just for a taste of it. And he was so devoted to his role as the man's submissive sex slave, the name Bradley had been replaced by Cunt instead.
Jamie's voice met Cunt's ears through his noisy slobbering. 'Oh yes, Mr. Grave, make him yours. I've been waiting months to see you degrade him like that. What a worthless loser. He's only useful for worshipping your cock, Master.'
Corrupted as he was, Cunt's love for his boyfriend was so far still intact and Jamie's cold words cut into his heart.
But a different part of his brain was piecing things together. Mr. Grave? As in Gordon Grave? Otherwise known as Hellspawn, the self-professed leader of the Cult of Cock? Cunt had heard about him on the news: the whole cult was little more than an army of men dedicated to satisfying their leader's desires, and despite the cult holding huge, raucous, gay orgies, anybody who went to try and intervene only ever wound up joining the cult. How had Jamie wound up getting involved with them?
Although he no longer had the power to ask the question himself, Cunt's new god was happy to gloat and give him all the answers.
But first, he wanted to make use of Cunt's other hole.
Cunt gasped with pleasure as Gordon drove his huge cock deep into his tight ass. His throat ached from the brutal invasion it had just received, but that discomfort evaporated in a heartbeat as blinding pleasure roared through his body.
It was unlike anything he had ever experienced. Ten times as intense as any anal he had engaged in before, it was like he had been injected with pure, distilled ecstasy. Orgasmia consumed Cunt's mind, and although he could not rock against Gordon's cock his body had totally relaxed, leaving him as a living sex toy for his master to use.
Jamie was watching from a seat by the bedside. The two of them had fucked countless times on that seat, but now Cunt's former boyfriend was watching on, jerking off and encouraging Gordon to remorselessly degrade the man he had once loved.
Cruel laughter punctuated Gordon's gruff grunts.
'It's funny, to say you loved him, Jamie was more than willing to betray you when we first met. I barely even needed to control him at all – just a little mental nudge and he was worshipping me. It was at that gay club you went to last month, do you remember? While you were outside chatting with your friends, he was choking on my cock in the toilets and begging for more.'
He spanked Cunt's ass hard, the crack ricocheting off the walls like a gunshot. 'Of course, he was only too happy to join my cult. Everybody always is. That's the perk of making a deal with a demon: nobody is immune to my charms. It's simple trade really. They give me the power to control and seduce any man I please, and in return they receive the souls of anyone I fuck. I'll admit giving myself the name Hellspawn was a bit on the nose, but you can't argue with the results: my cult is almost a thousand strong.'
Cunt had no doubt Gordon was telling the truth. Because his insides were burning. White-hot pleasure seared through his veins and the more it spread the more he felt himself succumbing to submissive lust. His fear and betrayal were fading, his very soul being stripped away, and a sense of helplessness blossomed through him as he realised he would not last much longer.
'You know, I've been looking forward to this. Ever since Jamie let slip that he had a boyfriend I've wanted to corrupt you, but I couldn't quite decide what I wanted to do with you.' Gordon leaned down to growl into Cunt's ear, increasing his pace as his twitching cock signalled his impending orgasm. 'I want you to know it was Jamie's idea. He practically begged me to turn you into a cockdumb twink. I have hundreds of bulls in my cult and not nearly enough twinks to satisfy them, but when we get back your boyfriend is going to throw you into their grasp and watch them fuck your brains to mush. Now what do you say to that, slave?'
His eyes rolling, his mind melting, Cunt couldn't stop the humiliating words from spilling out. 'Thank you,' he drooled.
The instant Gordon came, Cunt's body began to transform. His muscles deflated, his frame shrank, his chiselled features grew soft and waifish, and his cock lost several inches.
Within seconds he found himself in the pale, delicate, effeminate form of a full-on femboy. He would have been horrified, if not for the fact that his brains had melted away along with musculature; he was now so stupid even a plastic airhead bimbo would have looked like a rocket scientist in comparison.
Disoriented by the pleasure of Gordon's cumshot swirling in his ass, Cunt had completely failed to notice that his master had pulled out, his load now dribbling from Cunt's hole over the tangled bedsheets.
When the dumb slave looked up he found the cult leader reclining in the leather seat beside the bed. His immense cock was stood to attention and his lustful eyes were fixed on Cunt, a sadistic smile playing over his lips.
'Well, faggot? What are you waiting for? Your master needs to be worshipped.'
During his transformation, Gordon had released Cunt from his mind control. But the obedient slave didn't need any cognitive encouragement to follow Master's orders. Scrambling forwards, he practically inhaled Hellspawn's pulsing cock, his ass held high as Jamie bore down on him to brutally spitroast the newest initiate into the Cult of Cock…
---
Thanks for reading!
This piece was inspired at least in part by the alien abduction piece I released earlier this months. Although I feel like many of my stories often touch on cultish themes, I've never really delved into the subject as explicitly as this, and when devising ideas for my Halloween 2022 slate I knew I wanted to explore that theme. And while I was writing Alien Abduction, I was struck by the idea that Bo Sinn could really embody the cocky, sadistic vibe I had in mind for my gay cult leader character (no offence Bo, if you ever read this).
When I found this gallery, I really loved it, and I am super pleased with the resulting story. Sinn has only shown up on my blog once before as far as I know, in one of my recent Twisted Love stories, but he's one of those models I find kind of fascinating. Some of his scenes don't interest me in the slightest, while others I absolutely love, and there doesn't seem to be an in between. I can't really figure out why there's that divide, but the fact I loved this scene so much really gave me a buzz while I was writing it, and I definitely hope to showcase his work more in the future, whether that's on this blog, or on Twitter (if I ever manage to get posting on there again).
Next week marks the last full week of my Halloween schedule, so make sure you come back on Monday and Friday for some hot new stories!
---
Imgbox: https://imgbox.com/g/YFWCS3GM2s
Image gallery: https://www.pornpics.com/galleries/men-com-ace-quinn-alex-mecum-bo-sinn-71864179/