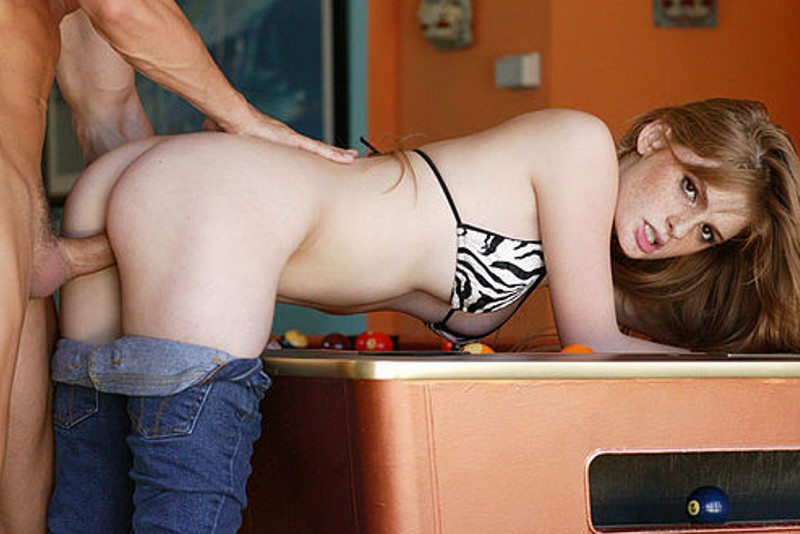 Models (in order of appearance): Faye Reagan, Tony De Sergio, Mikey Butders, Charles Dera & Johnny Sins
---
Taken by Surprise
Pressed against the pool tables with Master Xander's cock driving into her pussy, Amber's face was awash with disconcerted pleasure. With every thrust she wondered if the ecstasy was simply too much, yet somehow she managed to withstand it even while her entire body pulsed with erotic heat.
Master Xander was one of the most well-hung Doms on the Program's staff – he could even give Doctor Winters a run for his money – and he always stretched Amber to her limit. Nevertheless, she had grown accustomed to the sensation of his huge manhood ravaging her tight hole. What she wasn't prepared for was the sudden force with which he had just bent her over the pool table and started using her. No warning. No foreplay. Just abrupt depravity.
Amber had known something like this was coming: this week was her free use training week – or, as it was more commonly known, the Drilling. Still, only now did she realise what she was really in for over the next seven days.
If there was one thing the Dominants who were willing to sponsor a sub through the Program had in common, it was that they were always horny. After all, when you were the kind of person willing to drop a small fortune on a loyal sub trained to fulfil all your fetishes and fantasies, sex was effectively a religion. As such, any aspiring sub had to be ready and willing to serve their Dominant whenever and wherever they pleased.
That's where the Drilling came in. For a whole week, a sub would be fair game for any staff member to play with. Anytime, anywhere, without restriction. They could slip into the sub's room after class and fuck them into the bedsheets. They could call a sub to their chambers in the dead of night for a rough skullfuck. Or, in Amber's case, they could interrupt a game of pool to use her as a living fleshlight for a quick pump and dump.
Every sub went through the Drilling at some point. However, Amber's impressive performance meant she was the first student ever to be put forward for it only her third month of training – most subs weren't ready until at least month five.
Amber groaned as her tits bobbed about in her zebra-print bikini top. Her ass rippled with every thrust and her insides felt like they were on fire, her stomach flipping every time Master Xander drove his perfect cock in deep. Breathless with lust, she gripped the pool table's cushion with one hand, the other coiled around her cue with white-knuckled ferocity, all while Master Xander plunged his cue into her slutty hole.
If the sordid situation wasn't already hot enough, they had voyeurs too. The recreation room was full of subs relaxing between sessions and all of them were staring at Amber and her Dom. Elizabeth – the blonde beauty Amber had been playing pool with – was masturbating in a nearby armchair, while the rest of the crowd looked equally horny. Thanks to her training, Amber now found fucking in public even hotter than in private, so the fact that her first experience of the Drilling played on her exhibitionist desires was a dream come true.
After another ten minutes of merciless pounding, Master Xander finally came. Emptying his load into her tight pussy, he pulled out without a word before having one of the other subs briefly lick him clean. With that, he marched out, planting a firm spank on Amber's ass as he left.
Breathless and delirious with lust, Amber simply lay there with his cum leaking form her flushed folds. Her ruined jeans had bunched around her thighs, torn in several places by the Dom's forceful grip when he pulled them down. Master Xander was the first tutor to take advantage of her, though she knew he wouldn't be the last, so she decided it would probably be best to spend the week in clothes that were easier to remove. Otherwise, she'd have nothing left in her wardrobe.
One thing was certain: this was going to be a long week…
---
Outdoor Depravity
Given how much training volunteer submissives underwent, it wasn't often that they got to spend time offsite. None of them had any issue with that, of course – hiking up their skirts was a more appealing pastime than hiking up the surrounding hills, after all. But Amber had always been a nature-lover, so whenever she had the chance she liked to explore the woods surrounding the Program's training centre.
Although this morning she was a little distracted by the thick cock pounding her ass to admire the foliage.
'Oh fuck, Dominic. That feels so good. Yes, baby, don't stop. Oh fuck, fuck, fuck…'
Amber's groans joined the natural melody of the forest, mingling with the creaking boughs, rustling leaves and twittering birdsong. She didn't bother trying to keep quiet and neither did Dominic: they were over a mile from the main complex, so there was nobody around to hear their passion. Instead they allowed pleasure to consume them.
The warm breeze brushed over Amber's bare skin. Her fleshy body jiggled and rippled as he took her down on the floor with increasing ferocity. At the same time, she rocked back against him harder and harder, desperate for more. It was almost as if being in the woods had stripped them of their civility and dragged their primal instincts to the surface, reducing them to little more than carnal beasts in heat.
Dominic wasn't a tutor. He wasn't even a Dom. He was the Program's gardener. Yet whenever Amber wanted a break from her training, Dominic was who she went to.
Both of them knew they were nothing more than fuck buddies. Once she finished her training, Amber would be whisked away by her Dominant to live the submissive life she had been dreaming of for years, and that was a life Dominic simply couldn't provide her. What he could provide, however, was a shamelessly hot fuck – no strings attached, no expectations of submission, no orders or torment or punishment. Just pure uninhibited pleasure.
Which was exactly what she needed after her week.
The Drilling was the hottest experience she had ever had. Knowing any tutor could march up and use her whenever and wherever they pleased kept her constantly turned on, her mind swirling with what ifs and her insides squirming every time a Dominant so much as looked at her. Already she'd been exploited a dozen times – half of those in full view of her peers, and two of which took place as the tutor continued to deliver their session while fucking her senseless. And she was only three days in.
But being in a permanent state of erotic tension was undeniably exhausting. She needed a breather, an outlet – one that didn't involve submission of any kind, and preferably somewhere out of the way of any tutors who might want to intervene. The kind of outlet she knew Dominic would be eager to provide.
Amber wasn't the only sub Dominic had this kind of arrangement with, but he'd openly admitted she was his favourite. Still, Amber knew when she did finally leave the Program Dominic would have plenty of other sluts on hand to make use of.
Amber groaned as her man's hands explored her body, groping her tits and clutching her hips to pull her in closer. 'Holy shit, I… I'm so close, oh god…'
To her dismay, Dominic slowed his pace and her climax receded into a throbbing ball of lust. She panted and rocked against him needily.
Dominic chuckled softly. 'Don't worry, beautiful, you'll get to cum. But we shouldn't rush things. The longer we're here, the longer you get away from the Drilling. That's what you want, isn't it?'
Twisting around to face him, Amber leaned back against his strong chest. 'So long as you're the one drilling me, I'll spend as long as you like here, baby.' With that she pulled him into a passionate kiss and groaned into his mouth as his thrusts sped up once again…
---
Exercise Regime
When you were a student of the Program, going to the gym wasn't necessary. With most waking hours spent fucking and sucking and riding and bouncing and engaging in every other possible form of depravity, there was no need to do any extra exercise to stay in shape. Nevertheless, the training centre did have a gym onsite and Amber liked to visit at least twice a week. It was one of the few rituals from her old life she still followed.
Today though, Master Jax had his own plans in mind for her workout session.
He had been waiting in the changing rooms when she arrived, dressed in the loose shorts and polo shirt she might have expected from a gym sports coach. In truth, Amber had been expecting something like this. After all, everybody knew what day and time she came to the gym. But the Dom's presence still made her stomach flip. And he wasn't alone either – Master Damien stood by his side in similar attire.
Yet it was the smartphone in Master Damien's hands that turned Amber on most. Phones were strictly monitored onsite: subs weren't allowed them at all, and tutors could only use them in their private chambers. So for Master Damien to have his phone in hand could only mean one thing…
'That's right, moan for the camera, little slut,' Master Jax grinned as he pounded her supple body hard. His cock plunged deep enough to bulge her stomach with every thrust and he groped her tits roughly. 'Aren't you always saying you like people to watch? This must be a dream come true then, right?'
Both Doms laughed as Master Damien filmed the sordid scene. Leaning closer, he made sure to record plenty of different angles. Sprawled back on the bench with her clothes strewn about the floor, Amber could only look up into the lens, her face twisted with desperate pleasure.
Her pale body was little more than a pliant sex doll for Master Jax to use. At any other time she would have put on a show for the camera, but the Drilling had drained that sultry spunk from her. After being in a state of near constant arousal for almost an entire week, she was practically delirious by now. Each new Dominant that took advantage of her chipped away a little more feistiness so that by now she simply lay back and accepted whatever they chose to use her for. Naturally, the news that she was so mindlessly submissive by now meant more and more tutors were eager to exploit her.
Amber had never been so horny. Part of her didn't want the Drilling to end, but at the same time she wasn't sure how much more she could take – Master Jax had only been fucking her a few minutes and her orgasm was already building, all her usual self-control melted away by the constant horniness.
'Fuck, fuck, fuck, fuck, fuck,' she whined, her eyes rolling. Master Damien zoomed in on her face, a mask of pleasure.
'Such a needy little sub,' Master Jax smirked. 'Tell me, little girl, do you want us to show all your friends this slutty video of you? Do you want us to play it in all the recreation rooms so they can masturbate while watching you get used like a living fleshlight? Do you want us to show them all what a little whore you are?'
Barely lucid, Amber found herself nodding frantically. 'Yes, oh god, yes, please, I'm your toy. Show them me being your toy, please, please, please…'
Master Jax slapped her tits hard, his sadistic streak flaring. He laughed as Amber gave a shrill cry. 'Your wish is our command, slut. But if you're going to be such a dirty little girl, I think we should take this to the showers so we can get you cleaned up.'
Hefting her into his arms, Master Jax continued fucking her as he marched into the communal showers, Master Damien following with the camera zoomed in on Amber's jiggling tits.
Nevertheless, it was a long time before they actually turned on the showerhead. Instead, tired of doing all the work, Master Jax lay a soft towel over the tiled floor and lay back, where he ordered Amber to ride his huge, throbbing cock. Driven by submissive instinct rather than conscious thought, she eagerly obliged, rolling and rocking and circling her hips until both Doms were growling with lust. And the last shot of the sordid film before Master Damien turned it off to join in the fun was Amber supported on all fours astride Master Jax's powerful body, her sultry eyes fixed on the camera as she showed of her skills as a mindless cocksleeve…
---
Table Service
Since joining the Program, Amber had experienced a lot of people watching her fuck. Her peers, her tutors, even a few potential sponsors. But this was an entirely new level. Then again, being fucked with shameless abandon in the middle of the canteen was certainly one way to finish the Drilling with a bang.
With Doctor Winters reclining on the plush booth seat, Amber made the most of his rigid cock. Straddling his waist she circled her hips, savouring the sighs and groans her expert riding drew from the Dom's lips. Her fingers trailed over his thighs as she used her legs to bob up and down. While Doctor Winters had the lower half of her dress wound around his fist halfway up her back, her plump tits had slipped out of the front, giving their voyeurs an appealing view of her bouncing bosom. Her trimmed ginger pubes crowned her flushed pussy.
Neither of them said much – but that wasn't to say they weren't vocal. Their orgasmic moans filled the room, attracting the attention of every eye in the room.
Amber licked her lips, aroused sweat starting to sheen on her skin: Doctor Winters's arrival had turned her on more than she cared to admit. It wasn't unheard of for a tutor to have a sub go down on them beneath a canteen table, or for a few of the kitchen staff to take a sissy aside for a 'private meal'. Yet today, Doctor Winters had abandoned any form of subtlety and marched brazenly into the canteen: naked, hard, eyes fixed on Amber.
Shocked by his sudden appearance, Amber was too surprised to resist when he forced her onto her back, whipped up her dress and knelt down to feast on her twinkling pussy. Soon she was writhing and wailing without any thought for their audience.
After that their depravity had only spiralled. By now she was riding him needily, desperately, trying her best to let out all the erotic energy that had been building up inside her for the last week.
'Mmmh, I've been needing this, Sir,' Amber purred, sinking down to take him deep and rocking back and forth. 'The Drilling has been so intense I sometimes didn't think I'd stay sane. But I understand why I needed it now. A sub doesn't truly know her limits until they're tested.'
Doctor Winters nodded, his hands finding her hips. 'Exactly. The Drilling isn't just about training you to submit anywhere. It's about showing you how horny you can really get, how much sluttiness you have dwelling just beneath the surface.'
As always, he was right. This week had taught Amber that she was even naughtier than she realised. Each time she believed she couldn't take any more pleasure, new reserves of lustful strength had bubbled up from her subconscious, expanding her limits further and further each time. The constant arousal had developed her into something new, something more, like a mesmerising butterfly metamorphosising from a wriggling caterpillar. It was as if a line had been crossed. One she couldn't come back from.
With the Drilling finally over, Amber's delirium had ebbed. This was only about indulgence now. She knew full well she would spend tonight tangled up in Doctor Winters's bedsheets – perhaps tomorrow too if she was lucky. After that she'd spend the following week recuperating with the help of numerous lengthy conditioning sessions to cement her submissive enlightenment permanently.
She was just about to suggest they take things somewhere more private when Doctor Winters scooped her up in his arms and rose from the booth. Amber gave a whining groan as he slid his hard cock free, followed by a girlish shriek when he abruptly flipped her upside down. With her legs hooked over his shoulders, her head was suspended before his crotch with her blazing hair cascading down like a waterfall on fire.
The ripped Dom opened his mouth to give Amber her orders, but she was already ahead of him. Coiling her fingers around his shaft she swallowed half his length in one go, salacious slurping sounds filling the canteen as she gorged herself on the only meal that mattered.
Doctor Winters grinned, his eyelids fluttering with pleasure. He wrapped his immense arms around her waist, holding her tight against his chest. The next second he followed her example and buried his own face between her thighs. Amber's legs alternated between tightly folded and extensively stretched as he sent waves of pleasure blossoming through her midriff, her free hand caressing her Dom's powerful thighs.
And all around them the canteen watched on, a sea of smirking Doms and envious subs…
---
Thanks for reading!
For those who've not already read my original 2019 story, I would recommend you do so. Not because it's all that good (I think it's mediocre at best) but to see how I've developed the idea in the time since writing that. The original is still available on my blog for those who wish to see what I mean.
When I came back to rewrite/continue this story, I knew I wanted to make changes. The original was more out there than this new version. Back then Doctor Winters promised to brainwash Amber, to purge her old life, to remove her memories and implant a new persona in her mind, and – since the model in the original was not Faye Reagan – physically transform her too (while that transformation would've been surgical rather than drug- or magic-induced, it would've still involved giving her a completely new appearance clearly beyond the capabilities of modern medicine).
But since then, my perception of the Program has changed. I've written a lot of fantastical stories full of magic and curses and amazing TG drugs, but for this I wanted it to feel more grounded. I also didn't want to suggest that Amber had to change who she was to be a good sub – yes, she needed training, but it felt wrong to me to imply that she'd have to be surgically or mentally changed to do well as a submissive, since that's absolutely not what submission means in real life.
In truth, I'd kind of made these changes already. When I hit 500 followers on Twitter I wrote a series of image captions based on another sub of the Program, Elizabeth – who, as it happens, gets a brief cameo in today's story. I consider Elizabeth's story the thematic bridge between the two versions of Amber's. While those captions were a bit heavier on the mental conditioning and cognitive training than this rewrite, they nonetheless tone things down from the original.
So that's why some of the Program's original teaching methods were removed in this new version. Truthfully, the avoidance of any physical transformations was really refreshing for me, since I could put all the focus on the Dom/sub dynamic. That's what I really wanted to do in this version, and I think I've done it well.
I hope to see you next week for the next stage of Amber's journey!
---
Imgbox: https://imgbox.com/g/im1k9TDXNj
Image galleries: https://www.pornpics.com/galleries/graceful-hottie-with-freckled-face-blows-and-fucks-a-huge-meaty-pole-99839078/
https://www.pornpics.com/galleries/horny-american-pornstar-faye-reagan-rides-a-fat-boner-after-a-bj-in-the-woods-18823501/
https://www.pornpics.com/galleries/sporty-natural-tits-teen-faye-reagan-gives-blowjob-and-gets-banged-hard-83046218/
https://www.pornpics.com/galleries/beauteous-redheaded-milf-with-puffy-boobs-faye-reagan-fucks-hard-core-96509996/