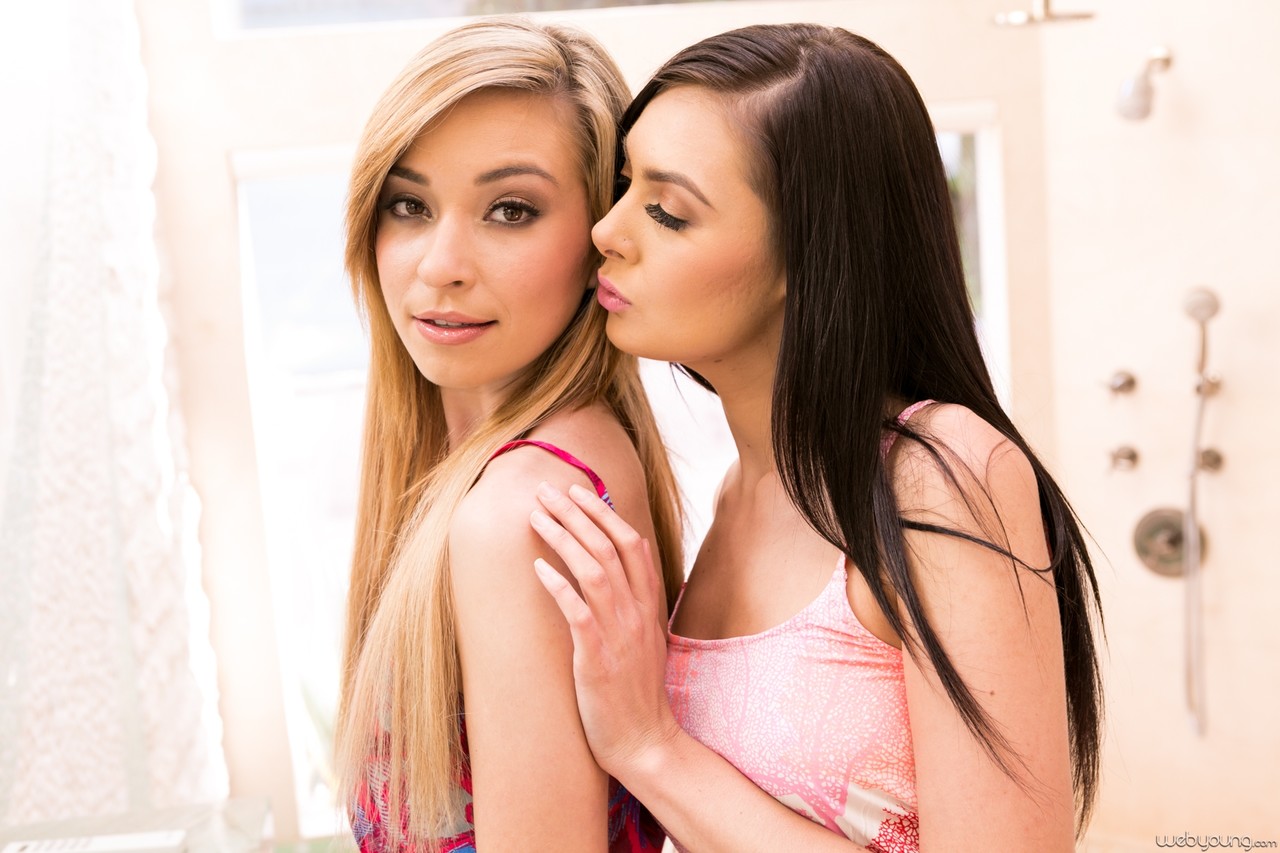 Reclining on the bathroom countertop, Lily bit her lip and groaned as her husband's agile tongue parted the folds her pussy. Terry was certainly far more enthusiastic going down on her in their new bodies, and her breath came in short gasps as he increased his pace. His tongue was so hot between the lips of her pussy, the weaving motion of the tip sending thrills through her nubile figure. Before long she was melting with pleasure, the confusion she had felt when she awoken ebbing away to nothing.
The middle-aged couple had long been in need of a relaxing break. Working long hours at stressful jobs had never been something they'd complained about given their careers afforded them a comfortable life, but it did mean they rarely took the time to wind down together. To remedy this they had made the decision to take a few weeks off work to rejuvenate their relationship.
Having never been particularly interested in spending their time at tourist hotspots or busy hotels, they had chosen the spa precisely because it was out of the way. Nestled in the countryside among patches of forest and rolling grassland, it was an adult-only establishment catering for wealthy clients, and though it had been expensive to book the online reviews had assured them it was more than worth the money.
Arriving to a warm reception from the staff they had quickly come to agree, spending their first day in a state of luxurious bliss at the hands of masseuses, in the personal hot tub in their room, and taking part in an extended yoga class as the sun was setting. No expense was spared when it came to accommodating their needs – their bathing costumes, towels and even their yoga outfits were provided by the spa, each embroidered with their name. After only a single day they had entirely forgotten the stress which had prompted them to book the resort in the first place, and they had retired early to their room to spend the night enjoying the expensive bottle of wine the resort had offered them as a welcome gift while admiring the view from their balcony.
During their discussion they had noted how they appeared to be the oldest couple at the resort. All the other guests must have been twenty years their junior at least, while some appeared even younger. What was more, they were all undeniably attractive people, the women slender and pretty, the men handsome and broad.
'It's probably just one of those places that's more popular with the younger generation,' Terry had pointed out, 'after all, it is a bit out of the way and it wasn't like it was the first resort we found when we were looking to book. Kids today always seem to know about the good places before we do.'
That night they had made love for the first time in what felt like decades, before falling to sleep content as the room swirled with a pleasant floral scent pumped in by the air fresheners set around the room.
Waking up the following morning they had suddenly learned why the other guests were so young: the spa itself. Finding themselves in the bodies of two young women – Lily a slender brunette, Terry a curvy beauty with his hair now long and blonde – they had scrambled out into their lounge to find a large box with a note attached to the lid:
On behalf of Spa Rejuvenate, we would like to officially welcome you to our community of satisfied guests. Yesterday we took the liberty of providing each of you specific transformative hormones we believed best suited your needs. These were delivered through your massage oils, as well as via the fabric of your towels, swimming costumes and yoga attire. The aphrodisiac air fresheners in your room and the libido-enhancers in your wine ensured these hormones were activated through the act of lovemaking.
We hope you enjoy your stay with us in your new bodies, and if there is anything more we can do to enhance your stay please be sure to let us know. Staff are available twenty-four hours a day to cater for your needs and you can enjoy more of our libido-enhancing amenities by asking for 'the specials menu' at the front desk. In the meantime, we would like to offer you these personalised gifts to aid you in enjoying your stay with us.
Spa Rejuvenate x
Opening the box, they had found it packed with an array of expensive-looking sex toys, from thick metal dildos to a blood-red bondage set. At first Lily and Terry had been shocked, but that initial apprehension had melted away very swiftly. Whether it was the sight of the sex toys, the lingering effects of the strong wine from the night before, or the natural horniness of their new bodies they had soon abandoned their concern and moved closer to one another.
At first it had been under the pretence of seeing what the transformation hormones had done to them, but with the aphrodisiac air fresheners still pumping regularly and the thrilling sensation of their renewed youth coursing through their system it had not taken long before they were kissing sensually. Terry especially was eager to explore their bodies, since for the first time in his life he would be able to feel pleasure from the perspective of his wife, to which end he was now attempting to drive her lust through the roof by ravaging her twitching pussy.
'Oh, Terry,' Lily gasped, her thighs convulsing as a fresh bolt of pleasure flared across her groin, 'you're so hot like this, sweetie.'
'It's Tammi now,' she replied, her lips and chin slick with Lily's sweet pussy nectar, 'and that's who I'm going to be for the next three weeks.' Tammi put on a face of mock innocence. 'If only I had a sexy lover to show me how to use my hot new body…'
Lily glanced down at her husband with a wicked smirk. Letting her arousal take hold, she drove Tammi down onto all fours, crouched down behind her and leaned in close to her vulnerable pussy.
Her last words before she taught Tammi the true pleasures of femininity made her husband shudder with sordid anticipation. 'Your wish is my command…'
---
Thanks for reading!
The models in this scene are Marley Brinx and Kylie Nicole.
Brinx is one of those models who is slowly growing on me. I haven't seen a great deal of her work, but what I have seen has been invariably hot and erotic, and she has that slightly alternative edge to her that sets her apart just enough to stand out from other models in the industry. The fact that I could recognise her face in the gif that inspired this piece despite having watched only a handful of her scenes should tell you how memorable she is, and I imagine she will show up in future stories somewhere along the line.
Nicole, meanwhile, is entirely unknown to me. I'm fairly sure I have heard her name, however I haven't watched any of her content, and in fact she doesn't even have a PornHub profile I could find, so I've had to source her xVideos profile. That said, just a brief glance over the videos on said profile will tell you that she's hot as fuck and well worth your time. Even though I can't make a personal recommendation, I think you could definitely do much worse than to check out her portfolio.
I would love to hear your thoughts on my work, so please leave me a comment!
Keep up to date with new releases by following me elsewhere:
Twitter: @Fetish_Fantasy_
---
Imgbox: https://imgbox.com/g/cMmUEbAPVo
Image gallery: https://www.pornpics.com/galleries/blonde-and-brunette-teens-get-down-to-pussy-licking-when-left-alone-30591156/