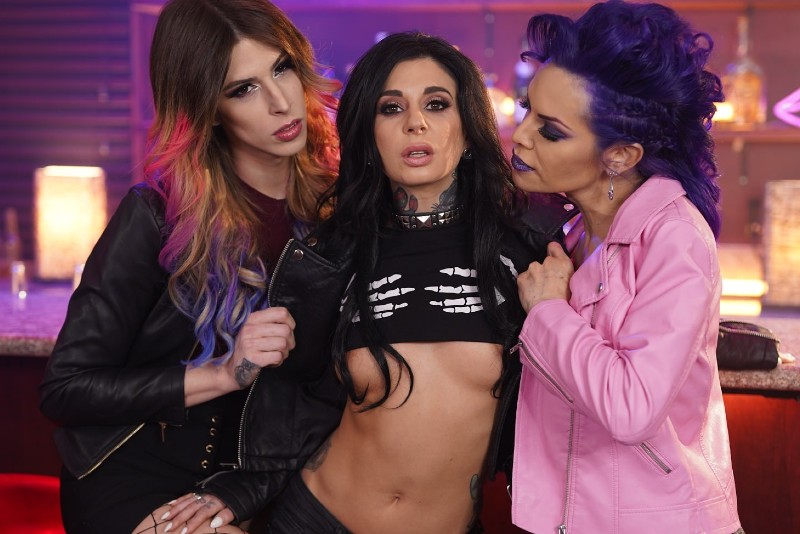 Models: Joanna Angel, Casey Kisses & TS Foxxy (aka Foxxy)
---
Jake had to admit, he was enjoying himself much more than he had expected. Out of the two of them, his best friend Cara had always been the party animal. Although he wasn't one to turn down a night out, as a rule he was generally more comfortable in an environment where the shelves groaned under the weight of books rather than booze.
Still, Cara always made sure he felt comfortable when they went out together. Although when she was alone she preferred the edgier nightlife of the city's neon-lit raves and tasteful yet shameless strip clubs, with Jake in tow she kept things in his comfort zone and never pushed him too far. Beneath her wild, blasé exterior, Jake was certain there was an empathetic, sensitive woman to be found, although he knew better than to tell her so: she would simply deny everything before heading to the bar for another drink.
Even so, a mixture of hectic work schedules and approaching university deadlines had left Jake more than a little stressed recently, so he hadn't held out much hope that he'd be able to relax tonight. But eventually he had caved to Cara's insistence that all that stress was exactly the reason why he should have a night out – and even with every club in the city hosting wild Halloween parties, she had known exactly where to take him.
'I knew you'd love Club Fantasy,' Cara shouted over the pulsing music. 'I've lost count of how many awesome nights I've had in this place. Seriously, even when you go home there's like this energy that clings to you. I'm horny for days after.'
'Horny? I didn't think this was that kind of club?'
Cara shrugged, the wings of her angel costume fluttering with the motion. 'It depends on what you're here for. If you want a party, there's enough booze and room to dance to keep you busy all night long. But if you want a little something extra from your night… well let's just say this place caters for a variety of needs.'
The strobe lights lit up her face as she grinned. When combined with her innocent, girl-next-door appearance, Jake had always thought her devilish smile looked like she had stolen it from a much naughtier person.
She edged a little closer. 'I can show you if you like?'
Jake's cheeks flushed even through the pale makeup of his skeleton costume. Under normal circumstances, he would have refused that kind of offer – unlike Cara, he wasn't the type to indulge in one-night stands or careless hook-ups. But he had already lost track of which drink he was on, and a combination of that liquid courage along with the undeniable arousal born from watching all the hot girls and handsome guys grinding together on the dancefloor in their skimpy Halloween costumes had him in a different mind. Besides, Cara had been wanting to act as his wingwoman for months. And it sounded as if she knew her way around the club – perhaps she might actually be able to find someone for him.
Without thinking too much about it, Jake nodded. 'Yeah, okay.'
Cara gave a little squeal of delight, clapping her hands like a giddy child. Seizing Jake's hand, she immediately led him away from the dancefloor and into an adjacent hallway. The pounding music faded behind them, and by the time they had ascended a flight of stairs it was reduced to a rhythmic throbbing in the walls.
'You seem to know your way around pretty well,' Jake said.
'Never been here before in my life,' Cara replied even as she marched confidently down the hallway. 'I just trust the club.'
Jake raised an eyebrow. 'Come again?'
'I trust the club,' she repeated, casting him a fiendish smile. 'You know, before I first came here I'd heard so many rumours. People say it's more than just a building. They say the rooms and halls move and change, like the whole place has a mind of its own. They say its magic.'
'And you believe that?'
Cara shrugged. 'Not at first. But on my first night I stumbled off the dancefloor and while I was wandering the corridors I bumped into this really hot girl. Before I knew what was happening we were making out and eventually we were back at her place. Fucking hell, that night was so wild. It was just after I had broken up with Georgina and I was so desperate for a hot babe. And the weirdest thing was it turned out this girl had been craving a night of girl-on-girl action too. It was like fate.'
By now they were deep in the endless maze of the club's corridors and Jake was completely lost. Most of the doors they passed were shut, but those that were open led into all manner of strange spaces: a fully-equipped gym; a lounge full of plush furniture; an old-fashioned office lined with bookshelves; the luxurious bedroom of a villa; even an open-plan log cabin which Jake was sure opened out onto a tree-fringed balcony overlooking a broad lake, although he assumed that was all just a projection.
'I didn't think anything of it until the next time I came,' Cara continued. 'For some reason I had been thinking about this hot guy I hooked up with a while back, and by the end of the night… let's just say he'd added another notch to my bedpost.'
'So a few lucky hook ups made you think this place is magic?' Jake scoffed.
'Laugh if you want, but you'll see. I can't really describe it. It's not like I ever go looking for pleasure when I'm here, it just always seems to find me. I didn't get lucky, Jake – the club gave me those people. It led us to one another. So now I let the club guide me where I need to go. I trust the magic. And –'
Cara stopped so abruptly Jake had to dodge around her. Pivoting around he found her staring through an open doorway. She turned to him, smiling as if she knew something he didn't. 'And after tonight you'll trust it too.'
The door opened into a small bar. The shelves were lined with countless bottles whose sparkling contents ranged from neon pink to obsidian black. The undershelf lighting gleamed from a marble counter and a handful of stools stood empty.
But in truth, Jake hardly noticed any of this. Instead his attention was entirely stolen by the stunning woman leaning up against the bar.
Her sumptuous curves were wrapped in a strapless dress of crushed black velvet patterned here and there with sequined crucifixes. Lower down, geometrically patterned stockings descended tanned legs before vanishing into glossy knee-length boots. As if to make up for the darkness of her other attire, a baby pink leather jacket was draped about her shoulders, while her hair was a vibrant shock of purple whipped up into a tall quiff before sweeping back in a vivid streak she had plaited and braided at the sides. Her makeup was similarly bold, complete with dyed brows, rich purple eyeshadow, and a glittery amethyst smile.
Jake could not take his eyes off her. More than that, for a heartbeat he understood exactly what Cara had meant: this was not just a chance encounter.
He and Cara were meant to be here, he could feel it in his bones. The club had guided them to where they needed to be, to this woman in particular. Somehow he knew she had been waiting for them – or at least, waiting for the club to bring the right lovers to her.
Confident as ever, Cara strutted across to the woman, leaving Jake alone in the doorway.
'Hey there, gorgeous,' she purred, pressing herself against the woman's body. She shivered as the woman looped one hand behind her neck. 'Sorry it took us a while to find you. It's my friend's first night at the club. He doesn't believe in the magic.'
An expression of pure depravity settled over the woman's pretty face. 'Is that so? Well I think we should teach him a lesson in Club Fantasy hospitality, don't you?'
'Sounds good to me,' Cara giggled. And with that, the purple-haired beauty pulled Cara into a long, sensual kiss.
At first, Jake assumed Cara's moans were mere arousal – after all, she was kissing the hottest woman they had seen all night. But he soon realised there was a deeper pleasure to them as Cara seized the woman's face and began howling with ecstasy into her mouth.
Then, to Jake's slack-jawed astonishment, his best friend began to rapidly transform.
Within a matter of seconds, Cara had grown over a foot in height. Her limbs extended, giving her the slender, leggy physique Jake knew she had always dreamed of, yet even as she rose ever taller the purple-haired woman did not stop kissing her, her head lifting to follow Cara's rising lips. The short raven bob Cara was so proud of suddenly burst into motion, unfurling down and down into undulating waves that splayed over her shoulders and bosom – a bosom which itself was expanding, slowly but surely progressing through the cup sizes until they had almost doubled in size.
By now their kiss had broken, but Cara made no move to resist. Instead she tipped her head back, her eyes rolling with orgasmia as the strange woman continued to kiss her neck. All the while she writhed against the woman's body, loving every second.
Jake's breath caught in his throat as Cara's facial features rearranged themselves. Until now he could almost have convinced himself he was seeing things, but somehow watching a new woman's face wipe away the friend he had known for so long drove home the reality of it all. In a heartbeat Cara's rounded, innocent features were gone. Her new eyes were dark and piercing, her plucked brows severe, her higher cheekbones and narrower chin giving her whole expression a sharper, more dangerous edge. Amongst all that, however, her smile remained unchanged – after all, her sultry face finally matched her devilish grin.
It was only when her physical transformation settled and her outfit began to restitch itself that Jake realised the similarities Cara now shared with her lover. Her hair had dyed at the tips, shot through with purple and pink almost identical to the shades of the other woman's lips and leather; their eyes were fringed by the very same shadow; fishnet stockings wove into place down her supple thighs, descending into knee-high boots of crushed velvet; she even sported a leather jacket, albeit black instead of pink, which was fitted to her figure in an extremely similar way.
The woman released Cara just as the finishing touches to her burgundy top and tight black skirt stitched into place.
'How do you feel?' the woman asked.
Cara gave a long sigh, her eyes closed and a broad smile on her lips. 'I'd heard rumours,' Cara said quietly, her eyes still closed. 'People said sometimes the club could change you. Transform you. They said it chose people who it believed deserved a life of pleasure. But I never thought it would choose me.'
'I guess tonight is your lucky night,' the woman smiled. 'The club guided you to me and now you're reborn. What is your name?'
Cara opened her eyes. But when she opened her mouth, the name she gave caught Jake by surprise. 'Casey.'
The name rippled through Jake's mind like a pebble dropped in a pond. As it spread, every memory he had with Cara seemed to twist. They didn't change, exactly – all the memories themselves remained the same. But instead of Cara, they were memories of Casey, of the leggy bombshell now stood before him. Within seconds, even her old name sounded foreign to him, the name of a stranger he had never met, and he was confused that he had ever assumed she would reply with a name other than Casey.
'Well Casey, you look hot as fuck.'
'I have you to thank for that. You're the sexiest woman I've seen all night and the moment I saw you I couldn't help but wish I could be just as gorgeous as you. I guess the club heard my wish and made me like you.'
The woman raised an eyebrow. 'Exactly like me?' She glanced down at Casey's crotch.
A mischievous smile played on Casey's lips. She nodded.
'Well, aren't you a lucky girl.'
'Not as lucky as Jake's going to be when gets a taste of–'
Casey stopped mid-sentence. Then, as one, she and the woman slowly turned to face him, eyes wide and unhinged smiles on their pretty faces. All at once, Jake felt as if he was in a horror film, imagining himself as a protagonist who had just been caught eavesdropping on a pair of deranged serial killers.
'Hey Jake,' Casey cooed, sounding for all the world like a succubus trying to lure in her prey. 'I'd almost forgotten you were there. How about you come over here for just a second, I really should introduce you.'
Jake's mind was a fog of confusion. He could feel Club Fantasy's magic swamping his thoughts, infusing them with arousal. Yet somewhere beneath it all, alarm bells were ringing. He wasn't sure whether to throw himself into Casey's arms or run off and not look back.
Before he could decide, Casey had taken him by the hand and was guiding him inside. 'Come on, bestie. Meet my new friend.'
With the club sinking it's claws ever deeper into his mind, Jake found the purple-haired woman in front of him. He did not resist as she looped her arms around his waist and pulled him close, although a spark of fear flared through him as Casey tightened her grip on his shoulders: she was holding him in place. He suspected if he tried to run they would have tackled him to the ground before he made it more than two steps.
The woman smiled the smile of a vampiress about to suck her prey dry. 'Hello Jake. I'm Foxxy. Would you like a kiss?'
'I… I'm not a very good kisser,' Jake said timidly.
'Oh don't worry. We'll soon fix that.'
The next thing Jake felt was the heat of Foxxy's lips blossoming over his own; immediately overwhelmed with arousal he moaned into her mouth and sagged into her warm embrace as the transformative magic of the club moulded his body into something new.
His frame contracted sharply, both his shoulders and hips narrowing with the audible crunch of grinding bones. The grating of shifting ribs soon joined the chorus, but the agonising pain he should have been experiencing never came, only wave after wave of orgasmic ecstasy.
As his insides settled, his outsides were rapidly shifting too. It was the little things that changed first: his cracked nails sprouted into short, sharp claws painted stark white; his earlobes stretched to fit a pair of tunnel earrings; blotches and blemishes and childhood scars faded away to leave his skin clear yet still rugged and masculine.
Then, as if it had been held back and just now set free, the magic consumed him.
A pair of plump tits swelled into being, bulging enticingly against his costume. Soft and fleshy, they immediately ached with arousal, drawing a groan from his lips as his rigid nipples rubbed against the material. At the same time, all the weight of his pudgy legs rose to collect around his hips, expanding his ass to twice its ordinary size – an ass which, when combined with his ample thighs stretched the seams of his jeans to their very limit. The denim creaked under the strain, although once Foxxy's hand descended to grope his fat cheeks Jake found himself hoping they would split apart entirely. A heartbeat later, an almost agonising burst of pleasure over his crotch signalled the regression of his cock. Deep down, he knew that the sudden absence between his legs should have been alarming, but with his new pussy hot, wet and throbbing, all he could do was squirm and groan and hope Foxxy's fingers would explore his new sex soon.
By now, Jake's skeleton makeup was washing away – and his masculine features with it. White face paint gave way to supply blushed cheeks; a lipless grin melted away to reveal a full, glossy pout; dark blotches supposed to mimic hollow sockets faded as mesmerising eyes fringed by warm-toned shadow emerged from beneath. His new look was sultry enough to charm a monk into bed, and as long raven hair came tumbling down his lover's free hand soon tangled up in his new locks.
Along with his face paint, the rest of his costume was changing too. The shirt rose rapidly, revealing a tight, toned stomach as soft and smooth as silk now that the body hair had withered away. Settling into a crop top printed with a pair of skeletal hands, the new shirt revealed an alluring amount of underboob. The bones he had painted onto his dark jeans flaked away as the denim restitched itself to hug his new curves, while a fitted leather jacket materialised from thin air to drape around his shoulders. And to complete the look, the collar of his shirt reformed into a studded leather choker that twinkled in the ambient light of the bar.
No sooner had their kiss finally ended than the new woman found herself in the clutches of Casey and Foxxy. Unsurprisingly, after losing over a foot in height, she felt much more vulnerable in their arms – but something about that helplessness only made her new pussy even wetter.
'Hello, gorgeous,' Foxxy purred, tracing the lines of the many tattoos which had appeared on the transformed woman's body with her finger. 'And who might you be?'
'Joanna.' She replied almost instantly, the name striking her like a bolt of lightning. With it came a lifetime of memories – most of them spent on Casey's arm in neon-lit clubs hunting down new notches for her bedpost.
Joanna's transformation had left her reeling. Buffeted by such intense torrents of lust, she had been driven to the very edge of her sanity; once that orgasmia had been ripped away she felt as if she had been kicked over the edge. Now she was falling. The world seemed distant, her arousal placed on pause as a vacant expression settled over her pretty face. Barely conscious of her surroundings, she struggled to focus on what the other two women were saying.
She could feel Casey tugging on her jacket. 'That's funny, because you look like an angel to me.'
'Really? I think she looks like a horny little devil,' Foxxy said, leaning in so close her breath tickled Joanna's ear. 'Well, maybe not right this second, but she definitely has the potential.'
'You're right, she does look a little dazed. Do you think she's alright?'
'Not everyone takes to their transformation as quickly as you, Casey. Sometimes they need to take their new body for a spin before things sink in.' Joanna heard Foxxy chuckle, but her words slipped away like rain on a windowpane, empty and meaningless. 'I don't suppose you know anyone who might be willing to help her with that, would you?'
Joanna didn't see the wicked grin that twisted Casey's lips. 'Oh, I'm sure I'll be able to find a volunteer – or two,' she added, giving Foxxy a sly wink.
Joanna didn't notice them remove her leather jacket. She didn't hear them slip off their own. She didn't feel them ease her down onto a barstool or rest her against the marble counter. She didn't even feel them lift her tight crop top to expose her supple breasts.
In fact, once the breathless gasps began to ring through the bar, it took her several seconds to realise they were her own.
Dragged back to reality, Joanna found Casey and Foxxy gorging on her tits.
Both had skipped the foreplay entirely. Instead, they lavished her breasts with erotic attention: their tongues swirling around her nipples, their faces pressed into the soft flesh, the seal of their lips growing and shrinking as if they were making out. Sometimes they would pull away, the suction bringing Joanna's tits with them and sending flares of pleasure bursting across her chest. Other times they would gnaw gently, nibbling on her nipples until she gave little shrieks of delight. And occasionally they would suck so hard that Joanna was sure her bosom would be covered in angry purple lovebites – although when she looked down she found her skin was as perfect as ever.
For the first few minutes, Joanna's breath came only in ragged gasps. Her new body was so much more sensitive than she had anticipated. Even the tickle of Casey's hair against her bare stomach was enough to set her eyes rolling. So it was little wonder that the oral assault on her tits took her breath away.
Gradually, she began to regain her composure. Her gasps became groans and she allowed the pleasure to wash over her, ebbing and flowing like the ocean surf. And as it did so, she found herself encouraging her sensual companions.
'Yes… don't stop… please, that feels so good… mmmh, yes…'
Joanna wasn't really thinking what she was saying – the words just sprang to her lips. As they came, unusual memories followed in their wake. Memories of many other nights spent in the embrace of passionate lovers eager to satisfy her deepest desires. Men and women, sluts and studs, Casey and Foxxy amongst them. Part of her knew they were memories from a different life. From the reality Club Fantasy had crafted for her new body. But they were still clear and erotic and the longer she dwelled on them the more confident she became.
'Fuck, that's it, keep going. You're such horny sluts. Oh yeah, make me moan.'
With a wicked smile, Casey drew back. Her thumb played over Joanna's hard nipple as she leaned in close. 'That's right, babe. This is your new life – this is the new you. Let the lust take over. You're a naughty bitch like us now. Accept it.'
'You call yourselves naughty?' Joanna smirked, although there was still some trepidation in her voice. 'Real bitches would know how to put their tongues to better use than a little tit-sucking.'
Now it was Foxxy's turn to pull away. Her expression was one of quiet amusement, as if she knew something Joanna did not. 'Be careful what you wish for,' she said.
An unexpected giggle escaped Joanna's lips as she found herself suddenly weightless. Lifted onto the marble bar, Foxxy's show of strength sent a thrill of arousal up her spine: in truth Joanna hadn't expected the violet-haired woman to be quite so strong, but it was more than a little hot to know Foxxy could get rough if she wanted to.
Between them, Foxxy and Casey made short work of Joanna's jeans. Tugging them off along with her black lace panties, they left her legs dangling over the edge of the bar, exposing the abundance of tattoos which decorated her pale skin. Her new pussy gleamed, her clit a blushing pearl.
Foxxy pounced like a cat on a cornered mouse. Springing forwards, her face vanished between Joanna's thighs. Shameless wet sucking sounds immediately followed.
Joanna's teasing smile dropped in a heartbeat. 'Holy fuck!' she gasped, her entire body tensing with pleasure. Her eyes bulged, then rolled, her words coming in shuddering fragments. 'Oh… my… fu-cking… god!'
Foxxy's tongue was as agile as it was experienced. It was as if she had been learning the erotic intricacies of Joanna's body for years, not minutes. Her tongue danced an orgasmic ballet over Joanna's sex: now feathering the fringes, now delving deep, now encircling the clit. And every once in a while, when Joanna least expected it, she would plant the tip of her tongue on Joanna's clit then flick it rapidly back and forth, extracting screams of ecstasy from her horny plaything.
'Having second thoughts yet?' Foxxy said, pulling back. She grinned as Joanna writhed with pleasure. 'You know, even before the club gave me this body I was a horny slut. I'd had so many lovers I'd lost count. But there's always room for improvement and the club gave me a life where I could have a new hook up every night. I have two lifetimes of experience, bitch – you didn't think of that, did you?'
Joanna was shuddering. Still, her response was decisive. Tangling one hand in Foxxy's vibrant hair, Joanna dragged her back down. 'Don't stop,' she managed before she was moaning loud once again.
While the two of them were locked in erotic embrace, Casey circled them like a shark around wounded prey. Every time she saw an opportunity, she would dart in and strike a sordid blow: yanking down the bust of Foxxy's dress and groping her silicone tits; seizing Joanna's collar and tugging on it until she flushed red; exposing Foxxy's ass to spank her hard or darting in to lavish Joanna's neck with kisses. Little by little, she weakened them both, sapping their lucidity, wounding them with desire. It was a simple plan, but it was ruthlessly effective, and soon enough the two hedonists were almost mindlessly horny.
And once she had them on the brink, Casey gleefully delivered the killing blow. But it wasn't to Joanna.
'Is that all you've got, bitch?' she hissed into Foxxy's ear. 'When I walked in this room I wanted to be just like you, and now it turns out you're only good for a little half-hearted oral. A real slut would be making the most of this whore's holes by now. But I guess that's too much for you.'
Foxxy didn't respond exactly. Instead she gave a primal snarl and reared back, her lips and chin smeared in Joanna's pussy nectar. Then she was manhandling her lover with rough, powerful hands.
Joanna soon found herself positioned on all fours on the bar. Her attire now consisted solely of her bunched up shirt riding above her tits and the studded collar clutching her throat. She trembled with arousal as she heard Foxxy moving up onto the counter behind her. Little electric thrills tickled her spine; her tits ached; her pussy tingled.
By now, she was so desperately horny it hurt, and the thought of Foxxy slipping into a strap-on to plough her tight holes was enough to draw little anticipatory moans from her lips as she listened to the violet-haired woman moving around behind her.
She was so needy she almost screamed as Foxxy cupped her hip in one hand, pressing her head against the folds of Joanna's pussy. The next moment, she was pushing inside…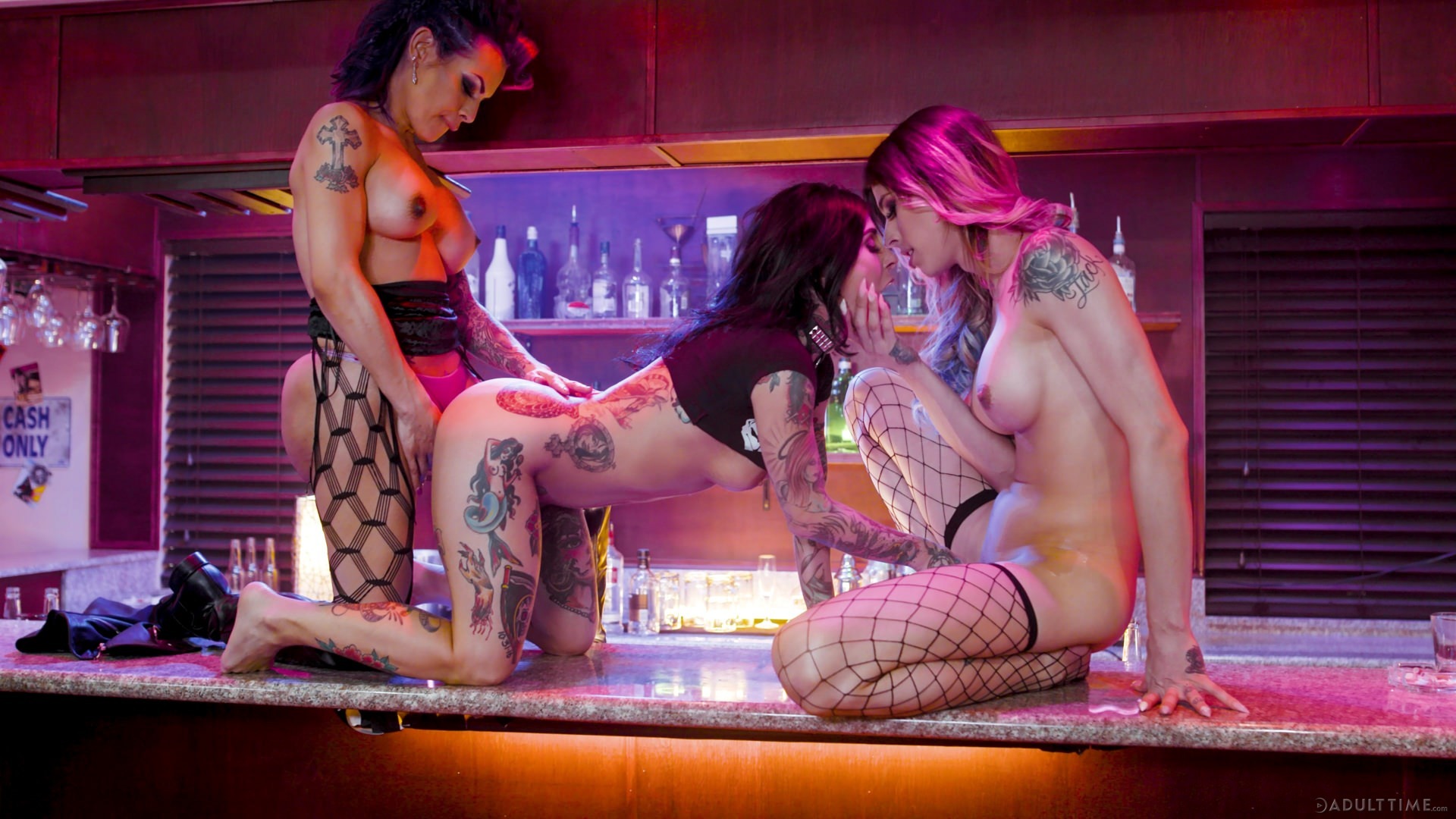 Foxxy's cock was real.
Realisation struck Joanna in a heartbeat, the rigid warmth of Foxxy's shaft sending raw pleasure blossoming through Joanna's insides in the way only a real dick can. She was hard and soft all at once – the core of her cock firm as steel yet the skin velvet smooth – and her arousal was evident from the throbbing and twitching of her member as she began to roll her hips in a slow, sensual rhythm.
Groans bubbled on Joanna's lips. Her eyes rolled and her breath came in broken gasps. Foxxy might not have had the longest cock in the world (although she was at least an inch longer than Jake had once been) but she was unexpectedly thick, and for a woman who had never been fucked before, the ecstasy her cock sent cascading through Joanna's system was mind-bending. It didn't matter that the club had given her an entirely new history of sex and sin: for Joanna, this was her first time. And she was immediately addicted.
'Oh fuck,' she breathed. 'Oh fuck, you're so thick. I love it. I need it. Don't stop. Oh please, don't ever, ever stop.' A delirious giggle escaped her as Foxxy gradually began to increase her pace.
Unnoticed by either of them, Casey had taken the opportunity to strip down while they were occupied with one another. Now her plump tits and lean figure were on show, as were the handful of tattoos adorning her supple flesh. Only her fishnet stockings were left, the rest of her clothes abandoned in a heap. She looked stunning, like a succubus come to torment them.
But as she joined them on the bar, Joanna finally saw just how much like Foxxy her best friend had become.
Casey guided Joanna's hand to her rigid cock with a sinful smirk – a smirk which widened as Joanna instinctively began to stroke. 'That's right, hot stuff. I got a little something extra with my transformation. Because the only thing better than one hot trans bombshell is two of us.'
Leaning in closer, Casey took Joanna's chin in her hand. She tilted her head as she spoke, kissing Joanna's face gently – her brow, her nose, her cheeks – and at times their lips were so close they feathered against one another.
'You know, I was never sure if the club really could transform us, but that never stopped me hoping. I always knew it would make me into a naughty slut. But you? I've spent so many nights wondering what it would do to my shy, nerdy bestie. Wondering if it would make you an obedient sissy or a plastic bimbo. A dumb, ripped hunk or a homewrecking whore. It could have made you gay or trans, black or Latino or Asian or any ethnicity in between.' She chuckled as Joanna's fingers moved ever faster, her arousal driving her to pleasure Casey's cock with all she had.
'But this new look of yours is better than anything I've ever imagined. A smoking hot alt body, but a mind that doesn't yet know how to put it to good use. You're like a blank canvas, and the club chose us to paint you. To corrupt you. It gave you the two naughtiest bitches it could find, and by the time we're finished with you, you're going to be just as twisted and insatiable as us – a real horny little devil. Happy Halloween, gorgeous.'
By now, Foxxy was pounding Joanna's hole hard. The slap of their colliding thighs rang through the bar and both their bodies shuddered with every thrust, their tits bouncing, their flesh rippling.
Joanna's mouth hung open, the pleasure too much to articulate. Still, she was lucid enough for Casey's words to register. Struggling to stop her eyes rolling, she peered up at her friend.
'Please, I want to be like you,' she whimpered. 'Use me. Corrupt me. Make me a slut.' At that moment, Foxxy found her voice for the first time since eating Joanna out. 'You heard the girl, Casey. Let's show her what we can do.'
Joanna surrendered to them. She made no resistance as they guided her down onto one of the barstools, tearing off her shirt as they did so. The purple neon of the bar's lights played over her abundant tattoos, giving the illusion that they were alive and writhing across her skin.
Kneeling on the stool, she gave a little shriek as Casey pushed her down firmly, pinning her down with one hand. At the same time, Foxxy's hands tangled in Joanna's ink-black hair, twisting her head around towards her cock.
The two hedonists entered Joanna in unison. The deep penetration of Casey's dick drove an orgasmic groan from her lover, but that moan was muffled as Foxxy buried her own cock down Joanna's eager throat. Instead, Casey and Foxxy laughed devilishly as they set about using their new plaything.
'Holy fuck, she's so fucking tight,' Casey gasped, immediately settling into a rapid rhythm. 'If this is her pussy, I can't wait to feel her ass.'
'You're telling me,' Foxxy grinned, pulling Joanna's hair back so she could more easily invade her lips. 'But just wait until you get to fuck her throat.'
Casey's expression was all mischief. 'She good?'
'Incredible. Seriously, she was fucking born to be a whore. Such a hungry little cocksucker.'
Their dirty talk only fuelled Joanna's desire. The bar echoed with the sounds of their depravity: hot wet sucking noises as she gorged herself on Foxxy's meat; the sharp crack of skin on skin as she rocked hard against Casey's crotch; their gasps and groans and grunts and growls as they allowed lust to consume them. Their tits bounced with every thrust, their bodies writhing in a hypnotic display of raw, shameless desire.
Joanna was delirious with pleasure by the time her lovers decided to switch positions. Rather than bother to move, however, they instead span her stool around. Within the span of only a few seconds, they had switched holes and were both fucking her even harder than before.
Joanna had worried that Casey's cock would be too much for her throat to take. Her best friend's new shaft was a good inch longer than Foxxy's, albeit not as thick, yet somehow Joanna took it just as easily between her lips as she had in her new sex. Combined with the familiar sensation of Foxxy pushing into her hole, Joanna was soon using her sensual new body to worship both her lovers.
Slowly, thrust by thrust, the reality of what the club had transformed her into became clear.
She wasn't a shallow slut or a homewrecking whore. She wasn't a gold digger or a bimbo or one of those arrogant bitches she saw strutting around campus all the time. They were all the kind of women who had agendas, who schemed to lure in a man or steal a spouse or fund a lavish lifestyle. But none of that mattered to Joanna.
The only thing she cared about was the sex. It didn't matter who or where it came from; whether she was pegging an obedient slave, scissoring with a buxom babe, submitting to two horny trans bombshells or any other imaginable scenario, she simply lived for pleasure. All the nerves and inhibitions from her former life had been stripped away. Now Joanna was free to explore a life of unrestrained hedonism.
She was, quite simply, a nympho.
And with Foxxy and Casey by her side, she suspected her nightlife was going to become much more sordid from now on.
'Fuck, I really hit the jackpot tonight,' Foxxy laughed, her tits and ass jiggling as she pounded Joanna's pussy hard. 'The club always brings me some hot stud or needy slut when I come to visit. But when I turned up and found a pretty purple lipstick waiting for me on the bar I knew tonight was going to be something special. I guess it makes sense though – Club Fantasy always knows your desires, and I've been wishing for a few besties with benefits for weeks.' She spanked Joanna's ass sharply, chuckling as her lover gave a shriek around Casey's cock. 'I guess my dreams just came true.'
'Well, if that's how you feel, I guess I'll just leave you all here.'
The voice came out of nowhere. Jerking up, Joanna came away from Casey's dick with a pop, although all three of them were far too horny to stop and she shuddered as Casey kissed her neck and groped her tits while Foxxy continued to thrust.
If there was still any doubt that Club Fantasy was magic, that doubt was now laid to rest. Unnoticed by any of them, an entire wall of the room had faded away, and now they found themselves looking into a different bar completely. The counter was polished black marble, the stools leather and chrome, and the stainless-steel shelves were lined neatly with tall bottles. The whole place was lit by soft spotlights of pink and red, while a decorative tree of LEDs stood in the corner. It was a very different aesthetic to the more rustic appearance of the bar they had spent their night in.
And standing against this new bar was a beautiful woman in a short black dress.
'Who are you?' Joanna asked, stifling a moan as Foxxy hit her G-spot.
The woman gave a pretty smile. 'You know I can't remember the last time anybody asked me that. Usually my reputation precedes me.'
Foxxy was the one to answer her question. 'Joanna, meet Natalie. You're in the presence of Club Fantasy royalty.
Joanna could not deny Natalie looked like a princess – a particularly erotic princess, but a princess all the same. Every inch of her perfect figured exuded arousal, from her glossy lips to her supple thighs. Glittering diamond earrings and a matching choker mirrored the shimmering silver of her eyeshadow, while a long chain necklace snaked down her chest, emphasising the plunging neckline of her dress and almost inviting them to find out what was hidden beneath the material. Knee high black heels hugged her legs and her piercing eyes stared out from beneath a neatly cut fringe. She looked like a socialite, a seductress and a slut all at once.
'Pleased to meet you, ladies. I see the club has kept you busy,' she added, eyeing Joanna's tangled hair.
'It sure has,' Casey giggled.
Natalie smiled knowingly. 'Trust me, ladies, that's just the appetiser. You see, I happen to know Club Fantasy very well indeed. It's one of the benefits of being friends with the owner, and let's just say me and Phoenix are very, very close friends.' An edge of mischief entered her smile. 'As it happens, me and a few lovers are having a little Halloween party. We don't really bother with the costumes to be honest – they only end up on the floor anyway. Originally I was coming to invite Foxxy to join the fun, but there's always room for new members of the Fantasy Family. What do you say?'
Foxxy had pulled out while Natalie spoke, although she still stroked her twitching dick as she replied. 'To a night in your arms, my dear? Always.'
'I'd agree for just a single kiss with you,' Casey said, giving Natalie a wink.
Now all eyes turned to Joanna. Under the scrutiny of the three gorgeous women, she felt suddenly vulnerable. Fortunately, Natalie spoke up before any hesitation could take hold.
'I believe I forgot to mention, it's a ladies only party. Although you'll be the only one without a cock, Joanna. That isn't going to a problem, is it?' There was a wicked gleam in her eyes as she spoke, a smirk plucking at her lips as if she knew full well she was utterly irresistible.
The promise of more lustful trans beauties to worship set Joanna's thighs tingling. Erotic heat blossomed through her core and she hopped off the stool. Taking Casey and Foxxy by the hand, the three of them padded over to Natalie on bare feet.
'Lead the way, gorgeous,' she said.
'I was hoping you might say that,' Natalie replied. Raising a hand, Natalie revealed a leather leash Joanna was almost certain she hadn't been holding a moment before – a leash she then clipped to a silver ring set into Joanna's choker which Joanna was absolutely certain hadn't been there earlier. Not that she was about to complain. 'Something tells me this little kitten is about to get a lot of attention tonight,' Natalie said in the voice of a siren.
Tingling with anticipation, Joanna followed obediently as Natalie led her from the room. And as she went, Casey and Foxxy looped their arms around her, each of them with one hand resting softly on an ass cheek as they whispered shamelessly sordid promises into the ear of Club Fantasy's newest nymphomaniac…
---
Thanks for reading!
I can't lie, I really enjoyed writing this. I've been wanting to show off Joanna Angel's work in a Club Fantasy piece for a while now, and the chance to involve Casey Kisses in the mix was the cherry on the top. TS Foxxy is a model I'm less familiar, although if her work here is anything to go by I'd say she is more than worth checking out!
There isn't really enough praise I can heap on Angel: she's hot, she's kinky, she acts in, writes and directs some of the sexiest content around, and if what I've seen of her in behind-the-scenes footage is anything to go by she just seems like a generally nice person to boot. I absolutely love her alt vibes and her willingness to work with a broad range of models, both transgender and cis, and if you're ever in search of some truly smoking hot content, I'd direct you straight to her very own studio, Burning Angel. Seriously, if you aren't a massive fan, I think you must be ill, and I prescribe nothing but Burning Angel content for the next month to cure what ails you.
Also, I didn't want to ruin the surprise of her cameo by putting Natalie Mars's name amongst the models at the top of this piece, but by now it goes without saying that she is fucking awesome and you should go check out all her work twice, right now.
Regarding Club Fantasy stories on the while, I don't actually know when I'll have the chance to write another one. There are so, so many models I want to introduce into this world, however my time is becoming increasingly limited these days due to big life changes that are ongoing. I still intend to release stories as routinely as I can, but as I mentioned in my Lake Fantasy story last week, longform pieces are very difficult to write at the moment. I may experiment with shorter Club Fantasy stories, but I also don't want to undersell the models I show in these stories by not devoting as much time to them as I have others. I'll have to see how things go really, and I do have a few other longform stories written up that I'll be releasing sometime in the next few months, but just don't expect many more for a while once they've been posted.
With that in mind, this marks the last of my October releases, meaning we're back down to one story per week in November, although the first one will be out this Friday just because that's how October fell. As I write this in early October, I don't yet know what I'll be doing regarding my Christmas slate. Maybe it'll be one per week, maybe two, or maybe I'll have a similar release schedule to last year. I'll update you once I know.
Anyway, hope you enjoyed this month's stories and I'll catch you later this week for November story #1.
---
Imgbox: https://imgbox.com/g/Lx1W4mvelZ
Image galleries: https://nudecollect.com/content/TransFixed_Casey_Kisses_TS_Foxxy_Joanna_Angel_Last_Call_01052019_70x/page-1-pics-70-mirror-9.html
https://www.pornpics.com/galleries/evil-angel-karma-rx-natalie-mars-91806281/