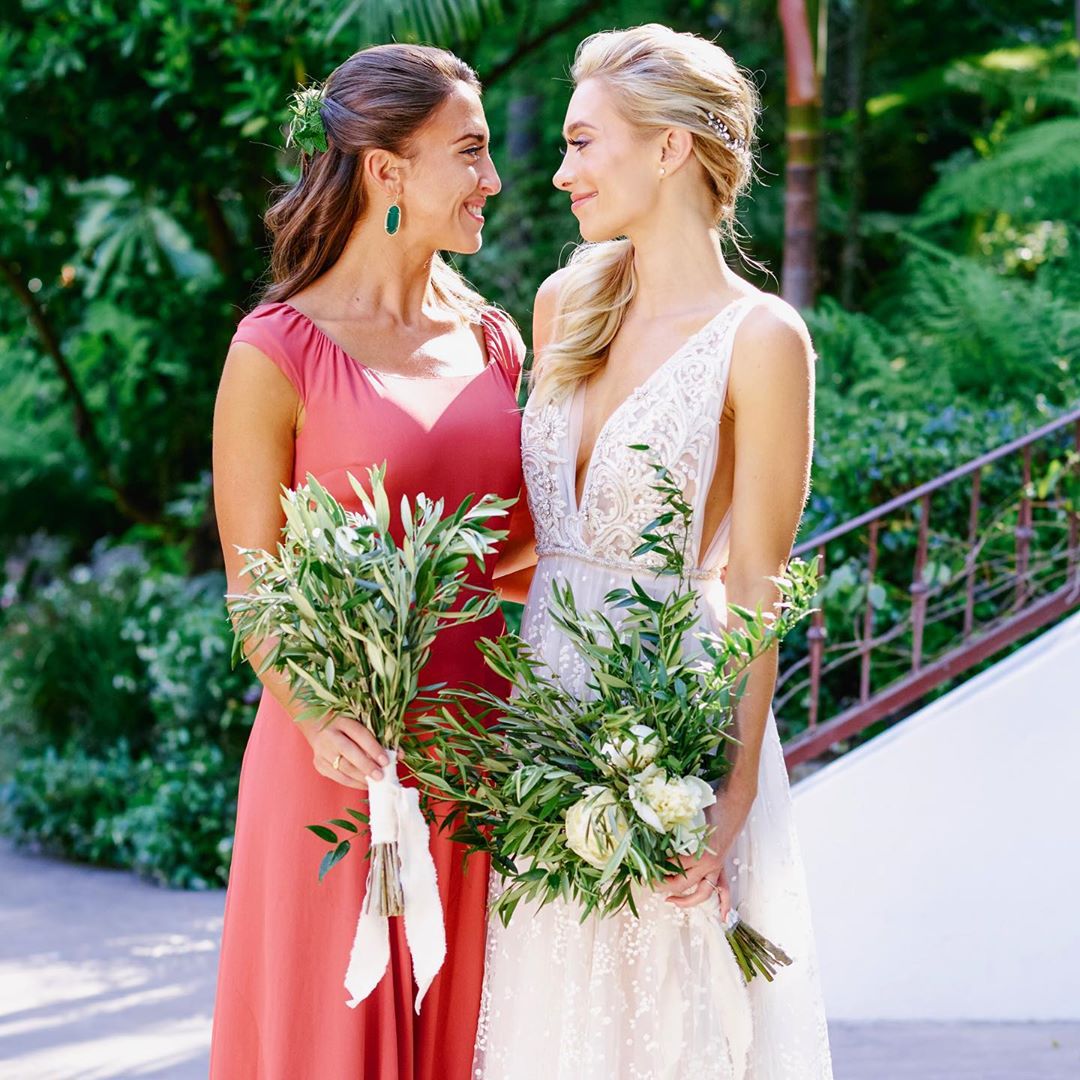 NOTE: This is not my story. On my old blog I reblogged a piece by Sissy Slut Ally, however during the move to my new domain, the reblogs I had made broke. I have recreated this piece from Ally's original, which you can find on her blog here: https://sissyslutally.wordpress.com/2020/02/20/my-special-day/
---
I could only smile at the grinning woman in front of me as she admired her handiwork. Today was the final day of my freedom as I officially give up any semblance of my manhood and my old life and offer you my vow to serve you as your wife. I felt the her hand reach under my almost scandalous wedding gown as she ran her hand against my back before grabbing one of my breasts and tweaking the stud on my now sensitive nipple. I let out a small, mousy scream which caused her to laugh and step back to admire her handiwork.
"Are you wet for your husband-to-be?" My Mistress playfully asked me as she gestured to the damp area of my dress and laughed again at my desperate situation.
I could only let out another moan as I crudely rubbed my newly formed cunt under the fabric of my dress and seductively replied with a husky, out of breath voice, "I can't want for my new husband to use me like his fleshlight and fill me with his seed."
She positively beamed with happiness as she basked in the absolute perfection of her latest project before rejoining my side and leading me to meet you at the altar. I had no idea that I was going to be yet another notch under her belt until it was far too late. It all began so innocently – me sitting alone at a bar on a business trip before this mysterious woman sat next to me and began chatting with me. I wasn't really in the mood to spend time flirting and verbally dancing with a woman, however attractive she seemed to me, because I had an important meeting to attend to the next day. But no matter how much I wanted to brush her off, every time she clung to my arm and quietly breathed into my ear, whispering barely audible noises that never seemed to form into words that I could understand, I would suddenly be drawn back to her sweet sounding voice lulling me into a mindless haze.
I don't know how I spent the night, but when I woke up in my hotel room, I saw in horror that I had missed my meeting and learned from the angry emails on my phone that my potential client had decided to partner with your company instead. I didn't even notice the note the mysterious brunette had left me until I crawled back into the hotel bed to try to understand what could have happened last evening. I hesitantly picked it up and tried to process what it said:
I've never had sex with a sissy before, but it was so exciting to have a man submit himself so thoroughly to me and let me use his sissy asspussy like a desperate horny slut. I'm so glad you chose me to be your keyholder, even though I may not see you again for a while.
XOXO.
Mistress
My eyes widened I read through the last sentence and reality of what it said slowly dawned on me. I suddenly felt the metal prison that had now encased my flaccid cock and pulled off my pants to see the horrific sight myself. The locked cock cage that was permanently affixed to me seemed like a hallucination, but I could feel my penis press up against the hard unyielding metal and the reality was undeniable. What frightened me more was what happened next, as uncontrollable and pent up lust began to flow through my body and my cock began to grow and strain against the cage. It was so painful, but somehow the situation itself was enough to make me horny and after some time my cock spurted its juices in an unsatisfying ruined orgasm.
I looked at the mess that I made on the bed and as if on autopilot, I could feel my body slowly lower itself so that my face was pressed against the stain on the sheets before I began to reach out with my tongue to lick my cum. I felt sick as the taste of cum hit my tongue, but I also couldn't stop as I began to desperately slurp at my sheets until I had swallowed my entire pathetic puddle that I had expelled. When I was sure I had consumed every drop of my foul seed, I tried my best to compose myself and take stock of the situation I found myself in… None of this made any sense, but the cage surrounding my penis and the pain that I began to feel from my ass, presumably from being fucked by the mysterious woman, made me realize that this was more than a twisted fantasy.
I stood up and showered, noticing in horror that the majority of the hair on my body was now gone. When I reached for my suitcase and opened it, I sighed with relief that most of my clothes were still there. My relief was short-lived however, as I noticed the bra, panties, and stockings in my case after digging to the bottom. As much as I tried to stop myself however, I could feel my body shudder in pleasure as I stroked the silky material of the lingerie before gingerly slipping the undergarments onto my slightly diminutive frame. I stared at set of lingerie attached to my body, beginning to feel happy at being able to wear such girly things, before tearing myself away from these emotions and hurriedly shoving on my male clothes to cover the evidence of my depravity.
I was extremely skittish on the journey home, particularly being sat next to an extremely burly and handsome man who I tried to ignore as best I could despite the daydreams I had where he would see the outline of my bra under my shirt or the frilly material of the stockings beneath my pant legs and drag me to the bathroom to rape me like the sissy I am. Every time his leg would brush up against mine, or his arm would bump up against my chair, I could feel my heart almost jump out of my chest as I half expected my fantasy to come true. Certainly I could feel my imprisoned penis reacting in kind, uncontrollably spurting tiny amounts of cum throughout the flight as my body felt the unending desire to be used by a real man.
I was terrified of these thoughts, but I couldn't escape them… was I denying something that I had always had inside me until I met my new mysterious captor? Were all my previous relationships with women doomed because I secretly wanted to be one of them and have a man ravish me? As much as I tried to focus on other things that were more important, like what I would do with my company after losing this contract to you, but the thought of submission and serving cock with my holes was all that was in my mind.
When I finally reached my home, I noticed a package by the door addressed to "My favorite Sissy" which I surreptitiously picked up and hoped no one had noticed. As if on instinct, I ran straight to my bedroom to strip out of my constraining clothes and tore open the package that was left for me. I found a pretty pink night gown which I slipped on immediately and a pair of pink kitten heels which encased my feet perfectly and made my toes curl as the sexy feeling of wearing a complete ensemble.
At the bottom of the box I found a set of dildos that practically made my caged clitlette explode with anticipation. Memories of my mistress fucking me hard in the hotel room flooded my mind as I picked up one of them up and lubed it thoroughly with a bottle of musky smelling lubricant that was also in the box. Little did I know at the time that the smell was derived from your semen and that I was slowly becoming addicted to you as I slowly descended into the depths of my new depravity, but at the time all I cared about was filling the void in my ass with a toy that I would become intimately familiar with over the coming weeks.
As if on cue, my phone began to rang and upon seeing "Mistress" as the caller ID on the screen, I immediately answered the phone and set it at the end of the bed with the video on so that she could get a full view of my pathetic sight. As I sat back on my bed with my caged clitlette straining against the front of my silk panties and a dildo about to enter my ass, I could hear her sweetly ask me, "I see my little sissy faggot received my wonderful gift… what do we say?"
I let out a primal scream as I penetrated myself with the dildo covered in your scent before fucking myself in a slow and steady rhythm. When I finally regained my senses, in between my girlish grunts, I breathlessly answered, "This sissy faggot loves your gift Mistress. I love fucking myself like a bitch dreaming of all the men who will rape me" before focusing on increasing the pace of the dildo entering my ass so that I could reach my orgasm quicker.
I didn't know that you were on the line as well, laughing as you watched me turn myself into a bitch for you. This would be the first of many streams that my Mistress would share with with you as proof of her progress of turning me into a simpering little sissy faggot who would become nothing more than your slave. The sight of me dressed in my feminine clothing, my smooth legs covered in silk stockings widely spread as I fucked myself with a dildo slathered in the essence of your cum was more than enough to get your cock hard. You pull out your rod and begin to stroke, imagining soon that my lips would be around your cock soon enough. My "Mistress" was charging you a ridiculous amount of money, but you were now confident that she was worth every penny.
After several minutes of violently pounding myself with the dildo, I could feel that my little clitlette was about to burst, but somehow I knew that I couldn't cum until my Mistress had given me her permission. I could feel tears streaming down my face my pathetic clitlette painfully pressed up against the metal prison, the bars digging into my flesh as it strained to release itself. My screams became primal as I continued to fuck myself, practically begging the woman on the phone to let me cum.
I could hear her ask me if there was a particular man that I hated, before mentioning your name. I don't know if I necessarily hated you the most, but desperate to cum, I blurted that you were the one I despised. As I began to pant breathlessly as I continued to fuck myself, I listened as she explained that I was a jealous sissy faggot who wanted a strong man like you to take care of me and to dominate me. Again, I mindlessly agreed to what she was telling me, internalizing my desire for humiliation at your hands in a desperate attempt to cum. She laughed and told me that I was such a good sissy and told me that I could cum, which was enough to practically make me explode out of my cage as my clitlette began to spurt its gooey mess into my panties and orgasmic bliss spread across my entire body.
I looked straight into the camera… straight into your eyes, as I slowly gathered myself and slipped my panties off so that I could lap up my post-orgasmic mess. When I was done slurping up my cum, I pulled out the now disgusting dildo from my ass and began to clean it by running my tongue up and down the shaft. I somehow knew exactly what to do, including not to gag at the putrid taste now against my tongue, as I seductively worked dildo in my mouth, unknowingly auditioning myself for my eternal role as your eager cockwhore. You would tell me that you enjoyed my many special private shows that I inadvertently made for you, but my first performance would always be your favorite.
Over the phone, I heard my Mistress tell me that I should write a thank you note to the man I had fantasized about when I came. That's when the reality of what I had done hit me like a ton of bricks and I immediately refused, not knowing that you had already seen me debase myself for you already. That's when I heard the distinctive sound of metal keys jingling and a teasing voice asking me, "Are you going to be a good Sissy or should I throw away my special key and find another Sissy who will be more obedient?"
I whimpered and mumbled softly that I would write the thank you note, which you made me repeat several times until it was very clear what I was agreeing to, before she laughed and told me that I was such a good gurl. She told me to send the note directly to you, but to blind copy her so that she would have proof that I sent it… again, this was more for the benefit of controlling me and humiliating me rather than any need for generating blackmail material, but I wouldn't find out that this was all simply part of the game of turning me until much later.
I gingerly went to my computer in my home office, my legs clumping around in the heels that I was still getting used to, before sitting down at the keyboard and staring at the blank screen that beckoned me to fill it with the humiliating text that my Mistress had requested.
Dear Master,
I'm writing to confess my deepest, darkest desires… that I've always wanted to be a sissy faggot and that I've always known that I was never a real man compared to you. I spent the last hour fucking myself with a dildo, dreaming about you barging into my office and raping me on my desk while I begged you to cum inside me.
Thank you for being such a strong alpha man to give this pathetic sissy someone to fantasize about while I masturbate like a sissy faggot only can. Please claim me like the piece of meat I am and teach me that my place is at your feet.
Your Desperate Sissy Slut
The words flowed from my fingers without hesitation and I was shocked at how quickly I was able to admit my deepest desires. As much as I wanted to deny it, maybe this is how I've always felt…? Even addressing you as "Master" seemed so natural to me. I could feel my clitlette twitch again in its cage as I thought of you and could feel myself leaking as soiling my new dress as I pressed the send button on the email, confirming my servitude to you the rest of my life.
My next few weeks were as much a blur to me as the night I met my Mistress and discovered that I had always wanted to be a sissy faggot slut, to the point where I didn't even notice that you never replied to the demeaning email that I sent to you. Losing the contract was in fact more devastating than I had even imagined it to be, but I had stopped caring about that and focused all my energy in replacing my wardrobe with sexy outfits and frilly lingerie, perfecting the cocktail of drugs and hormones to irreversibly change my body to better serve men, practicing putting on my makeup so that I would look perfect for any man who wanted to rape me, and watching videos on how to properly act like a devoted wife and whore. I didn't mind that Mistress had taken over my email account for me and began answering on my behalf because she was helping me by taking the burden of manhood away from me so that I could focus on my feminization. All my time was spent in a state of constant bliss at being able to live out my deep-seated fantasies of being a woman who thought of nothing but sex and serving a man.
My special shows for Mistress became gradually more explicit as I fell deeper and deeper into her spell, with every session soon becoming about how much I wanted the man I hated most to rape me and turn me into his personal cocksleeve. Mistress had even begun sending me pictures of you so that I could burn your visage into my mind as I fucked myself to orgasm with the largest of the dildos that she had left me. But when she sent me what I assumed were your extremely used and soiled boxers and told me taste them, I felt like it was a step too far… until a single whiff of the stale smell of cum, piss, sweat and shit wafted into my nostrils and made me desperately want to consume the essence that had embedded itself into the dirty garments.
One day Mistress told me she had a very special surprise in store for me as she told to not bother setting up my little show but to lay in my bed and play with myself while my surprise arrived. At this point I was had become more feminine than masculine, my hair now falling down to my shoulders while the hormones that I had consumed like candy had subtly shaped my body to shrink my clitlette to a mere nub and give me budding breasts with sensitive nipples. I became so lost in the joy of fucking myself while moaning your name, imagining you ravishing me like the weak beta that I had finally admitted that I was, that I didn't hear the sounds of someone unlocking the front door or climbing up the stairs.
That's when the sound of your voice pierced my bliss and brought me back crashing to reality, "Well, well, well my little faggot. I thought your emails to me were a joke, but you kept sending them to me every day that I finally had to come and see for myself." I cowered back into my bed and tried to cover myself, but you tore my sheets away to reveal the pathetically feminine form that I now carried permanently. You laugh as you see my now tiny shriveled clitlette, reduced to a nub after months of ruined orgasms in its cage and the large doses of hormones that I've been devouring like a creature dying of hunger.
All I could do was whimper as you began to grope at my body, roughly grabbing at my now bulging, bubbly ass and my growing breasts that now filled out the bras that I've grown accustomed to wearing. As much as I was afraid of you and humiliated by you seeing me reduced to this state, the scent of your musk made my clitlette begin to leak as I've long come to associate your smell and taste with sexual release and orgasmic pleasure. A desperate, horny moan pierced the silence, betraying my desires despite my otherwise pointless protestations. I stopped trying to push you away and began to moan even more, pressing my body against yours, practically begging for you to claim your prize.
With an evil sneer on your face, you give me a hard slap and ask me, "Who's your master, you little faggot bitch?"
Tears filled my eyes, not because of the pain, but because of the overwhelming joy of finally being claimed by the man that I've been obsessively masturbating to with my Mistress for so long. "You are my master sir", I breathlessly say as I let out some more moans of pleasure. You fling me around so that I was face down on my bed and my ass was presented to you, a welcoming gaping hole just waiting to be filled by a real man. I could hear you laugh as you started to penetrate me, calling me all sorts of names belittling my failed masculinity as you began to rape my well-worn but virgin ass.
As I felt your painful strokes inside me, I knew that Mistress was right… that I was living in denial for so long, pretending not only was I a man, but living under the delusion that I was your equal or even god forbid, your better. Each stroke made it clear that I was nothing but a sissy faggot bitch, desperate for a real man – for you – to rape me and make me yours, fucking the pretense of masculinity out of my mind and making me realize that I was always just a pathetic little set of holes waiting to be used to please her man. When you began to twitch uncontrollably inside me and you violently tugged at my hair to maintain a strong grip as you came, I could feel your magma hot seed flood my bowels leading me to a mind-breaking and Earth-shattering orgasm that I had never felt before. No matter how often I had fucked myself with my dildos lubed in part with your cum, it didn't prepare me for the feeling of having your cock inside me, filling me with your spunk as you clearly received pleasure from using me like a piece of rape meat.
You collapse on top of me and hold me tight and begin whispering something about how it was all worth it to have the best fuck of his life. I didn't care about anything you were saying other than the fact that I had clearly pleased you, which made me even happier than the orgasm you had just given me. I realized that my entire life had been nothing but a pointless pursuit of futility, trying to chase a masculine ideal that I would never obtain. I was born to be a sissy faggot whose only purpose was to serve a real man with a real cock, nothing more than a vessel for you to rape and use and until you were satisfied and relieved yourself inside one of my holes.
A moment later I let out a small whimper as I feel you pull yourself out of me, only to flip me around and to climb up on top of me so that your semi-erect cock was mere inches in front of my face. I looked up at you like an eager puppy, practically begging you to let me taste your cock, but somehow I knew that I should wait for your command like an obedient fuckmutt. You smile at me and ask me a series of questions that we both know the answer to.
"What are you?"
"I'm a sissy faggot whore."
"What is your purpose?"
"To serve you and give you pleasure."
"Who is the better man?"
"You are, sir!"
You inch your cock toward me and I open my mouth wide, practically drooling as I anticipated putting you into my mouth and tasting your dirty cock for the first time. I could almost feel your cock against my lips, but you stopped and asked me one last question.
"Will you give me everything, including yourself?"
If I was still sane or living under the pretense of being a man with any kind of agency, I would have hesitated… maybe even tried to resist the answer that was parting from my lips. But all I could see was how close your cock was and how much I wanted you in me again. So I answered, "Yes, you can have everything I have. My property, my body, my soul!"
I knew you were satisfied with my answer because I could feel you grab the back of my head for leverage so that you could violently shove your cock into my mouth and down my waiting throat. My hours of deepthroat training in front of Mistress served me well, but out course you had already known that I was ready to take you without gagging because you had also been following along with my mental induction and physical training as well. The constant hours with your dirty boxers on my face and in my mouth prepared me for the disgusting taste that hit my tongue, triggering another ruined orgasm in me as I experienced the joy of tasting the man I secretly loved so much directly from the source.
My throat suctioned on your cock so obediently that you quickly and violently came again, filling me with your cum. I diligently swallowed as a good cum bucket should, feeling your delicious goo fill my stomach. But when you were done cumming, you had another surprise for me as you began to piss in my mouth! I wasn't prepared for such a gift, but I could feel my heart flutter with adoration as I realized that you were giving me such a wonderful present and began to violently swallow your golden nectar lest I do something ditzy and silly like spill a single drop of your piss. I was so lucky to have you wash your already delicious cum with your piss that I came again, my third of many ruined orgasms that you would give me.
After you recovered from raping my mouth, you dismounted me and reached into a briefcase that you had brought in order to find a pile of legal papers that you told me to sign. Knowing that it would make you happy, I signed everything you laid out in front of me… giving you ownership of my property, agreeing to sell you my company for pennies on the dollar, agreeing to change my name to better suit the new feminine and submissive body that I now had, signing over power of attorney to you so that you could make all my decisions for me, and agreeing to a series of medical procedures that would accelerate my transformation from an ugly faggot to a beautiful sissy with three holes to serve you with.
It didn't take you long for you to take over my life. My company was now ruined and you had raided everything of value from it before laying off most of my employees… except for the few beautiful female executives you kept on as eye candy to serve you when you were occasionally tired of my sheer devotion. After all, as a alpha male you still appreciated the sport of the "hunt" and my former female employees were more than willing to play along lest they lose the only job that they would be able to get after serving as executives of company that failed so dramatically. Perhaps seeing how thoroughly I had submitted to you, giving up everything to you, convinced them to go along with your games and the fact that you promoted them to be your "personal assistants". I didn't mind what you did with them though… it wasn't my place to question you, and if you were happy, that was all that mattered to me.
I also came out to all my friends and family by telling them I was a sissy slut who was a desperate cum hungry whore. The people who weren't horrified by what I had become and disowned me had the pleasure of enjoying me when you were out of town, since you knew I needed a "sissy sitter" to take care of me lest I go around humping everything in the house or going around town trying to fuck the first cock I could see.
This brings me back to this moment though, right before I was to walk down the aisle with my Mistress to formally tie myself to you for the rest of my life. I was more than happy to be your cocksleeve and fleshlight for the rest of my life, but I was surprised that you would want to marry me when you could clearly have any woman you wanted. It didn't take you long for me to make me replace my useless dicklette with a tight, constantly wet cunt for you to use when you were tired with my mouth or my ass, but I assumed I would always be your slave… not your wife.
But marrying me would be your way of showing me that you completely owned me and that I would be devoting my life to serving you forever. You saw it as my final humiliation, but for me it was the happy day of my entire life – final confirmation that I was nothing but a sissy slut turned human fleshlight for a real man. My fantasies had become true and both you and Mistress were able to make it happen!
In fact, after our special vows where I promised to serve your cock for the rest of my life and you promised to fuck me whenever I was feeling desperately horny and you put a ring on my finger, Mistress turned to me and placed a necklace over my head. I looked down and saw it was a tiny key, the one that opened the lock to my dicklette's metal prison right before I went into surgery to become as much a woman as I could possibly become after my useless lump of flesh was removed and replaced with a wonderful gash.
Our life settled into a routine as I entered the bliss of domestic life. I was your devoted wife, serving you in every way that I promised that I would and more. I was even ecstatic when you told me that one of your personal assistants was pregnant with your child and that she would be moving in to serve as the nanny to our child and my maid. As the first of your office harem to become pregnant, she held a special place of honor, but that didn't mean that she would ever replace me. I knew that you loved me unconditionally, because I was forever a symbol of your triumph over me and your superior masculinity. So I didn't see the pregnant woman as a rival for your affections, but more as a tool to allow me to make you happy. I would help her raise your child, and if you wanted me to play the part of its mother, I was happy to do so and would treat it as if I gave birth to it myself.
As I wait for you to come home from work to give me the fucking I deserve, I think wistfully on my time with my Mistress, grateful that she took the time to free me from the shackles of my pretense of masculinity in order to embrace the sissy inside me. I was more than happy to see you give her half of everything I had ever earned, since that was more than a fair trade for the newfound freedom I had as a wanton cock-crazed sissy faggot whore. The buzzing in my new cunt brought me out of my reverie though as I remembered to go back to my chores and making sure your house was perfect for you when you came back and each of my holes was ready for you to use after your long day at work.
I'm sure my Mistress was finding someone new to help and I can only hope that her next sissy will be as happy as I am. But as I hear the front door open, thoughts of my former Mistress quickly disappear from my mind as I eagerly bound to the door and drop to my knees front of you. It's time for me to be the perfect wife, just as I was born to be!