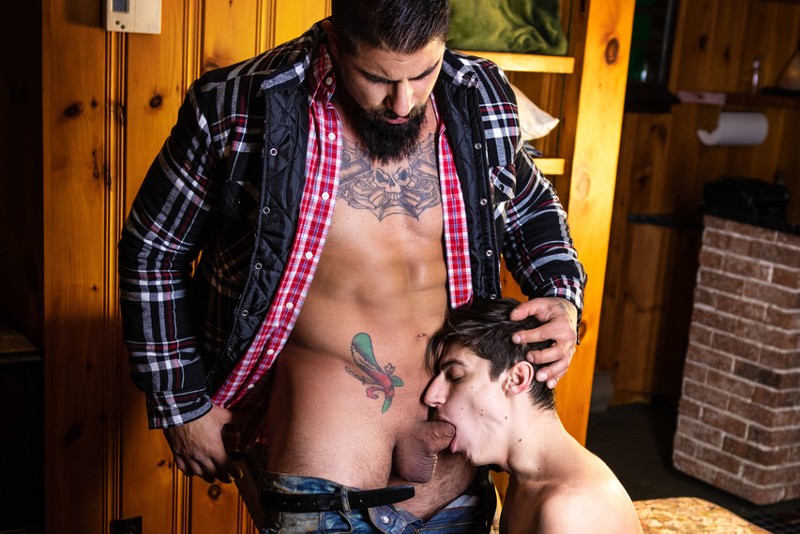 Models: Ryan Bones & Aiden Ward
---
Outside, the woods were in a frenzy: branches lashing out, wind shrieking through the treetops, trunks creaking alarmingly as the storm roared on. Inside, the occupants of the cabin were consumed by a different kind of madness.
Cain's thick fingers were wrapped around the back of Luke's head, keeping the young man in position as Cain fucked his face. He pumped into Luke's mouth over and over, grunting gruffly with each thrust into the depths of his lover's throat. His jacket and shirt were open to bare his chiselled torso, while every passing minute saw his jeans slip down a little further, slowly revealing legs like concrete pillars.
Beneath him, Luke was lost in a fog of lust. His shirt had been tossed onto the fire, leaving the toned lines of his upper half on show. Sooner or later the rest of his clothes would surely join them, though for now his jeans were still on – albeit unzipped with the crotch pulled down so Luke could jerk off frantically while he served as Cain's oral fleshlight. His throat bulged with each thrust but he never once gagged.
Neither of the men spoke – they were far too horny for that. Instead the air sang with noisy slobbering, Cain's huffs and groans, and Luke's wet gasps whenever he was allowed to come up for air. In their state of mindless lust they were powerless to resist the urge to fuck. Consumed by it, they ignored the shrieking tempest outside and lost themselves to their carnal hunger.
And all the while, the book lay open on the armchair where Luke had dropped it. Just a few words read from its pages had corrupted the two men before they even knew what hit them. Now the Sexronomicon reclined against the cushion as if admiring its handiwork.
This weekend was supposed to be a relaxing getaway. Every summer Cade, Lucas and their friends picked a new wilderness retreat and filled the trip with hiking, fishing and catching up. This year Cade and Lucas had arrived before the rest, who had been waylaid by the storm. Given that their friends were unlikely to arrive until morning they had taken the opportunity to claim first dibs on bedrooms before stoking up the fireplace and cracking open the beers.
That was when they'd noticed the book. Propped on a metal stand in pride of place on a bookshelf beside the fire, it was bound in midnight black leather that reminded Lucas of those gloves and jackets and hats he'd seen leather daddies wear outside his local gay club. Three buckled straps lashed it shut, though they seemed to be more for decoration than function.
Opening the leather tome, the two men had completely ignored the warning on the first page urging them in scrawled capitals 'DO NOT READ THIS BOOK'. Goading one another over who was brave enough to read from the 'big, freaky book', in the end it was Cade who did so, reciting words older and more powerful than he could possibly fathom as if reading out the options on a menu.
Neither Cade nor Lucas knew what hit them. Unleashed from their imprisonment in the corruptive depths of the Second Circle of Hell, the Sexites burst directly from the pages and fell upon the startled men like starving predators mauling a fresh kill. Though invisible to the human eye, their unearthly shrieks rang out so loud they drowned out the raging storm.
And once the men were in their grasp the sordid spirits immediately began transforming them into more suitable vessels.
'Oh fuck,' Luke groaned as Cain sank into his tight ass. They were the first words he had spoken since his transformation and they seemed to open the floodgates, for he was soon babbling with lust. 'Yes, that's it, invade me deep, stretch my hole, make me feel you in my stomach. Harder; fuck my brains out until I'm just a drooling stupid mess.'
Cain was more than happy to oblige. He'd forced Luke onto his back atop a footstool before tearing off both their clothes – unsurprisingly, with his rock hard cock set free and Luke's hole exposed, it hadn't taken long for him to press his dick against the young man's opening and drive inside.
Now he clamped a hand around Luke's inner leg and set about channelling the lust roaring through his body.
Just as intoxicating as all that lust was Cain's newfound strength. His once slim figure now rippled with muscle, raw masculine power burning in his chiselled abs, bulging biceps, broad shoulders and corded legs. Cade had screamed as the Sexite infected him, howling with a mixture of shock and fear and mind-bending pleasure when his physique started to swell with all that strength. He had practically doubled in weight, his skinny figure filling out until his tanned skin was stretched taut all over. At the same time, searing pain from a thousand unseen needles had flared across his torso where a host of impressive tattoos materialised. His shaggy hair withered back into a trimmed cut worn in an oiled quiff on top, though all the length he lost seemed to migrate down to his jaw, where a dark beard and moustache sprouted into being. It took the Sexite mere seconds to twist Cade into the perfect alpha male bull, and by the time it was finished Cain was steaming with arousal and hungry for a good, hard fuck.
The kind of good, hard fuck Luke was providing him now, in fact.
Jerking his own cock while Cain pumped into his ass, Luke consistently urged him to go harder and deeper, savouring every gut-rearranging thrust. His entire body throbbed with the same supernatural desire possessing Cain, though he had the added of ecstasy of his lover's perfect cock stretching and filling him to his limit. His prostate ached from the repetitive strikes, but the burst of euphoria that rocked Luke's body every time Cain's cock hit home was worth it.
Lucas's transformation had been a little less dramatic than Cade's, though he was still unrecognisable from his former self. Once the Sexite had him in its claws it had rapidly carved out a new body for its vessel. His average build of meagre muscles, soft arms and softer belly had shed weight rapidly, producing a much leaner physique as if Luke had been hibernating deep down just waiting to rise to the surface. His cropped hair sprouted into gel-slick waves of black swept over to one side, while his features had rearranged with the sickening crunch of shifting bones. Most of his body hair had withered away, though trimmed pubes and a thin fuzz over his legs still survived. A strange yet erotic sensation had swirled through him as his ass seemed to shift inside him, though it was only now that he understood what that sensation had been: his hole and insides stretching to enable Cain's huge, juicy cock to slide in and out without difficulty. Unlike Cain, he hadn't screamed – instead the Sexite had imbued him with a sense of erotic delirium so potent that he had laughed like a lunatic as his body was twisted up by the demon's monstrous magic.
The longer they fucked, the more demonic lust consumed them. After eons locked away in the pits of Hell, the Sexites were relishing their newfound freedom and the chance to corrupt their new vessels. And with unlimited stamina, they had no need to take a break.
When Cade and Lucas's friends arrived the following morning, they found two strangers naked in the cabin. The storm had dropped and the dawn sunlight was shafting like liquid gold through the windows to illuminate the sordid scene. The smaller of the two men was riding the bull, his dick rock hard as he bounced up and down, while the bigger man grunted and groaned and hissed degrading names that only seemed to encourage the athletic slut.
Before anybody could ask who they were or what they had done with Cade and Lucas, both men turned to look at them. Without breaking pace, they both uttered old, powerful words with eyes full of devilish intent.
Then a terrible cacophony of screams filled the cabin and awful, ancient, unseen things erupted into the room to fall upon the new arrivals with merciless savagery…
---
Thanks for reading!
Okay, okay. Yes, as far as parodies go, this one is so on the nose I'm surprised it doesn't make your eyes water. It's dumb, it's shameless, and the extent of it's original ideas consist of taking references from the original film and adding 'Sex' to the front of them.
I'm not going to claim this is my best work, not by a long shot, but I can't deny I find it a lot of fun. Sometimes writing stupid stuff like this is just the thing I need. Besides, when I found the original gallery for this it just screamed Evil Dead vibes and no other idea I came up with appealed to me more than a riff on said horror classic. To be totally honest, I've never actually watched Evil Dead all the way through I've only ever seen snippets, but I know enough about it to enjoy this, so hopefully those of you who are proper fans will like this even more than me. Or you'll hate it for taking a perfectly good B-movie and throwing gay hunks into it – that's fair too.
Either way, I hope you come back for next week's story – I promise it doesn't ruin another horror film!
---
Image gallery: https://www.pornpics.com/galleries/men-com-aiden-ward-ryan-bones-56904905/
Imgbox: https://imgbox.com/g/mqUTXw6CB6