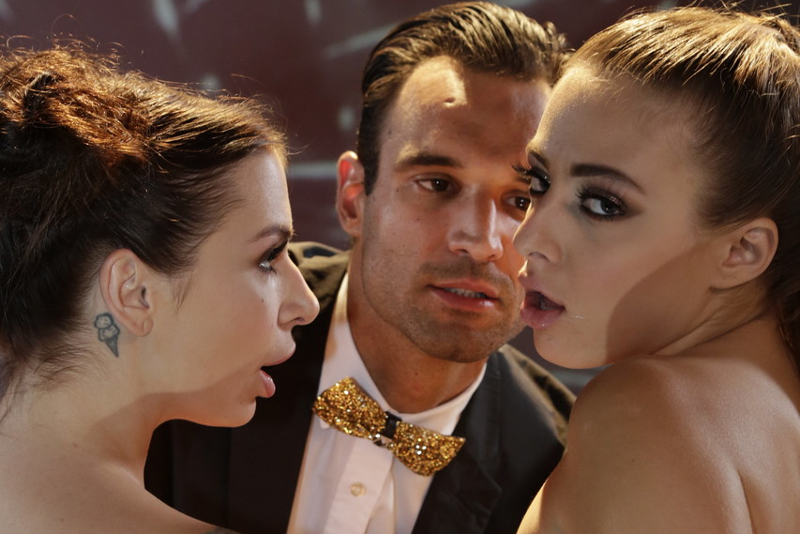 Craig had spent weeks wondering what his transformation would feel like. He'd imagined a slow, orgasmic change working its way through his limbs and engulfing his genitals – a gradual corruption of his mind as every thought was twisted with slutty desire and hedonistic arousal. He had even put thought into what he would do with the male clothes that would no longer fit him once he had been reshaped into a lithe, lascivious bombshell ready to spend her night preying on all the hung bulls who would be joining him at the party.
But while his mind had run away with the possibilities, Craig had entirely forgotten the very device the club used to transform its guests in the first place: a camera.
Nobody really knew whether the contraption was magical or born of some kind of twisted science, all they knew was that it was capable of transforming any man or woman it photographed into the opposite sex, reshaping them into sultry bombshells and alpha studs fuelled by carnal desire. Known by most as the Cravings Camera due to its talent for twisting those it transformed into insatiable deviants, the club withheld it for only the wildest parties of the year.
And no party was as wild as their New Year's Eve event, in which sexual mischief was the one and only goal of the night. The cost of entry was a single photograph taken by the Cravings Camera, after which the transformed guests could spend their night fucking like animals until the morning came.
Now, after weeks of waiting, Craig's turn had finally come. Stood in a crisp suit before a background of projected fireworks, nerves and excitement unspooling through his insides, Craig nodded to the photographer: he was ready.
With a single flash of light, Craig was gone.
Crystelle barely even felt her transformation. Blinded by the flash there was only a rush of pleasure and the brief sensation of shrinking as her new body took shape. A heartbeat later she was complete, every trace of the man she had been before eradicated.
Blinking, she felt as though was waking from a dream.
The sudden change had left her breathless and her chest heaved as she glanced down at her new figure, a fiendish smirk weaving over her soft lips once she realised just how stunning she was. Slender and supple, her sultry figure was wrapped in a glittering halter neck bra with ribbons crossing over her cleavage along with tight black panties whose black straps embraced her tanned flesh, beneath which her new pussy was already dripping wet. There was no sign at all of her suit and despite being pulled up into a high ponytail her long brown hair swept down below her breasts, the silky locks caressing her skin.
The projected fireworks continued to burst behind her as if celebrating her rebirth and within seconds her thoughts had devolved into a swirl of sinful desires. Any hesitations or inhibitions which might have troubled her had blinked out along with her masculine body and now she eyed the handsome photographer with a greedy gleam in her eye.
Before Crystelle could pounce on him, however, the other man in the room strode up to her, beaming like he had just won the lottery.
'Dude, you look fucking awesome!' Shane said, shamelessly ogling Crystelle's sensual figure. 'There's no way any stud is going to be able to resist you tonight. You're going to be the hottest bitch at the whole party!' He looked like he was fighting the urge to grope her, although in her deeply horny state she certainly wouldn't have complained if he did.
Moving with a seductive elegance Craig had never possessed, Crystelle guided Shane in front of the camera with a beguiling smile.
'Oh baby, if you think I look good, just wait until you know how it feels being this sexy. You're going to love it. Then we can make some mischief together. You'd like that, wouldn't you?'
Her hand descended to Shane's crotch to rub the rapidly swelling bulge in his trousers. Only minutes ago they had been two best friends looking forward to a night of wild partying together, but right now, in this moment, she was simply a seductress trying to tempt her prey.
And in the face of such a stunning predator, Shane was powerless to resist. Allowing himself to be coaxed in front of the camera, he stared lustfully at Crystelle as she retreated behind the lens.
'See you on the other side, hot stuff,' she purred before personally leaning over to activate the camera.
Crystelle giggled as Shane's orgasmic gasp echoed through the room. Then the flash passed and Sasha took his place.
For a few seconds, Shane's tall frame remained imprinted on her eye like an afterimage, a blurry silhouette that now framed the woman he had become. Unlike Crystelle, Sasha had lost little of her height, and though she was narrower and less muscular than Shane, she still gave off the impression that she was not to be crossed, an air of erotic danger now wrapped around her like a cape. Her dark hair was held up in two large buns and her lips were pursed as she ran her fingers over her curves, as if she was assessing exactly what she could do with her stunning new body. A large tattoo engulfed her right arm while her attire was similar to that of her bestie, a glittering piece somewhere between a crop top and a sports bra containing her immense breasts and simple black panties rising high over her hips.
Catching Crystelle's eye, Sasha smiled mischievously and stalked over to her. This time, she did grope Crystelle, her hands snaking around to grab the other woman's plump ass and pulling her in close.
'Mmmh, you were right, this does feel good,' she purred. 'God, I'm so fucking horny.'
'Me too,' Crystelle moaned as Sasha ground up against her. 'I never realised the change would turn me on this much. I can hardly think straight.'
Pulling Crystelle closer still, Sasha whispered into her friend's ear. 'Don't worry, gorgeous, I can do all the thinking for you tonight. I guess the camera made you a bit of an airhead.' She ran one hand over Crystelle's panties, chuckling as the transformed slut gasped with pleasure. 'See? You're dripping through your panties already. All you want is to be fucked until you can't remember your own name, isn't that right?'
Practically trembling with arousal, Crystelle nodded frantically. 'Yes. Oh fuck yes, I want my brains fucked out. I need it, Sasha – my pussy feels so empty. I can't take it. I need to be filled.'
'Lucky for you, I have a little more self-control. Don't worry, babe, I'm going to make sure you get the fucking you deserve. Wait here, I'll be right back.'
Releasing Crystelle, Sasha strode off, a predatory gleam in her eye. Sandwiched between the entrance hall and the club floor, the lobby they were in was fairly small and used solely for the purposes of transforming the guests before they entered the main party. Doormen stood at both sets of doors, those on the entrance keeping the queue of guests outside until it was their turn to be photographed. It was to this queue that Sasha now headed, seizing a young woman from the front and dragging her in front of the camera.
The beautiful blonde came willingly, knowing exactly what was about to happen, while the rest of the queue jostled for a good view of her transformation.
The man who took her place after the camera flashed was even hotter than either of the newly minted sluts had hoped he would be.
A fraction taller than Sasha and with a body that looked like it had been carved by a particularly depraved sculptor, the camera didn't even bother giving him a new outfit to replace the tight white dress the woman had been wearing. Instead he stood totally naked, muscles rippling as he breathed heavily and his huge cock already rigid. An intricate tattoo adorned the upper half of his right arm while a pair of tattooed wings unfurled over his chiselled abs. The bright flashes of the projected fireworks played over his oiled hair and his handsome features were set in a mischievous smirk as his gaze fell upon the two sluts eyeing him lustfully.
A few of the women in the queue sighed happily, although whether they did so due to the new man's perfect body or because they themselves would soon be enjoying such a transformation was difficult to tell.
Sasha pounced before the man could even regain his bearings. Crushing her body against his she pulled him into a passionate kiss. Her fingers coiled around his erect cock to stroke it slowly, the gesture drawing out a low groan. And while he moaned into her lips, Sasha chuckled into his, for his powerful hands were making short work of her attire, ensuring she didn't even have to go to the effort of stripping herself.
In a matter of seconds she was naked and dragging her lover towards the sofa set up behind the photographer.
One of the doormen stepped forward. 'Ladies, sir, I think you should take yourselves inside,' he said, gesturing to the door which led to the main club.
But Sasha simply scoffed as she sank down onto the sofa, stretching out over the low back and pushing her hips towards the new man who was already positioning himself behind her. 'We're not going anywhere. I'm taking this cock right here on this sofa, and there's nothing you can say to change my mind. Throw me out if you like, but surely you'd prefer a little entertainment instead? After all, you spend all night watching your guests be transformed. I'd say it's only fair you had a taste of the fun.'
Glancing at his colleagues, the doorman shrugged and stepped back to lean against the wall where he watched them with a lascivious smile.
By now, Crystelle was naked too, her glittery clothes discarded in a heap beside the sofa. Dropping down next to Sasha she ran her hands eagerly over her friend's luxurious curves, although her eyes never left the man's swaying cock.
'Sasha,' she whined, 'you said he was going to fuck me. I need him so bad, please let him fill my holes.'
Sasha smirked as the man gripped her hips and pressed the head of his cock against her glistening pussy. 'Oh he will, gorgeous. But I never said he'd fuck you first, did I? No, you've got to earn this cock, baby. So I suggest you start worshipping my body while he fills my slutty cunt, or you won't be getting a single drop of cum all night long.'
A wave of panic washing over her features, Crystelle immediately obeyed, licking Sasha's ass and toying with her clit and caressing her legs as if her life depended on it. In the same moment, the new man pushed inside Sasha's tight cunt and a slutty laugh tumbled from her lips.
Running her hand along Crystelle's stomach as her lover began to thrust, Sasha groaned ecstatically. 'Oh fuck yes, fill my fucking cunt. That's it, right there baby. Use my holes.'
Both Sasha's stud and her best friend were moaning desperately, arousal burning through their system. Exactly as she wanted: the hornier they were, the more eager they would be to please her.
But Sasha didn't only have eyes for her lovers. Turning to face the queue of waiting guests who were staring at their depravity with open mouths, she settled her piercing stare on the couple at the front of the line who were eying them eagerly.
'Well, are you going to stand there drooling all night, or are you going to come and join in? Let's ring in the New Year with some seriously filthy fucking, shall we?'
---
Thanks for reading!
The models in this scene are Gia Derza, Ivy Lebelle and Alex Legend.
Quite frankly, I can't comment on the work of any of these three since I haven't seen any of it. Both Derza and Lebelle are models I've heard of but whose work I haven't watched myself, and Legend is a new name to me. I don't profess to comment on models I don't know anything about, however as always I urge you to explore their portfolios on your own time if you enjoyed this, because these stories wouldn't exist without the models whose scenes support them.
I would love to hear your thoughts on my work, so please leave me a comment!
Keep up to date with new releases by following me elsewhere:
Twitter: @Fetish_Fantasy_
---
Imgbox: https://imgbox.com/g/17QRMy7a1t
Image gallery: https://www.pornpics.com/galleries/reality-kings-gia-derza-ivy-lebelle-46528212/