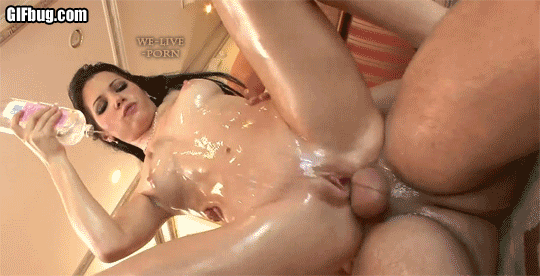 'What the Hell are you doing, Jessie?' Sean's cry of shock only drew a giggle from her lips and she squeezed the upturned bottle harder. More of the shimmering oil spilled down onto her groin and added to the rivulets that were dribbling down Sean's dick.
'If you could feel what this felt like you would be doing exactly the same, lover. God your dick is so fucking good in my ass.' As if to emphasise her point she rode him even harder, sinking his dick inside of her until she thought she might burst with passion.
She loved how her body glistened and shone in the sunlight shafting through the windows, and with every drop of oil that splashed down onto her skin she felt her arousal grow, felt her insides churn with impossible pleasure, and her mind flood with slutty impulses. Never relinquishing her hold on the bottle she rubbed the oil into her skin frantically, moaning as she groped her tits, ran her hand through her hair.
The two of them were fucking in their living room. Laid back on the sofa, Sean's ample dick was buried deep in her ass, and her hole was so tight around him he was struggling to speak through his moans. They had been living together for the past several months and Jessie had decided it was about time they take their sex life into more unchartered waters. Nothing too far, of course – she wasn't one of the cock-addicted whores she had gone through college with – but a little something to spice things up.
After a while searching online she had found something she thought was perfect for them both: Slut Oil. According to the product description the oil 'takes fucking to the next level, bringing intense slutty desires into the bedroom and ensuring that everybody goes to bed totally satisfied'. She hadn't heard of the brand – Slut Industries – before, but it seemed to be a high quality product. Besides, she had assumed that those over the top claims were just marketing ploys to increase sales. As far as she was concerned, it was just a scented oil.
It wasn't.
Having got down to business one day after work, Jessie had produced the bottle and spread a little of the oil over her tits to Sean's excitement. As he had played with her shiny breasts, however, she had been overcome by a sudden urge to grope his dick, the likes of which she had never felt before. Unable to stop herself she had lunged for it and squeezed it tight, talking dirty to him as she did so. He had been taken aback at first, but quickly became receptive as she began to unzip his jeans.
Applying a fresh layer of oil as the first wore off, she had suddenly felt the need to take his dick as deep as she could down her throat, and without warning had engulfed his hardening cock in her mouth. Her lips tingled as she blew him, and she moaned happily as he threw back his head with pleasure.
With each new application of oil her mind had been swamped with fresh slutty desires, and she had noticed that her arousal grew stronger, the pleasure of their intimacy increasing to almost unbearable levels. It was as though she was constantly on the precipice of the most earth-shattering orgasm she had ever experienced.
Sean had begun to worry when she plunged his dick into her ass given that she had always told him she was dead against any form of anal play.
'Maybe you should stop with the oil now,' he had said, 'you're not acting at all like yourself today.'
'But you love it, don't you?' she had cooed, 'You love me riding your big dick with my ass. Aren't I just so tight and cute? Doesn't it feel sooooooooo good?'
'Jessie, listen, I think the oil is doing something to you.' He had tried to sit up but she had positioned herself so that all her weight was on his chest and he found that he could not dislodge her. Even when he had placed his hands on her sides to try and push her off, a mixture of her frantic riding and her position meant that he was too weak to move her.
'Of course it is,' she had said, 'and fuck I need more of it.'
At that moment she had squirted half of the bottle's contents onto her tits, stomach, groin and thighs, inciting Sean's cry of shock. Continuing to ride him hard she laughed as her body flooded with pleasure. He felt so good in her ass. How had she never done anal before? What had she been thinking being such a fucking prude? She could not imagine how empty her life would have been without this amazing sensation. And the more she thought about it, the more she realised she needed more. She needed two dicks in her ass. Maybe more. She needed dicks in her ass, her pussy and her mouth all at once.
She moaned long and low. She felt so fucking slutty. She couldn't wait for him to cum in her ass. She thought she might pass out when he did.
Just then she noticed the label on the bottle. WARNING: FOR EXTERNAL USE ONLY. This substance is specifically designed for external use. Ingestion of this product will result in extensive and irreversible personality changes to the user, specifically a permanently-increased libido and deep-founded sexual lusts.
'Oh look,' she said, 'it says if I drink it I will become a slut permanently.' Before she had used the oil, Jessie would have never even contemplated ignoring the warning. But now…
Popping the lid off of the bottle she briefly admired the remaining contents of the bottle. Ignoring Sean's objections, she giggled girlishly and poured all that was left into her mouth, gulping it down greedily. Licking up the splashes of oil that had splattered across her lips she grinned. Soon she felt more slutty impulses take root in her mind and a near insatiable horniness overwhelm her. Discarding the bottle she bounced violently on Sean's dick until her eyes rolled back.
'Oh fuck, I'm a slut now. Fuck this is incredible. I'm going to milk your dick until you fucking scream. Don't worry though, I won't leave you out, babe. I'm pretty sure I saw some bull pills on that website…'
---
Thanks for reading!
I would love to hear your thoughts on my work, so please leave me a comment!
Keep up to date with new releases by following me elsewhere:
Twitter: @Fetish_Fantasy_
Tumblr: fetishesandfantasiesworld
---