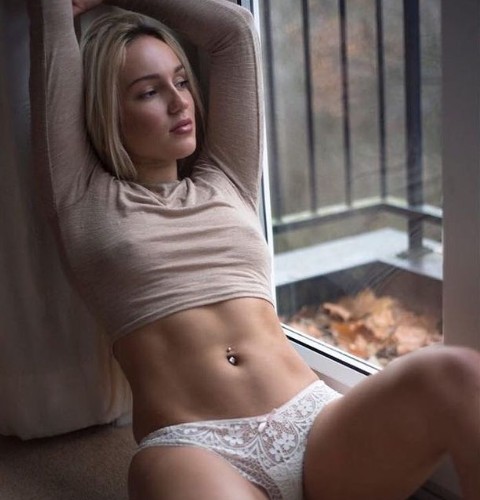 As soon as she had first met her new husband's daughter, Megan, Sienna had been able to tell that she would have to make some big changes to the girl. Constantly spoiled by her father's incredible wealth, she could either be found lounging around the house, out in the expansive gardens riding her horses, or boasting about what she had bought on her latest shopping spree. Sienna particularly hated it when Megan came home with fistfuls of shopping bags as though she were entitled to all the riches her father lavished her with. She was forever walking in on the girl taking lewd selfies, and it was a rare day to find her wearing anything more than a crop-top and panties around the house whenever her father wasn't in.
Sienna had practically grown up on the streets, and seeing how bratty her new step-daughter was did not sit well with her at all: where Sienna had worked hard and used her street smarts, femininity and dominant nature to reach a position of wealth, this spoilt bitch took it for granted.
Fortunately, Sienna knew how to bide her time. With Megan's father working long hours in the week and attending meetings most weekends, Sienna was left alone with her step-daughter long enough that it wasn't long before she overheard the little brat talking dirty on the phone. Sienna's new husband was many things, everything from generous to forgiving, but he had told her many times that he liked to keep the boys a good distance from his daughter as he didn't want her coupling up with a sleazebag who would take advantage of her access to his hard-earned wealth. Smiling, Sienna had told Megan she was going shopping, only to hunker down in the bedroom she and her husband shared.
Before long, she had heard the door open, a man's voice and Megan's excited squeals as he appeared to grope her. Peering through a thin crack between the bedroom door and the doorframe, Sienna had watched as the two ascended the staircase, disrobing one another as they came. They were quickly in Megan's bedroom, and Sienna had allowed them to fuck as she had quietly prepared herself.
Prior to meeting her husband, her income had come from life as a sex worker, and she could have been found offering her services to anybody willing to pay. Unwilling to part with much of the equipment she had acquired, she had hidden it away where her husband would never look. Rolling her eyes listening to the man's cringe-worthy dirty talk, and holding her head in her hands at Megan's overzealous and clearly false moans, she had begun to remove her tools from their hiding places. After a while of deliberation, she had settled on a simple strap-on. Stripping naked and slipping it on she had waited for the two to finish: it had not taken long. The man didn't appear to be the type to wait around after finishing, and he had left shortly after.
The moment she had heard the door close, Sienna had burst into Megan's room. Her step-daughter had still been naked, laid out on the bed, and her eyes had bulged at the sight of her step-mother naked save for her strap-on.
'What the fuck?' she had cried.
Sienna had smirked. 'Get over here you little brat, or I'll be letting your father know you've been inviting guys over to fuck in his house.'
'Oh please, no, don't tell daddy. He'll cut off my money. Please, I'll do anything.'
'That's right, you will. I'm going to make sure of it. It's about time I started training you, bitch.'
Megan had looked scared. 'What do you mean, training?'
Sienna's grin had widened. 'Well, spoiled little girls like you don't tend to become obedient little slaves of their own accord, now do they?'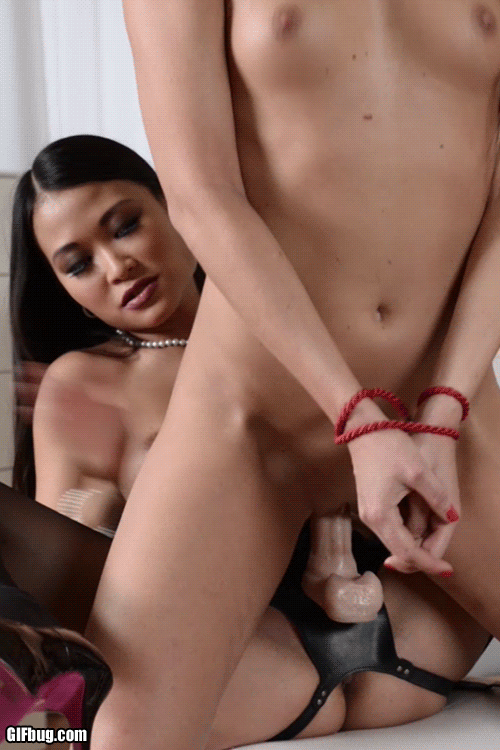 It had been a week since Sienna had first fucked her step-daughter, and already the girl was making significant improvements. She had already sworn off inviting any more guys around, and if her desperately horny moans whenever Sienna fucked her were anything to go on she was more satisfied by her step-mother's increasingly large dildos, vast array of toys and years of experience than she had ever been by her testosterone-fuelled, inexperienced male lovers. Sienna had begun to have her act as a maid around the house whenever her father wasn't home, and by now Megan was on standby day and night to obey her new mistress, at a stage where Sienna had convinced her out of wearing anything at all whenever they were in the house alone together, leaving her new pet naked and ready to be used.
Still, as Sienna lay back, Megan riding the biggest strap-on her step-mother had yet treated her too with her wrists tied and a slutty enthusiasm in her bounce, she could see there was still plenty of work to go into Megan's training. She was riding the strap-on like a slut, with the aim of only pleasuring herself, rather than servicing her mistress. She had not shown much promise yet when licking Sienna's pussy after a long day of training, and her cleaning skills were somewhat lacking. She would still whine when she wanted attention, though at least the attention she craved was almost invariably a good fucking from her mistress. As far as slaves went, she was far from the finished article. Of course, they had plenty of time to work on her, and Sienna was looking forward to the day she had a fully obedient whore to play with whenever she pleased. Maybe she would even invite over a few of the other dominants she knew. She was certain that having Megan as a communal plaything between them would go over well with her friends.
Sienna slapped Megan's ass with a smile; sure there was work to be done, but she was going to enjoy every bit of it…
---
Thanks for reading!
Keep up to date with new releases by following me elsewhere:
Twitter: @Fetish_Fantasy_
Tumblr: fetishesandfantasiesworld
---
Images:
https://www.sex.com/pin/54119106-sfw/
https://www.sex.com/pin/34552778-asian-girlfriend-fucking-girlfriend-with-strap-on/